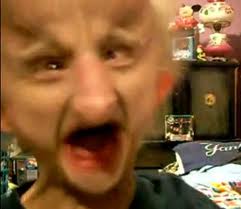 When you feel sad, it's because of certain levels of the chemical serotonin, dopamine and norepinephrine. Telling someone to "cheer up" or "just get over it" is almost literally like telling a drunk person to stop being drunk. It's not something you can control too much, you just have to wait until it passes.
Seeing is not believing. All it means is that patterns of light and dark are hitting your retina, the patterns are transmitted down the optic nerve to your brain, and your brain is has attempted to decode them based on some past reference experiences. Your brain makes mistakes. If it didn't, nobody would watch TV. Your brain thinks you're seeing trees and houses and cars and people…but actually, all you're seeing is a flat plasma screen.
We are all time travellers. We're just limited to going one way, and at a certain speed.