The most salient trait of postmodernism is a clash between form and content. Classicism and romanticism emphasize content ("what is this thing about?"), and modernism emphasizes form ("what is this thing?"), but postmodernism sets form and content as adversaries, letting them tear at each other like rabid dogs. Look at Warhol's Shot Marilyns: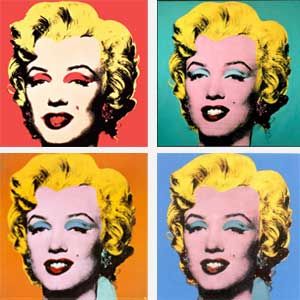 What's interesting about this artwork? Well, Marilyn Monroe is a beautiful woman, and it's jarring to see her depicted in harsh screen prints (the hallmark of cheap commercial advertising at the time). She's garishly transformed. Her makeup looks like a clown's, her hair is a neon-bright wave crashing on a radioactive shore, her skin is queasily puce, like a putrefying corpse. We are meant to notice the clash between Marilyn's glamorous, immortal face and Warhol's tawdry, cheap, disposable medium. This is the essence of postmodernism: a square peg and a round Warhol.
A Goofy Movie is a postmodern animated film. Maybe the postmodern animated film. It tries to tell an earnest story about a father and son on a road trip…but it's about Goofy. This makes it incredibly funny, because Goofy's a really inappropriate character for this sort of movie.
"It's hard to be cool when your dad's Goofy" went the film's tagline. Yeah, and it's hard to make a movie full of earnest road trip cliches when your star's Goofy. Countless emotional moments either fall flat or ascend into a divine Dadaist empyrean because of those stupid goddamn white gloves. I could point to countless things:
Goofy has a son. Unless Max was conceived through parthenogensis, Goofy canonically fucks. How and when did he impregnate a woman? Did he say "a-hyuk-hyuk!" at any point in the procedure? Did he take the gloves off?
Goofy's wife has apparently died (they could be divorced, but it's unlikely Goofy would have sole custody of Max in that case), which caused a fissure into an unfathomable universe to open in my mind. Goofy shopping for coffins; Goofy picking out a suit; Goofy writing a eulogy for his dead wife, silently awed by how writing it down makes it finally seem real; Goofy pondering mortality.
Goofy gets out of his car, and locks it. As Roger Ebert noted, this is a deeply strange moment. Since when do cartoon characters take precautions like that?
When Goofy finally decides to lay down the law to his wayward son, he lectures Max in his ridiculous "gawwshh" Pinto Colvig voice.
Max gets in some minor trouble at school. The principal calls Goofy, warning that unless he steps up as a father, his son may someday be sent to the electric chair (!). Goofy freaks out at the prospect of Max strapped into Old Sparky.
Goofy realizes his relationship with his son is based on a lie, and he sits alone in his car, stewing with emotions, his eyes pools of hurt…but the hands still have white gloves.
Goofy as a curmudgeonly dad who hates rock music and loves fishing. Goofy singing a heartfelt duet with Max. You get the idea. The concept and the conception are matter and antimatter. The movie is such a swing-for-the-fences terrible idea that it works beautifully, like a clock so far wrong that it matches tomorrow's time.
The actual film is pretty good. It's a sweet and touching story about fatherhood and generational differences. Many of the jokes unironically hit. The rockstar character was fun, and reminded me of Mok Swagger in Rock & Rule.
Can you imagine how shitty it would be if they remade this (correction: how shitty it will be when they remake this?) Max will glance up from Tiktok and say "OK boomer" when they're driving. I'll admit that it does have some dated "90s 'tude" elements, like the Pauly Shore character, who sprays Cheez-Wiz into his hand and calls it the "leaning tower of Cheez-A." If the whole movie had been like that, I doubt I'd remember it now. Thankfully, it's about Goofy instead. I don't think I'm laughing at the things the writers wanted me to laugh at, but at least I'm laughing.
(And maybe I'm touchy, but what's with everyone getting pressed over the "is Goofy a dog or a man?" question like they're catching the Zodiac killer? He's a dog-man, that's all. Don't overthink it. He looks funny and cute, but he can also use appliances and drive a car. Best of both worlds. These are the same guys who make "cartoon logic" memes, like they're onto something. Man, I can't believe Spongebob can light a fire underwater, in defiance of the laws of physics. What a blunder. Someone should email the show's writers and explain that this is impossible, so they don't commit any other errors like that in future.)
$i;?>
No Comments »
Comments are moderated and may take up to 24 hours to appear.
No comments yet.
Leave a comment