- 16/05/18 Movies,Reviews
A cloud of iridescent energy moves across the galaxy, destroying all in its path. As it approaches Earth, a haggard-looking James Tiberius Kirk bullies Starfleet into giving him control of the Enterprise, so he can investigate and hopefully stop it. Incidentally, did James go through boot camp? Hard to imagine a guy called Tiberius doing push-ups and getting yelled at by R Lee Ermey. When you're born with a name like that, they pretty much have to promote you straight to Captain.
Star Trek: The Motion Picture is great, if in a troubled way. It's like a titan, ready to collapse under its own weight. The philosophical method called "structuralism" seeks to understand things through their relationship to other things (eg, a ship's mast can only exist if there are sails and a hull, otherwise it's just a wooden pole). Likewise, Star Trek: TMP can only be understood in the context of its own difficult creation.
Let's start at the beginning. Once, there was a television show called Star Trek. It wasn't popular, and it was soon cancelled. But we live in a crazy world with no brakes, and "unpopular + soon cancelled" is no barrier at all to eventually becoming the defining science fiction series of the silver screen.
How did this happen? The same way Velvet Underground became popular: they sold a few thousand copies, and all of those people started a band. Star Trek's audience was tiny, but it was also full of scientists, grad students, civil rights activists, and who other people who wielded greatly outsized influence on the nation's taste. This megaphone-wielding minority soon had the show firmly established in syndication, and a slow critical reappraisal of the show began. Star Trek was often campy, but never cynical or insulting. The writing was often broad, but was never boring. Gene Roddenberry was brilliant at directing attention away from the show's weaknesses (its budget) and toward its strengths (screenwriting, and Shatner, Nimoy, and Kelley's acting).
With voltage gathering for a continuation for the series, Paramount Pictures and Roddenberry began working on a pilot. It was a mess. Writers were commissioned, and then their scripts rejected. Actors were hired, and their parts written out. Sets were built, then stripped down. I'm stunned that Burbank's air was declared safe to breathe after so much burnt cash.
Finally, just weeks before shooting was due to start, Close Encounters of the Third Kind hit the box office like a wrecking ball. Paramount panicked and issued a change of plans: the next version of Star Trek would be a motion picture, not a television show! There was not enough time. The production was thrown into chaos, with the planned pilot adapted a two hour movie, underpinned by a script that was rewritten as they went along.
The result is a odd movie, stretched and deformed. It's a Star Trek television episode viewed through a funhouse mirror: you can recognise the shape, but it's 50% wider than it needs to be. The opening sequence is thrilling: three Klingon ships are evaporated in an impressive visual effects sequence. Then we get an hour of "character develoment", meaning James T Kirk butts heads against the Enterprise's dull new captain, while the plot spins its wheels and goes nowhere. We also meet a female alien called Ilya, who talks and talks while setting records for uninspired character design. I'll buy that a man with pointy ears might be an alien. Ilya's literally just a woman with a shaven head. You can find plenty of aliens like her at the local slam poetry meet.
The film's strengths, ironically enough, are its visuals: something that was never a strong point with the original show. Douglas Trumbull and a young John Dykstra slather the frame with luminous rainbow hues (Trumbull previously worked on 2001: A Space Odyssey, and the film owes a lot visually to that one, including a "smash cut from rainbow fluorescence to stark white" moment that matches 2001's Star Gate sequence). The more practical effects are beefed up as well. A tiny Burbank sound stage is make to look like an absolutely massive cargo bay thanks to forced perspective (those tiny figures in the background? Children.). I think this is the first time we've seen a Star Trek space battle where both ships are composited into the same frame (as opposed to a shot/reverse shot of the Enterprise firing and another ship blowing up.)
The story is a bit perfunctory, and the imagery seems to transcend the characters until they're reduced to spectators, gaping at the wonders of the cosmos. Maybe that's the attitude Star Trek always tried to evoke. More likely, it's a disguise for the fact that this was supposed to be a TV pilot, and they just plain didn't have enough story.
I once saw a film called American Movie, about a pair of young indie filmmakers. One of them has a memorable monologue: "There's no excuses, Paul. No one has ever, ever paid admission to see an excuse. No one has ever faced a black screen that says: 'Well, if we had these set of circumstances, we would've shot this scene… so please forgive us and use your imagination.' I've been to the movies hundreds of times. That's never occurred."
He should have seen Star Trek: TMP. It has excuses. Many of the visual effects (although stunning) don't serve a purpose beyond "we don't have any actual story to put here, enjoy these flashing abstract colors". Big chunks of the film are a laser light show in space, intercut with shots of the crew looking awed. For a while, you share their awe. But then it feels like it's time for something to happen.
Calling a movie "The Motion Picture" sounds either presumptuous of horribly underconfident: you're either suggesting that it will be the definitive one, or the only one. In the case of ST:TMP, I can't even call it A Motion Picture, as it's been recut and re-released many times. The film is now legion, I'm not sure if the original version is exists today in a purchasable form. Although it's a different sort of Star Trek, I enjoyed it a lot.
(It's worth noting that Orson Welles voiced the cinematic trailers for this movie. One year later, he'd be voicing Manowar songs, and commercials for frozen peas.)
---
- 13/05/18 Books,Reviews
The Book of Genesis is a 224-page graphic novel by noted cartoonist Robert Crumb, based on the book of the same name by noted deity God. It's literally the full text of Genesis, painstakingly hand-lettered in (and around) cramped panels of Crumbian imagery. It's all here: the famous stories, the less famous stories, and even the "Jokshan begat Dedan, who begat Ashirum, who begat…" parts. Not a verse has been cut, no matter how boring or inappropriate for the comic medium.
Nothing like this has been done before, and hopefully nothing like this will be done again.
While reading The Book of Genesis, I kept asking myself: what's the point? What am I supposed to get out of this? Crumb spent four years working on a product with no entertainment value at all. Maybe he feels pride in being the first person to adapt Genesis unabridged as a comic book, just as the first astronaut to land on Pluto will feel pride, despite it being a dull lump of rock.
So why doesn't it work? Biblical-themed comics tend to either be didactic, cloying efforts by believers (Jack Chick's tracts being the most famous example) or angry reactionary polemics by atheists (see Jesus and Mo and a thousand other webcomics). I assumed Crumb – who has perfected body duplication technology so that he can be a fly in every jar of ointment – would be in the second group, and that the Book of Genesis would be full of gleeful blasphemy.
Instead, it's exactly what I've described: a comic version of Genesis. Not a single other adjective applies – perhaps not even "good" or "bad". This is a huge problem: the stories of Genesis are so familiar and famous that artists have stripped them to their bones. If you're attempting to tell (and sell) the tale of Noah's Ark or Jacob and Esau once again, you damned well need a second adjective!
Despite doing the art, Crumb leaves no trace of himself in the book. Does he like the stories he's writing down, letter by letter for fifty straight months? Does he hate them? What emotions do they inspire? Is he realizing any spiritual truths? Or is he growing even more sure of his decision (at age sixteen) to become an atheist? I have no clue. I'm not Crumb's biggest fan but I understand why he's liked: he has a style, and it's a compelling one (nobody else could have written Fritz the Cat, for example). But he approaches this project with all the verve of a manga letterer making a thousand yen a page. There's no creative elan to be seen here.
His imagery is trite, cribbed from Michelangelo, Ignatius of Loyola, and Cecil B DeMille. God has white hair and a beard. He creates the earth like a wizard casting a spell in a Saturday morning cartoon. The Garden of Eden looks like Bambi. The Ark is a large floating shoebox. There are some unintentionally funny parts. During the genealogies, he needs to come up with a visual element, so he just draws headshots of what these dozens of people might have looked like. It looks like the fighter select screen in an SNK fighting game.
Crumb's form constantly works to undercut him. The Bible's stories are big and epic, and they would have benefited from double-page spreads, not tiny panels. Again, there's unintentional laughter. During the flood, we see drowned people and animals, floating face-up in the boiling sea. It would have been a striking piece of art, except it's too small. They look like toys bobbing in a child's bathtub.
If I could guess at Crumb's purpose, it was to provide a comic that contains no exegesis or interpretation whatsoever. The mere act of editing a work, by definition, changes it, so by leaving everything in, he was free from the charge of distorting the Bible. However, Genesis is quite a long book, and cramming it into a comic makes it virtually unreadable. So much text crowds the page that it induces claustrophobia. Combined with Crumb's signature art style (itchy, hairy, and uncomfortable) and you have one of the most unpleasant experiences I've had so far in a graphic novel.
Occasionally, he takes a few small liberties. Potiphar's wife is depicted as a harridan, not remotely beautiful. The city of Sodom is obviously (and anachronistically) Babylonian, with Ishtar Gate inspired architecture. The passages at the end where Crumb discusses some of the stories are quite interesting, but again he keeps his feelings close to his chest. And that's something nobody wants to see from Crumb.
The Book of Genesis is a little like a sculpture of the Brooklyn Bridge made of toothpicks, more interesting for its existence than its function. "For verily I say unto you, till heaven and earth pass away, one jot or one tittle shall in no wise pass away from the law, till all things be accomplished" (Mt. 5:17-18). Well, it's been accomplished. And now I will move ahead to never thinking about it again.
---
- 11/04/18 Books,Reviews
An investor once gave advice to a man invested in a speculative bubble. "Enjoy the party, but dance near the door." If you own bitcoin, litecoin, or ethereum, Attack of the 50 Foot Blockchain will make you want to dance near the fire escape. Author David Gerard argues (successfully, I think) against virtually every technology derived from blockchains.
His view can be summarised as "blockchains fail at solving nonexistent problems." They are speculative and sexy, making them flypaper for con artists, but that's not the point – even good-faith implementations don't work.
No major company utilises blockchain-based technology at scale. Ten years after the Satoshi Nakamoto paper, and after five years of loud media hype, cryptocurrency has few visible uses except as an asset (and perhaps it's already time to remove "except as an asset" from that sentence). In light of this, dramatic fiascoes like the Mt Gox collapse seem more like irrelevant sideshows, distracting from the pervasive pointlessness of the technology. The problem isn't "suppose your money is stolen." It's "suppose it isn't. Then what?"
The book covers fifteen years of cryptocurrency, from the cypherpunks to the Satoshi whitepaper to the rapidly deflating bubble. It mixes tales of hilarious Wolf of Wall Street-style misadventures with serious analysis of the mathematical and economic weaknesses of blockchains. Bitcoin was supposed to be decentralised. In practice, it is chokepointed by a handful of big exchanges, subjecting their users to increasingly onerous KYC requirements. Bitcoin was supposed to limited to 21 million coins. In practice, any keyboard equipped with Ctrl, C, and V keys can fork the coin, defeating the purpose. Bitcoin's tamper-proof ledger is frequently cited as a strength, but there are times when you want to tamper with the ledger. Transactions might be made by mistake, for example. The difficulty and risk of bitcoin has all but deep-sixed its small economy of legitimate users, leaving a small number of defiant "HODLers", convinced that wide adoption is around the corner and things will be better tomorrow.
Gerard also discusses blockchain-based "smart contracts". Again, they're hip, and happening, but don't appear to actually solve any problems with real world contracts, which have always been interpretation (what does "anticipatory breach" mean?) and enforcement (how do you punish anticipatory breach if it happens)?
A famous example: Robin Williams voiced the Genie in Disney's Aladdin, he stipulated that the genie's likeness not take up more than 25% of the space on any poster associated with the film (he didn't want to be typecast as a cartoon character). Disney famously screwed him by making the Genie take up 25% of the space…and making the other characters significantly smaller. Williams joked that they drew Mickey Mouse with three fingers so he couldn't pick up a cheque. How would putting his contract on a blockchain have helped Robin Williams?
These case studies, and many more, give the impression that blockchains aren't a viable asset so much as a melon dropping towards the pavement. The book is comprehensive, and well written. Certainly out of date date by now, but that's hard to avoid – in fast-moving fields, a book can easily be out of date before it reaches publication.
The most interesting parts (which could have been elaborated on more) were the mental psychographies of bitcoin's users. Cryptocurrencies are a selection filter for unusual brains. The concept is futuristic. The very name sounds Gibsonian. They massage your preconceptions and ideologies: you're John Galt, Johnny Mnemonic, and . Sadly, they're also attractive to scammers: the concept is complicated enough that you can bamboozle laypeople, but not so complicated that you can't fake the jargon with a little practice.
I've seen bitcoin evangelists in action. They're like robots. They probably aspire to be robots – robots that don't need to eat or sleep or do anything except refresh market depth charts twenty four hours a day. Their arguing styles are almost thrilling in their casuistry and dishonesty. "Blockchains might be used for x" is equated to "blockchains are used for x", which in turn is equated to "blockchains are the best solution for x". Sometimes they bust out tu quoque arguments. "Fiat money is imaginary, too!" I don't follow the logic. All money is worthless…so buy bitcoin?
But they're making money. Or at least, they used to, and they're convinced they will again, if they weather the storm of negativity and FUD stirred up by the enemies of freedom. In short, they've fallen prey to self deception. "I have invested in bitcoin. This can't possibly be a bad decision, because this would mean I am stupid. And I'm not stupid, so investing in bitcoin was smart." I think many of them will look back after the crash and wish they could erase every single post and Tweet they ever typed about bitcoin. But that day is not today.
When the Hindenburg fell, it fell hard, billowing fire across many acres. By then, its failure was obvious, but for the people on board this knowledge came too late to save them. Why not get ahead of the curve? Why not stay clear of the Hindenburg altogether? Attack of the 50 Foot Blockchain has all the information you need not to throw your money into the blockchain bubble, or at least to be very cautious if you do.
---
- 08/04/18 Music,Reviews
Remember how people said that Judas Priest is old? Obsolete? Yesterday's news? Irrelevent? Remember how this was thirty years ago?
Judas Priest is now so cartoonishly old that it's difficult to know how to relate to them. They formed a year before the first Black Sabbath album, and their story encompasses every single rock cliche in the book. The young, scrappy upstarts (the first album), the creative prodigies (the next few), the complacency and artistic rot (the few after that), the inspirational rally (Screaming for Vengeance and Defenders of the Faith), the immediate collapse into self-parody (Turbo and Ram it Down), the even more inspirational comeback (Painkiller), the years in the wilderness following the loss of their singer (Jugulator and Demolition), the awkward picking up of pieces (Angel of Retribution), the self-indulgence Spinal Tappery (Nostradamus), and now we have their eighteenth album, Firepower, for which no storyline seems to apply.
The album's firepower risks being overshadowed by the fireworks happening behind the scenes. Glen Tipton simultaneously revealed that a), he will not be touring with the band, and b), that he has Parkinsons, thus precipitating a). Additional controversy was provided by former guitarist KK Downing, who started rumors that Glen didn't even play on the album. You know there's a problem when your gay singer isn't the most dramatic person in the band any more.
Firepower is hard to draw a bead on. On one hand it embraces nostalgia, mostly for the band's Killing Machine and Painkiller sound. The title track and "Evil Never Dies" are both quite fast, and feature a downtuned approach to the angular E minor riffing that characterised Painkiller. But "No Surrender" and "Firepower" are quite consonant and radio-friendly, to the point of sounding like something from Rob Halford's solo albums.
There's no experimentation, and little blues (which is something I've always wanted Priest to revisit).
This contrast is found in the production job, which finds the band's venerable early producer Tom Allom paired with veteran of the loudness wars Andy Sneap, who brickwalls Judas Priest relentlessly and leaves the listener little room to breathe among the overcompressed guitars. The overall package is entertaining and powerful, and even benefits a little from its fetishistic excess.
I wish it was shorter, but I also can't pick which songs should be cut. They all have appealing moments, and good performances. Special attention must go to Halford, who sounds ridiculously good. The credits assure me the band still has a bass player, and I will take them at their word. Glen Tipton's soloing (if it is really him) feels a little compromised. Probably the worst case is "Necromancer", where he sounds like he's wearing oven mitts. Ritchie Faulkner is more confident and poised, and strangely now one of the stronger points of the band.
As the final notes of "Sea of Red" fade like a bleached photograph, I'm left with a strange feeling: that this will never end. Judas Priest have always depicted fantasy in their lyrics and album covers. Perhaps the most fantastical was Stained Class, which depicted an android with a projectile embedded in its head. It's not fantasy because of the android. It's fantasy because it suggests Judas Priest can die.
---
- 28/01/18 Books,Reviews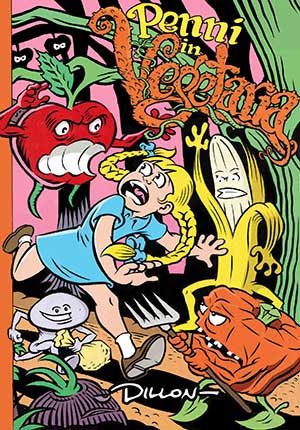 Dillon Naylor is an Australian comic artist. His most remembered comic strip is Da'n'Dill, which I'm still uncomfortable in my ability to pronounce. It's the verbal equivalent of a missing stair.
Da'n'Dill comics were endemic to Australia's mid-90s landscape. They appeared in showbags, and were syndicated in newspapers. They were like a disease, apt to infest any blank piece of paper. Everyone read them. The concept was a riff on Mork and Mindy's "aliens in suburbia", but with a critical change. Naylor understood that comedy doesn't come from insanity, it comes from conflict, and instead of a saccharine little girl, he made the Mindy character a thin-skinned, teeth-grinding nerd who was constantly having his plans foiled by the dumb, well-meaning aliens.
Naylor's comics were funny. And they seemed even funnier when you were riding a sugar high on the train home from Luna Park. There are legends about how casinos hyper-oxygenate the air, to induce euphoria and compulsive gambling in their patrons. Naylor had this same racket all sewn up with the under twelve set.
Penni in Vegetaria is another of Naylor's works. The setup is cute: it's dinner time, and Penni doesn't want to eat her greens. While hiding from her parents, she discovers an alien spaceship under a pile of leaves. She presses buttons, and is whisked away to a far-away planet inhabited by a race of giant sentient plants. The vegetable and fruit races are at war, and Penni is swept up in their conflict.
The story is safe, and layered with moralistic overtones. But there's also some classic Naylor subversiveness: such as a funny visual gag involving a WWII-style POW camp (the prisoners are tomatoes, of course, because nobody's sure which side they're on).
Naylor's art is wonderfully grotesque and expressive. Australian writers (Paul Jennings, Morris Gleitzman, Andy Griffiths) have always excelled at making twisted and disturbing nightmare fuel that actually isn't objectionable at all, and Penni in Vegetaria is no exception. The comic itself is printed on incredibly thin A4 pulp, which might be a result of pro-plant lobbying. It's pretty short and Naylor might have taken the concept further, if he'd had more pages (it's a disappointment to see the fruit and vegetables fight each other with human weapons, rather than in some funny plant-based way. Also, I just know that Queen Broccoli was busy planning the Final Solution to the Tomato Problem.)
I'm not sure if there were more Tales from the Ovoid, or whether there's any connection to the Da'n'Dill universe. Memory tells me that Penni is the sister of the aforementioned nerd, but this might not be true. It's a pretty fun comic, and might be worth tracking down. Luna Park closed in the middle of the 90s, but then came back. Perhaps Naylor's work is overdue for a similar renaissance.
---
- 07/01/18 Books,Reviews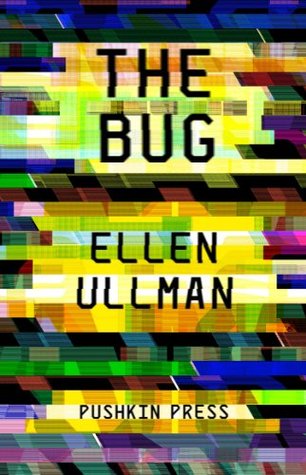 Mary Shelley wrote a novel called Frankenstein, about a creation overpowering its creator. Unknowingly, she lived out the drama of her story – nothing else she wrote achieved the same fame, and her entire existence is a footnote to Victor Frankenstein. One day, Mary Shelley's name will be spoken for the last time. Some other day afterwards, Frankenstein's name will be spoken for the last time. The interval in between might be thousands of years.
Think of "Frankenstein's monster" and what comes to mind? A shambling green Boris Karloff, with bolts sticking out of his neck? In the original book, the monster's skin is yellow, and it has long black hair. The public's conception of the monster changed with the years, to where it bears little resemblance to Mary Shelley's creation.
It mutated. It evolved. Mary Shelley called it a monster. But perhaps in modern nomenclature it could be called a virus.
Ellen Ullman's The Bug is a cyberpunk addendum to Frankenstein. A corporate programmer encounters a bug in his company's software. This bug has a life of its own, resists his efforts to document and eradicate it, and cripples the program to the point of threatening the company's big IPO.
At first, it's called U-1017, as it's the thousandth and seventeenth bug discovered in the program (although you'd think the programmers would use zero-indexing, making it U-1016). Then, matters become personal, and he calls it Jester. The fight against it takes on mythic proportions.
While he struggles against the bug, his personal life is falling to bits. His wife is unfaithful, the company is screwing him, and his neighbors play music too loud. His failure to defeat U-1017 feels like a referendum against his existence on Earth. Programming is literally the only thing he does. If he fails at that, then what's left? He liberally comments his code with existential angst.
Ullman adds lots of interesting asides about programming, linguistics, and math. One of the book's most interesting themes is Conway's Game of Life: an x-y grid where cell-like automata live, breed, and die in accordance with simple rules. This is introduced as a parallel to corporate programming. There's a brilliant typographical conceit where the beginning of each chapter contains an iteration of the Game. Clever though this is, it spoils the book. The reader can guess the ending after seeing the final iteration.
(John Horton Conway, by the way, is another Mary Shelley. The Game of Life is so visually intuitive and thought-provoking that it overshadows most of Conway's other work, much of which he feels is more significant.)
The novel is set in 1984, the age of the Apple Macintosh and the IBM. A lot of bands like Van Halen and Quiet Riot are name-dropped. Women are described as having padded shoulders so frequently that it becomes like a tic. A book like The Bug could never have been written today. The programmer would have posted his code on StackExchange and gotten six solutions by his midmorning break.
The Bug evokes a pretty powerful response from modest ingredients. It's fascinating, and emotionally affecting. And Ullman doesn't cheat: we actually do learn the solution to the bug in the end.
---
- 12/10/17 Movies,Reviews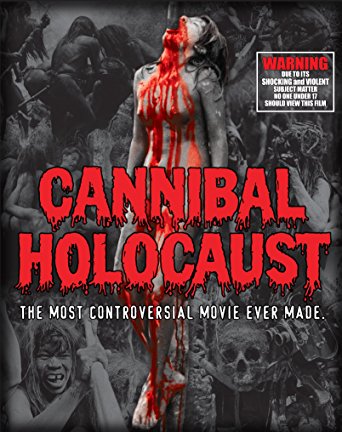 Cannibal Holocaust has many descriptors, but only one matters: filth. People watch it because it's filth. Midway through, an anthropologist and his guide surreptitiously watch a native ritually rape and sacrifice an adulteress. "Enjoy the show," his guide advises. The anthropologist throws up, but doesn't stop watching.
Few films manage to capture such vileness and perversity. The jungle's heat and humidity seems to press upon you through whatever piece of glass you watch it on. The camera lens itself appears infected, like a petri dish. The soundtrack mixes whimsical Italian pop, eerie tribal percussion, and experimental electronic music, becoming a bleeding and suppurating welt of sound.
The plot is secondary, or tertiary, or duodenary. An anthropologist is in the Amazon, searching for a film crew that went missing many months before. He discovers their tapes, brings them back to civilisation, and watches them. There isn't much to this movie beyond a powerful impression of sickness. But it's clever: because it knows to keeps the viewer at arm's length. Other than one attempt at a moral point ("what if WE'RE the real cannibals?"), the violence happens very far from home, both literally and morally. You don't feel threatened by the gore and bloodshed, or the fact that you're enjoying it. It happens in a part of the world so strange that it feels like an alien planet, and everyone who dies is either a primitive native, or a white person who "deserves it" (the missing film crew are established as arrogant and dislikeable). That was Cannibal Holocaust's "it factor". Guiltless violence.
There was a "shock jock" radio duo called Opie and Anthony who were famous for their sex-based stunts (such as launching fireworks out of a female fan's vagina, which sounds very boring over a radio show, but whatever.) At the peak of their infamy, they were interviewed by conservative talk show host Bill O'Reilly. They described their on-air hijinks, and he took them to task, calling them disgusting and degrading to women and so forth. Very well, they'd expected that. They gave him stock answers. Mumble, radio show, mumble, entertainment, mumble, First Amendment. Next question, please.
But O'Reilly wouldn't let the topic go. He kept coming back to it, over and over, like a dog with a bone. The sex. The nastiness. He wanted to hear all about it. He wanted them to describe it. He wanted to register his shock and disgust, repeatedly. They had an epiphany: O'Reilly was exploiting sex in the exact same way they were. But because his audience was made of grandmas and geezers (median age of Fox News' primetime audience: 68, according to Nielsen), he had to cloak his pruriance in moral disapproval. It was his way of getting filth on the air: he just had to make sure it was coming from someone other than him, with him wagging a disapproving finger.
Everyone loves perversion, but some of us are hypocrites about it. There's a saying among prostitutes: he who points with one hand is masturbating with the other.
I won't overstate Cannibal Holocaust's cleverness. Of course, "awful things happening in foreign lands" is a common trope, even outside cinema. Octave Mirbeau's The Torture Garden features long, almost slavering descriptions of the tortures supposedly carried out in Cathay, and George MacDonald Fraser's Flashman novels work at a similar level (Marquis de Sade, with typical ballsiness, set all of his atrocity porn within his own nation of France). In fact, Cannibal Holocaust's portrayal of natives will discomfort modern viewers, even beyond any of the events of the film. You're not supposed to make indiginous peoples look like savages, and monsters. They're people!
Yes, they're people. But at real life digging sites, all around the world, anthropologists find human bones in ominous proximity to camfires. Sometimes they're roasted and split, the marrow sucked out. The events portrayed in the film have really happened, sometimes shockingly recently (the Fore people of Papua New Guinea were practicing cannibalism as late as the 1960s). The truth is, you don't need to be a monster to eat another person. Even we would do it, if circumstances required. If we are only three missed meals away from anarchy, how far away is cannibalism? Four missed meals? Five? The day might come, and then we will see how much ironic distance Cannibal Holocaust has.
It's shot well. It has a strong atmosphere. It has all the grace and subtlety of a flint axehead crunching through your parietal lobe. There are some good performances. It is a good movie, by many categories.
But it's filth. Not just at the surface, but right the way through. After a wave of bannings, censored cuts of it were released, but they did no good. You can't wash clean a pair of hands that are made of dirt.
---
- 04/09/17 Books,Reviews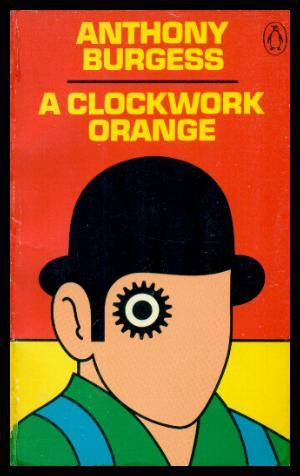 A teenage delinquent is arrested for murder. To avoid a lengthy prison sentence, he submits himself to an experimental medical cure that quashes all of his violent impulses, along with his ability to enjoy classical music: the thing that gave his life fulfillment and meaning. He emerges from prison a changed man, but also a broken one. Should the state be allowed to do this?
Burgess seems to disagree. But he also stacks the deck against the state by not asking an important question: "if not the Ludovico Technique, what should happen to Alex?"
What's the alternative? Life in prison? The electric chair? Should he be allowed to resume his crime spree? Roger Ebert once said that it's difficult to cheer for the hero when the villain is the one making sense, and a similar problem occurs here: we're told . Jumping out of a plane at 10,000 feet only seems like a bad idea until you notice the smoke spiraling from the engines, and Burgess cheats by not considering the even worse alternatives. Much is made of Alex's lost ability to enjoy classical music (a metaphor for his humanity), but the woman he murdered is now incapable of enjoying music of any genre or style.
A Clockwork Orange's theme is stated within the book itself: Alex is like an orange, once bursting with juice and sweetness, changed by the state into a piece of machinery. The natural, turned into the unnatural. But to what extent was Alex's behavior ever natural? At the start, he and his gang drink "milk-plus" to fortify themselves for a night of carnage. The inference is that this is stimulant-laced milk. Alex chose to put a mind-altering substance into his body…just like he chose the Ludovico Technique. Why is the first an act of free choice, but the second isn't? Beyond that, it opens the question as to whether "natural" is even a defensible word, or "free will" a tenable concept.
Oranges are a poor choice of metaphor, because they are clockwork to begin with. No wild oranges exist, and they were presumably bred from some other citrus fruit. That fruit was probably bad tasting, and perhaps inedible or toxic. Through a combination of genetic mutations, planned breeding programs, and hybridization, we have the modern orange. Many kinds, in fact! You can get a Valencia orange, which is sweet with a lot of juice. Or a blood orange, a tarter fruit with an attractive red color. None of this is natural. The orange was guided towards its present forms by mankind's hand.
In the same way, Alex didn't sprout from the forehead of Zeus – he was created and shaped by factors beyond his control. Alex's "free will" is actually the genes of his mother and his father, the prenatal environment in his mother's womb, and the society he was raised in. Some think that the increase in crime in the latter 20th century was fuelled (literally) by the presence of leaded gasoline in the soil. After gasoline became unleaded, crime rates dropped. Imagine if Alex's sociopathy came from lead – a mistake by the government. The Ludovico Technique is an attempt to correct that mistake. Why confuse the mistake as Alex's free will, and the correction as abhuman meddling?
As a novel, the book is very good. I wish it had only tried to be a novel. It moves quickly, except for the prison scenes in the middle part. The depravity is as nasty as it is exciting, and Burgess's dystopian England is fleshed out just enough to seem realistic, leaving the attention on Alex (as he surely would have wanted.)
Most of Burgess's other work are comic novels, and there's lots of humor here: after Alex finally suffers some consequences for his actions, he writes "this is the real weepy and like tragic part of the story beginning." That was a Good laugh. (Unfortunately, the book also contains a Bad Laugh: at the start, Alex is beating up a stewbum who suddenly launches into a melodramatic speech worthy of Hiawatha.) Burgess's most brilliant concept here is nadsat, an argot based on Russian, schoolboy talk, and Cockney rhyming slang. It adds an alien, disaffected quality to Alex's mind, as though we're seeing the world through a Babelfish translation. It also might have been a tactical move on Burgess's part. Harder to get outraged over in-out-in-out performed on a devotchka then rape performed on a woman.
Even so, the US version of the book didn't escape a critical (and notorious) edit, the omission of the final chapter. Alex, having broken through the Ludovico Technique, nonetheless decides that ultra-violence isn't for him. In other words, he grows up. This chapter was cut over Burgess's objections by his US publisher, probably for marketing reasons. Readers are used to the storytelling convention of "fall, then rise, then fall", or "rise, then fall, then rise". The uncut version of A Clockwork Orange is more like "fall, then rise, then fall, then rise". For decades, only the 20 chapter version was available in the US. In 1986, the full 21 chapter book was published for the first time.
The extra chapter completely transforms A Clockwork Orange, and I don't know which version I prefer. The 21 chapter version is didactic, and feels like Burgess tying too neat a bow on the story. "Well, Alex grows up anyway, so that proves it was all for nothing." At 20 chapters, A Clockwork Orange falls more into line with the film. And I strongly dislike the film.
Say what you will about Burgess, but he never tries to make Alex your pal. Never, ever, ever. He's an evil kid, and you are supposed to dislike him. Stanley Kubrick almost seems to hero-worship Alex, even modifying his crimes so that they're less awful (instead of raping a pair of ten year old girls, Film-Alex has consensual sex with two adult women). You can go over the film scene by scene, and note the shots Kubrick takes of Malcolm McDowell, making him look dashing, romantic, even darkly Messianic. You can also note the way he portrays Alex's victims as bug-eyed goons and creeps. Burgess's book seems to say "Alex is evil, but was it right for the state to alter his brain?" Kubrick's film seems to say "hey, don't harsh Alex's flow, man."
Films have an annoying habit of colonising the books they're based on. Now it's hard to read A Clockwork Orange and not see Kubrick's milk-plus bar, or Kubrick's Durango '95 speeding down the highway. The Ludovico Technique is now the Kudobricko Technique. The film amplified the very parts of the story that Burgess had tried so hard to tamp down, and this may have been why he later disowned it. Once, he could have claimed ownership of A Clockwork Orange. But now, in the minds of millions, Burgess's most famous work is…someone else's!
On its own, the book is a great story. Very dark. Too bad Burgess also wanted it to be a gedankenexperiment, because it doesn't have much gedank.
---
- 14/08/17 Music,Reviews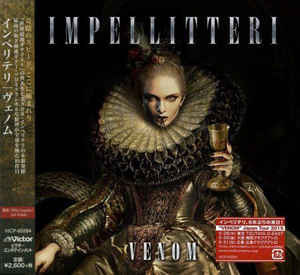 The power of Christ Impels you! This album completely surprised me, as I'd always classed Impellitteri as one of the flock of 80s shred metal bands: long on guitar sonatas, short on songwriting ability or actual hooks. Venom proved to be one of the most powerful, focused, and concise albums of its year. The LD50 for this album is very low.
What to expect? Savagely fast and technical riffwork, which runs all up and down the neck while still remaining tight and groove-laden. Guitar solos that throw away any notion of "taste", "musicality", or "wearing pants" and just eviscerate the listener with almost unimaginably fast blurs of notes. Soaring vocals that bend and weave around the guitar lines. A bass and drum rhythm backdrop that crushes you hard enough to undergo atomic fusion.
With ten songs that are all around three minutes long, this is a shred metal album LARPing as a punk rock LP. There's an immediateness and directness to the music that can't really be compared to other shred metal. This is the anti-Yngwie. It doesn't get right to the point – it starts at the point, from the moment the needle touches down. The songs fly by with alarming efficiency, verses and choruses and solos appearing and evaporating just at the point where they've got you intrigued.
Chris Impelliteri's guitar sound is like the glass shards from a dirty window. Smooth, glassy, but also throat ripping, full of points seeking out the body's softness. His tone is so thick and suffocating that he must have quadtracked the rhythm parts, despite the agility and tightness of all these songs.
And the tempo is very fast: the album strings so many uptempo songs together that the thirty-three minute runtime soon seems like a necessity, before the listener taps out. "Venom", "Empire of Lies", and "Nightmare" are progress at a gallop. "Face the Enemy" is perhaps the album's slowest song, a Virgin Steele style uptempo rocker with a big chorus.
"Domino Theory" is a rolling thunderstorm of a track that might be my favourite from Impellitteri's work here. "Jenovah" and "Rise" have hard-edged choruses with some surprising progressive sensibilities in their construction. The album closes with "Time Machine" and "Holding On", which are equally ominous but perhaps more melodic. The European edition has a bonus track called "Rock Through the Night", which is fine on its own, but takes the album to the point where there's too much of the same and it starts to become a bore.
But Impellitteri astonished me with what they accomplished on this album. A shred metal album that you can listen to in one sitting, and still want more…wasn't this always the endpoint for the genre?
---
- 30/07/17 Books,Reviews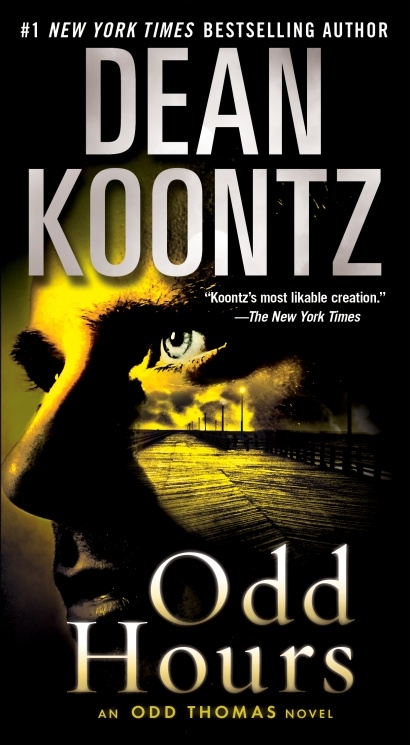 Some bad books are like buildings, collapsing safely in their own footprint. Cordon off the area, wear protective gear, and you'll escape the obliteration unscathed.
But other bad books are like trees, falling sideways. They don't just doom themselves, they also destroy other books that happen to be nearby.
Dean Koontz writes many bad books. If they're standalone, I don't have a problem, as they kill nothing but themselves. But this is the fourth book in the Odd Thomas series, and as the first Odd Thomas was very good I'm not impressed that he keeps cheapening it with afterthoughts.
The story is familiar by now. Odd can see ghosts, and he must resolve the lingering conflict that keeps them from moving on. The concept is derivative of Shyamalan's The Sixth Sense, Stephen King's generic "big secret in a small town" conceit, and Art Bell's radio broadcasts, but back then, it was fun. It no longer is. If Odd Thomas was The Godfather and Forever Odd was the Godfather 3, then Odd Hours is squarely in The Godfather X: Electric Boogaloo territory. It has a terrible, meandering story, a cast of "colorful" characters with no purpose beyond chewing the scenery, and a bone-deep sense of pointlessness. Odd Thomas should resolve the lingering conflict that stops his own series from moving on. I think the author murdered it, midway through book two.
Odd now lives at a place with the alarming title of Magic Beach. He has dreams of a nuclear-red storm coming in with the tide. Some thugs try to kill him. He meets a woman who gets lots of character development until Dean Koontz literally seems to forget that she's in the story. Is there an intelligent dog? You bet. Does the main character use a gun and is consumed with guilt and regret afterwards? See, these things write themselves!
The plot is insane and nonsensical. It doesn't have logic, it has a series of events, all occurring without reference to one another.
The sheriff of Magic Beach is plotting a dastardly conspiracy – I don't buy that a guy running a small-town cop shop would be capable of buying nuclear warheads, but your mileage may vary – and Odd Hours soon enters a familiar rhythm of the hero running away from bad guys and solving problems with author's convenience. In this case, it doesn't take too much convenience, because the (six or seven) villains are all bumbling idiots who could be thwarted by a childproof seal. Dean Koontz can't figure out how to resolve the story, so he has them all shoot each other. Then the book ends.
Dean Koontz is still a good prose stylist, but he's a heavy-handed good prose stylist. Every sentence aspires to be a lyrical utterance of lapidary beauty. Every page is crammed with wordplay, literary allusions, "clever" character names, and other pukesome shit. Dean, stop trying so hard. No, seriously, stop trying so hard. You are fish and chips. I don't need fish and chips served on a fine Kensington tea set.
He also does that annoying thing where he writes something clever and then nudges you, to make sure you got it. Early in the book, a character is described as having "hair like wool-of-bat and tongue like fillet of fenny snake". I'd hoped he'd leave it alone, but of course he has someone point out (for the reader's benefit) that this is a Shakespeare reference. Thanks. Literary allusions should always be bashed through the reader's skull with a Louisville slugger.
Koontz's recycling is now obvious, and impossible to ignore. All the cliches make an appearance. The frequent references to classic Hollywood cinema. The angry old man rants about popular culture and modern music (you can immediately detect a bad egg in Dean Koontz's novels, because they enjoy gangsta rap or heavy metal). At one point, he writes the character of Dick Halloran from The Shining into the story, except instead of a black man it's a white woman and instead of "the shine" it's "the twinge". I hoped that he'd also borrow the axe murder scene from Kubrick's film version, but no luck.
---
Older Posts »