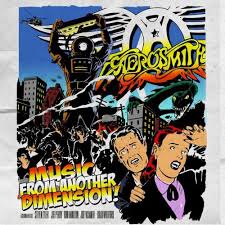 Mark Twain once made a funny joke about "idiot member of Congress" being a tautology. I could make a joke about "Aerosmith comeback album" being another tautology. It wouldn't be funny, though. The joke has been going on for thirty six years, and repetition is the enemy of humour.
Basically, Aerosmith cut some albums in the mid seventies and have spent the next four decades trying to escape their shadow. Nearly every Aerosmith album since Rocks has been considered a comeback effort by someone, somewhere…each comebackier than the last, and each more easily forgotten by the time the next one rolls around. The band has been unable to make lightning strike twice, with their output ranging from okay (Draw the Line), to uninspiring (Done with Mirrors) to revolting (I do want to miss a thing…that hellish song…).
To be fair, they managed a fairly legit comeback with Pump, which had the scorching "F.I.N.E." and "Janie's Got a Gun", a song that even people that hate this band often like. But given their track record, does Aerosmith really have the air (aer?) of a rock and roll legend? Honestly, they seem more like a decent band that sometimes gets lucky.
Music from another Dimension is AC/DC's Black Ice all over again. It's clearly written by the same band that once put out classics, and it's clearly not destined to join them. "Love XXX" sports a catchy main riff but doesn't really go anywhere. "Legendary Child" has Perry reaching into his bag of tricks and coming out with an interesting harmonised lick. This song sounds greasy and driving and would have made good filler on Toys in the Attic.
"Street Jesus" is good – fast and furious, like "Rats in the Cellar". The only thing that hurts it is the clean and slick production. Aerosmith's music used to sound hard enough to cut a De Beers diamond, not nice and inoffensive. This is music that bows and scrapes and asks "Please sir, may I have permission to rock?" "Something" is a weird and sprawling thing redolent of Magic Mystery Tour-era Beatles.
By "Up on the Mountain" we're on to the blatant idea recycling, with the band writing "Love XXX" all over again as if they'd forgotten that they'd already recorded that one. "Lover Alot" is silly fast rock with none of the old Aerosmith bite. Unfortunately, the band doesn't restrain itself to "boring", some songs here are actually repulsive. "Beautiful" has some brash swagger mixed with a godawful annoying chorus that sounds like Creed gone even more wrong. "We All Fall Down" is a slow dance piano ballad written by that chick who wrote "I Don't Want to Miss a Thing"…good, just what Aerosmith fans want to hear.
That they're still coasting on Rocks' glory thirty seven years later is a favourable comment on the quality of their early albums. Will those days ever be revisited? I will never say never, but it hasn't happened here. Forget writing the anthems of an age. Aerosmith is struggling to write the anthems of the next five minutes.
$i;?>
No Comments »
Comments are moderated and may take up to 24 hours to appear.
No comments yet.
Leave a comment