Drop a stone in a pond. Ripples will spread out. Cultural events are similar, but sometimes the ripples occur before the stone falls. Facebook, iPhones, and The Lord of the Rings (books, not movies) are stones. Myspace, Blackberries, and The Hobbit (book, not movies) are ripples. Although important in their own right, they had the misfortune to occur before a similar (but much bigger) thing, and have been swallowed by it within the public mind.
Cassette tapes (and the culture surrounding them) were ripples: the stone would would fall twenty years later. They were ugly plastic rectangles containing about ninety meters of magnetic tape. Music recorded on them usually sounded hissy and noisy (this itself became an aesthetic), but the tapes were so cheap that it was now possible for the average child to copy music. People would tape songs off the radio (complete with hacky DJ voices and commercials), as well as make illegal bootlegs of live bands. This led to a full-blown kulturkampf between tapers and record labels in the 1980s, culminating in the BPI's often-parodied "Home Taping Is Killing Music" slogan.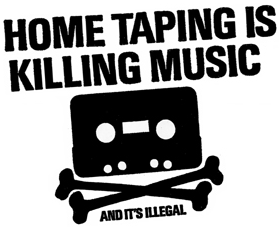 Some labels fought cassette tapes, but others embraced them. C81 (a compilation cassette released by NME at the start of the tape boom) is an example of the latter, containing twenty-four tracks of British and American "indie" music circa 1981. I'm sure that all the bands involved were branded as sellouts until their dying day.
The tracklisting is as schizophrenic and scattered as any fourteen year old's mixtape: legends like Pere Ubu and Scritti Politti exist alongside bizarre "art" projects like Furious Pig that apparently did nothing notable except appear on C81. It's both ethnically and musically diverse, with selections of funk, ska, reggae, dub and so on. Also, whoever put this together clearly wanted to fuck Lora Logic, because she's on here twice.
As with many compilations, it sprays and it prays. "You won't like everything, but you'll probably like something." I enjoyed the apocalyptic mini-epic "The Seven Thousand Names of Wah!", the histrionic but understated "Shouting Out Loud", the Scritti Politti song, and "Parallel Lines", which is a thesis on everything punk should be: taught, fraught, and small.
But the best piece of music C81 has to offer is Cabaret Voltaire's "Raising the Count", which initiates the listener into a kind of electronic Satanic ritual: a black mass powered by 200 watts. The song is as destructively repetitive as a pneumatic drill rammed through your basilar membrane. You will either turn it off in confusion, or get sucked into a hypnogogic state. Cabaret Voltaire had existed for most of a decade by the time C81 came out, and would continue to release music for about twelve more years (although I find their later techno/house music to be less interesting than their early experimental work).
So, good music, and good capture of a particular moment in British musical history. C81 is now most easily acquired in digital form, which was the next evolutionary stage of tape culture. Cassette tapes were ripples, and digital piracy was the stone, doing everything cassettes had done (including killing the music business) about two orders of magnitude more successfully. The record industry profiting off tape trading seems gruesomely poetic in retrospect. It's as though Louis XVI, before the French Revolution, had invested royal money in guillotines.
$i;?>
No Comments »
Comments are moderated and may take up to 24 hours to appear.
No comments yet.
Leave a comment