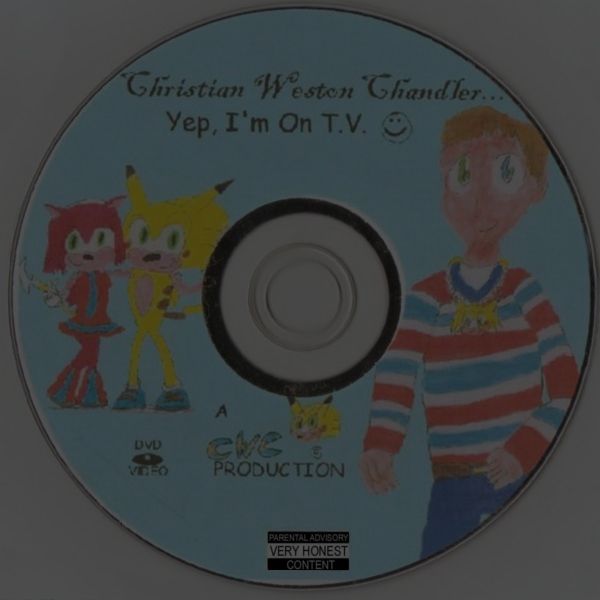 This DVD contains over four hours of pure autism, and is essential viewing for all Chris-chan fans (just so long as you're not a JERK).
Although it was distributed in 2007 among a few select friends and family members, Chris intended this DVD to be mass-released at some point. He mentions in his Future Message that he thought the DVD would eventually be shown in schools. You see, Chris believed he is a special person, one worthy of great fame and recognition…and, as history has shown, he was absolutely correct.
The oldest piece of film is from 1994, when Chris was 12, and documents him winning some local sweepstakes thing. This video can be considered definitive proof that Chris is not a joke or a character. He talks to the camera like a shell-shocked PTSD victim, and the reporter mentions that he has high functioning autism.
The next video is from 1998, with Chris reading a poem in high school. "My peer relationship is low, and my loneliness is off the scale." He soon wanders off topic, and starts talking about school life in general. The video ends with Chris raging and shrieking like demon-possessed Regan because he got bad marks in English.
Then we've got a pile of tedious videos of Chris playing videogames. There's a news segment from 1999, when Pokemon was huge, that shows Chris playing the trading card game with kids half his age and generally taking it all rather seriously.
Then there's Chris singing his cover of The Backstreet Boys' "I Want It That Way", with lyrics about how he's searching for a girlfriend.
And so on, and so forth…it's endearing and rather moving to see Chris's mind at work. I wonder what it must feel like to have such a world-view that 5 minute clips of you playing videogames seem like professional DVD-worthy content. Honestly, it would feel awesome.
This guy's feedback mechanisms are broken in the best way possible. Everything he does is perfect. Every comic he draws is a masterpiece. Every game he beats gives him the rush normal people get from climbing Everest. Being Chris is like being a rat, pulling a lever, and having six pounds of Gorgonzola fall on your head.
The longest part of the video is a two hour slideshow of Chris's art, comics, and photography. The soundtrack is provided by Chris's "radio station" KCWC, which means I hope you like videogame OSTs and 90s pop songs. Apparently Chris has a master copy of this DVD that goes for six hours.
Chris is a legend in his own mind. And mine, too.
$i;?>
No Comments »
Comments are moderated and may take up to 24 hours to appear.
No comments yet.
Leave a comment