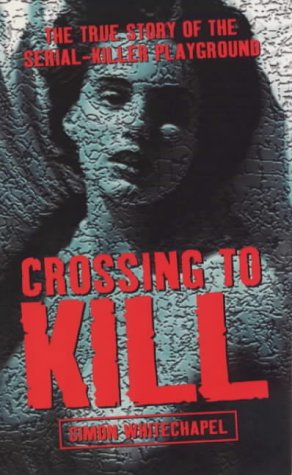 Crossing to Kill is a true crime book about the life and (t/cr)imes of Abdul Latif Sharif, a chemist who fled the US to Mexico to avoid deportation, and then apparently became a prolific rapist and killer of Ciudad Juarez's working class women.
Sharif was arrested (leaving an embarrassingly long body trail)…but the rapes and murders of young women went right on happening. The clouds were gone, but the rain continued. Was Sharif bribing local gangs to commit crimes on his behalf, to make it seem like they'd arrested the wrong man? Or is Sharif part of a Clockwork Orange-esque change in Mexico, with Hispanic macho culture morphing into something much sicker?
This book offers analysis and speculation on the causes of the Ciudad Juarez murders. Whitechapel's prose is very efficient – and this might be Crossing to Kill's Achilles Heel. After about forty pages he has recapped the murder spree up to date, and suddenly there seems little left to talk about. Much of the book is filled with topics of general interest to Whitechapel – soon we're reading asides about the body types of Roman emperors, and a Catholic writer's mistranslation of a word in Ecclesiastes. Crossing to Kill takes you far away from Mexico, and reads almost as a continuation of his earlier book Intense Device in some parts.
Crossing to Kill is probably better read as a book on crime and psychology than a specific book about Sharif's crimes. Answers are few, and vague. Perhaps that's the point, that all we have are guesses. But why read a book when there's nothing waiting at the end except "I don't know"? The official police reports will get you to the same place much faster.
Occasionally Whitechapel makes an incredible through-the-scope sniper shot of analysis, and sometimes he draws together unrelated subjects into an unexpected but persuasive whole. Other times – as when he speculates that Sharif could have been on steroids, based on some of his buddies being into Arnold Schwarzenegger movies – you get the sense of too little butter being spread across too much bread.
But there's creepy and evocative ideas, such as when the murders are compared with an electron microscope, where small cells must be destroyed so that they can be analysed. The comparison with the young women of Ciudad Juarez is unmissable. Young women who would otherwise have lived their lives and have been forgotten are now receiving publicity, memorials, and prayers. They are being used as rallying points for feminists and morality campaigners and social justice groups. Indeed, they have unintentionally achieved kind of immortality. All they needed to do was die horribly.
It's readable and far from dull, but I think Simon Whitechapel was the wrong person to write this book. This subject does not lend itself to scholarly analysis and armchair detective work. Crossing to Kill should have been written by a Mexican policia with twenty years of dirt under his fingernails.
$i;?>
No Comments »
Comments are moderated and may take up to 24 hours to appear.
No comments yet.
Leave a comment