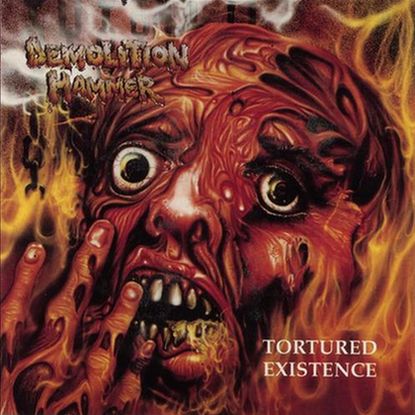 Metal has two taxonomies: the sort with ballads, and the sort without. Demolition Hammer is part of the second sort. There's not a lot of music here to show your girlfriend, although if the timing's right she might relate to "Infectious Hospital Waste."
Tortured Existence is the first of Demolition Hammer's three albums. The third sounds like Pantera/Prong mixed with the shitty sixth Ministry album. The second is a thrash metal coat of many colours, influenced by Slayer, Sepultura, Dark Angel, and others. The first album, however, has tunnel vision for a single style, New York brand thrash. Demolition Hammer don't do anything original, but they sound inspired and energetic.
The riffs are aggressive and unrelenting, similar to Stormtroopers of Death and Nuclear Assault and various other bands from The City That Never Sleeps (Because You're Playing Metal Too Loud). The production has an odd character. The guitars are loud and guttural, with the mids EQ'd away, giving them a crushing but not very heavy aesthetic – listen, and judge for yourself. Tortured Existence feels like being strangled by a warm, soft paw.
The songs all sound similar, but to the attuned ear there's variation. "44 Calibre Brain Surgery" is the craziest track, "Crippling Velocity" is the fastest, and "Infectious Hospital Waste" is the catchiest, with most of the other songs walking the territory in between. The songs stick to a formula of punishing riffs interspersed with lead breaks interspersed with barked vocals interspersed with gang shouts. And then, just as this album's one trick is getting dull, it all ends.
Derek Sykes and James Reilly are a tight rhythm team. The deceased Vinny Daze is an able drummer, although unworthy of the embarrassing levels of praise heaped upon him by some members of the online metal community. I think he suffers from Dead Rockstar Syndrome, where talented, above-averaged musicians like Cliff Burton and Randy Rhoads get hagiographed into musical geniuses. Steve Reynolds barks out lyrics about social, political, and medical aberrations with a distinct Australian-sounding accent.
Tortured Existence was released in a year starting with "199-", so the timing could have been better for this band. Rather than riding the upward surge of thrash, they had their halcyon days right when the genre was shutting down. They were consigned to cult band status when they had the talent and potential to be much more. They soldiered it out for two more albums (the last one being a horrible attempt at ripping off Pantera), then broke up. There was a cash-cow anthology release from Century Media in 2008 (publically disowned by Derek Sykes), and that's it for these guys.
For now, though, the Demolition Hammer crashes down. It's a solid release that deserves its cult status. You could never call it a game changer, but some games aren't meant to be changed.
$i;?>
No Comments »
Comments are moderated and may take up to 24 hours to appear.
No comments yet.
Leave a comment