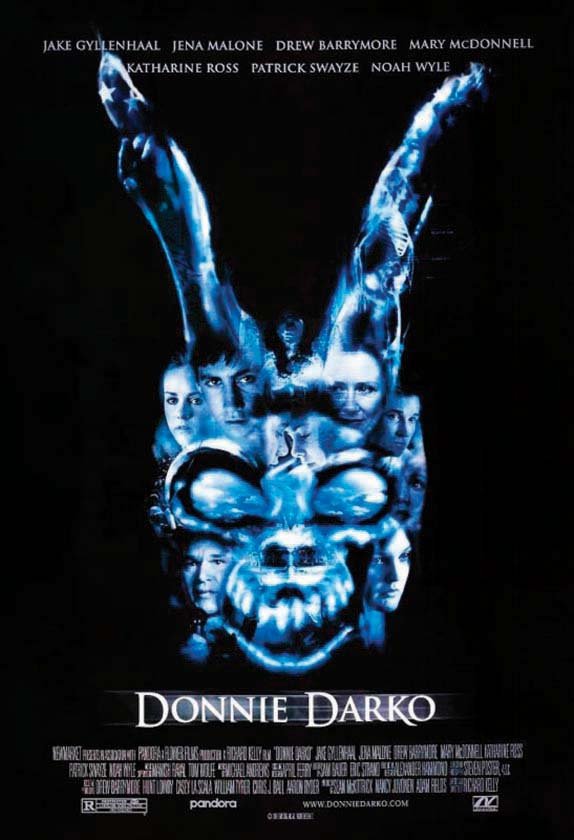 It's one thing to make a movie that relies on secrets and mysteries, never explaining everything – but then you lose the viewer. Something has to make sense. We get tired of being jerked around. Your movie can't be the equivalent of a child saying "I know something you don't know!" for 2 hours. The audience won't hang around for forever.
But the other extreme is equally bad, where a movie anxiously contorts itself into a pretzel trying to "make sense", killing all imagination and wonder in the process. As the line goes, explaining a joke is like dissecting a frog. You understand it better…but the frog dies.
Donnie Darko somehow combines the bad aspects of both, creating a specious dream narrative burdened that somehow possesses the need to literalize itself with scientific explanation.
The premise is tantalising. A troubled young man is called from his room by a figure in a rabbit suit – this apparent saves his life, for a jet engine crashes into his room as soon as he leaves.
The story soon becomes muddled, and the director's cut merely shines an extra 10 watt bulb into the murk. Donnie has obviously been saved for a reason…but what? It seems time travel is involved. Something about multiple universes. Donnie travels from place to place at the behest of Mr Rabbit Suit, doing various things, but there's a layer of confusion preventing them us from seeing the higher purpose. It's like playing an adventure game when you can't work out what you're supposed to do, so you just blindly click on everything in sight.
Donnie Darko has style – all kinds of style. But what, ultimately, is it doing? It's not a departure into the Land of Lynch – the movie obviously has rules, it's obviously humming along to some hidden tune we can't hear. It invites logical analysis…but sadly, logical analysis gets turned away at the door. Sorry sir, you aren't on the guest list.
It does give an unsatisfying, fairly thin scientific non-explanation for the events in the book. The wonderfully creepy atmosphere is immediately dispersed like fart gas when Donnie starts reading about what's happening in a helpful textbook called The Philosophy of Time Travel. Stupid. Who thought this was a good idea?
Ultimately, we never know the full story of Donnie's strange experiences. There are fansites dedicated to explaining this movie, especially its profoundly confusing final scenes. Explanations coil around and around on themselves until you're left with no choice but to think "why even analyse this? It's a nonsense. There's no way, given these facts, to arrive at a consistent conclusion." Normally you can make any bizzaro version of a theory work by adding enough epicycles and equants, but not here. Where, ultimately, does the aircraft engine come from? The real world, or Donnie's "tangental" one? Neither makes sense. This movie is impervious to reason.
This movie annoyed me to a degree that probably isn't healthy. I wonder if the director can furnish answers about this movie. Someone should beat it out of him – my suggestion is with a jet engine.
$i;?>
No Comments »
Comments are moderated and may take up to 24 hours to appear.
No comments yet.
Leave a comment