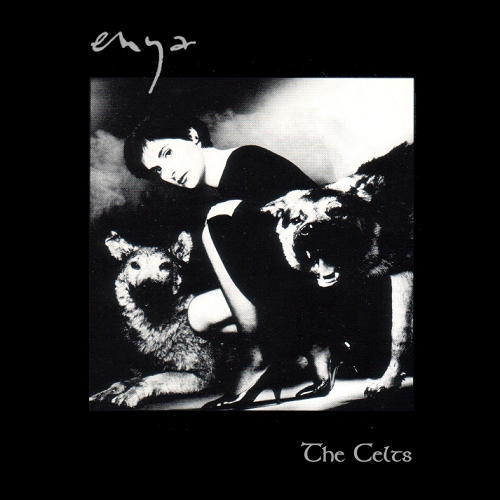 Enya's first album is different from the others, as her signature sound had not yet been hammered out. But it's better than the others…maybe because her signature sound had not yet been hammered out.
Where later Enya releases just kind of bulldoze you under a massive wall of pad synths and layered vocal tracks (they're still good), The Celts sounds sparse and intriguing. It has more active instrumentation than any of her other releases. The melodies are more discernable. The textures are stronger and richer, and it seems to draw on a wider set of influences. You hear some things Enya seems afraid to touch these days: such as lead synths and electric guitar.
"The Celts" and "Aldebaran" are both very nice, and then "I Want Tomorrow" arrives…yeah, this song is just insane. Most Enya songs tend to ride a single big idea around like a pony, whether it's a chorus hook or a melody or whatever. "I Want Tomorrow" does have some climactic parts but it mostly comes across as a free-flowing experience that isn't written around any particular moment in the track. It's hard to explain, but the song sounds like a couple of different songs joined together, all of them articulating different moods, but all of them making sense with each other.
About two thirds of the The Celts has no lyrics. I'd call these songs instrumental, except Enya's "instrument" of choice has always been her layered backing vocals, of which there are a plenitude.
A few highlights emerge from these wordless songs. "Epona" is compact and efficient, and reminds of Vangelis classics such as "Movement V." The three sections of "Triad" take the listener through a series of differing moods and atmospheres. "The Sun in the Stream" is the second amazing classic from the album. It's brilliantly realised from start to finish…just a perfect song.
This is the Enya CD I always come back to. Watermark and Shepherd Moon aren't too far behind musically, but on The Celts Enya found something very rare and special…and then lost it again. I don't expect her to ever produce a work of this quality again.
$i;?>
No Comments »
Comments are moderated and may take up to 24 hours to appear.
No comments yet.
Leave a comment