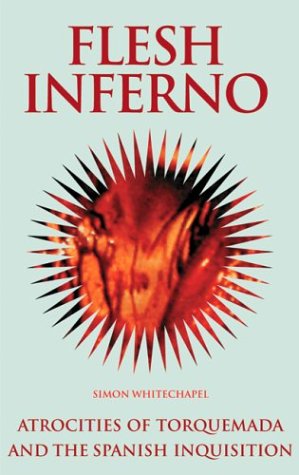 Jesus proclaimed himself the light of the world. Light obtained by burning heretics on pyres is probably not what he had in mind. Flesh Inferno is the third book in Creation's Blood History series, and covers the Spanish Inquisition in general, Torquemada in particular, and religion in abstract. Although Whitechapel writes from a secular background (the very first sentence contains the words "I despise the Catholic church"), the book is evenhanded and fair. It's not full of gruesome descriptions of torture, which might have been a miscalculation. The audience for the Blood History books probably wanted gruesome descriptions of torture.
Sadly, there might not have been as much of it as we thought. Although the cover blurb states that "nearly some 9,000 perished in [autos-da-fe] – and nearly 100,000 in the dungeons – during Torquemada's reign alone" the actual book states that Torquemada was probably responsible for only around 2,000 direct executions. But isn't that still a lot? Maybe. It's also the number of homicides reported in the United States of America every two weeks during the crack epidemic. Museums often feature recreations of elaborate and diabolical torture equipment supposedly used by the Inquisition, but most of them seem to be artifacts from the Victorian period. If you were tortured by the Inquisition, it would probably be with something cheap and easy to hand. Nothing the Inquisition did was unique to the Inquisition, and a secular version might be even better at it: the Inquisition's hand was forced, because it had the nominal goal of saving souls. A nonreligious Inquisition would be free to explore sadism for its own sake.
The historical parts were a bit boring. The parts I liked were the speculation and theories. Whitechapel's really good at coming up with interesting connections, and cross-breeding ideas from unrelated fields. The reciting of Psalms during torture is contrasted with Pavlovian conditioning. The smell of roasting human flesh (evocative of pork) is suggested as a possible inspiration for a Spanish anti-Semitic slur "marrano" (filthy pig). I didn't like the editorial decision to have every translated passage matched with its untranslated Spanish, regardless of length or relevance. On page 75 there's a block of uninterrupted Spanish that spans across four straight pages. There's simply no need for this, and it comes across as a strategy to push the book's page count as high as possible.
Comparisons between the Inquisition and Nazism are inevitable and obvious, but Whitechapel gets something out of it: the similarities between the Spanish concept of limpieza de sangre ("cleanliness of blood") and the Nazi concept of Blutschande ("blood defilement"). This is something I've always wondered – why has Christianity, a faith with overt universalist literature (Romans 5:1, among many others) so often associated with ethnic concerns of blood? Is this a universal impulse that finds its way into all human affairs? Or is there something in the religion itself that enables this thinking? We never get near the answer in this book, but maybe nobody ever has.
History is an Ouija board, and when you imagine the past, you are also (at least in part, sometimes in whole) imagining the present. Facts are facts, but our interpretation of them changes with the weather. Joan of Arc was a nationalist figure until that went out of fashion, an ecclesiastical figure until that went out of fashion, and now exists as a cross between a Disney princess and a "grrl power" feminist icon. Christopher Columbus has been an explorer, a pioneer, a symbol of Italian pride, and is now a disreputable villain. Soon he'll be alchemized into something else. Time's crucible spares nobody except the obscure and forgotten, and when we are dead our descendents will imagine inaccurate things about us.
In particular, there's often a bias to depict the past as more violent, lurid, and gruesome than it actually was. Maybe this is to exculpate our current society – a failing civilisation can appear successful by rewriting history to be worse. Or maybe it comes from a need to create interesting stories. Romantic 19th century woodcuts of the Barbary wars depict dramatic swordfights on crowded decks, gunsmoke swirling around scimitars and turbans. The actual diaries of the soldiers involved in these battles recall lots of boredom and pipe smoking, with occasional pauses to fire a cannon. The past doesn't complain when we revise it. Nobody's ever been sued for libel by a historical figure. But one can't escape the impression that historians are like those Jewish POWs who swallowed the family jewelry so it wouldn't be discovered. Yeah, there's a pearl in there somewhere. Are you ready to go searching through shit to find it?
The book is out of print now, and used copies might be hard to find. If you're looking for a history book, there are surely better options available, but Flesh Inferno asks a number of interesting questions about the past, and finds an angle that probably would have been impossible within the confines of straight history. It's difficult to study a pile of ashes and discern the causes and reasons, but it's a worthy task, and perhaps a necessary one. Someday, the fires might burn again.