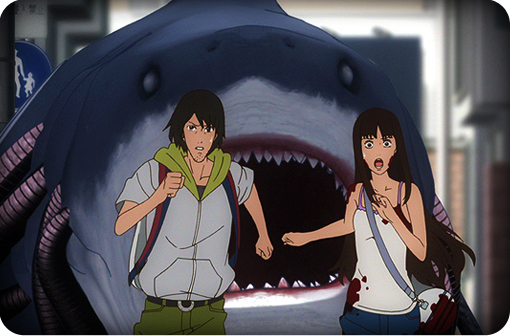 In 2012, Ufotable adapted Junji Ito's legendary manga into a 70 minute OVA.
As in the comic, millions of fish suddenly sprout legs and start migrating inland, causing massive destruction. It's a silly story, but Ito found a way to make it creepy and compelling, and Ufotable doesn't deviate far from his plot. All the basic points are touched upon briefly – often too briefly (Brevity is the soul of wit, but it's the soul of laziness, too), and while a different take on the manga might have been ideal, I'm glad they did this. The few times they take the story in a new direction are nearly enough to ruin the entire movie.
There's lots of fanservice here. Lots of animated bouncing breasts and heroines tripping over so we can see their panties. This is all wrong – Ito's comics aren't about cockteasing T&A crap. It disrupts the atmosphere, and takes things to the level of a western horror film. You start wondering when the guy in the hockey mask will show up.
They switched the genders of the main characters, presumably so they could show a nubile young girl getting molested by a giant octopus. The male character Tadashi is now a fifth wheel. He has no purpose in the story because Kaori is now Princess Peach and Mario rolled into one, simultaneously a damsel in distress and a plucky heroine. They also added some secondary female characters who provide T&A and are generally of no import to the story.
A lot of stuff seems awfully rushed, and things that were lingered on unpleasantly. The two chapters in the circus were my favourite part of Gyo, a trippy interlude that reveals things might actually be worse than anyone could ever imagine. But they come across awkwardly in the movie, and it wouldn't have hurt if they'd been scrapped. The business with Dr Koyanagi is handled pretty shittily as well, and a dark and interesting character becomes an annoying Dr Phibes.
There's some effective scenes. Kaori carrying an injured friend up a staircase with a giant walking shark charging up the stairs behind her, with the shark kept out of the frame so that we don't know how far away it is…that's a spectacularly effective shot, and my heart rate increases every time I see it. Junji Ito has lamented that you cannot easily control pacing in comics, cannot decide how fast the reader experiences the action, and Takayuki Hirao seems keen to show that he is under no such limitation. The special effects are pretty good, and seeing all those walking fish running around Okinawa was nice.
But the soul of Gyo went missing in the transfer. There's none of the comic's sense of the absurd made palpable and real. The movie feels campy and trite, and not very scary. The comic had a dense atmosphere. Ultimately the Gyo Anime serves as an exercise in how to adapt a comic almost flawlessly – and yet, somehow, not truly adapt any of it at all.
$i;?>
No Comments »
Comments are moderated and may take up to 24 hours to appear.
No comments yet.
Leave a comment