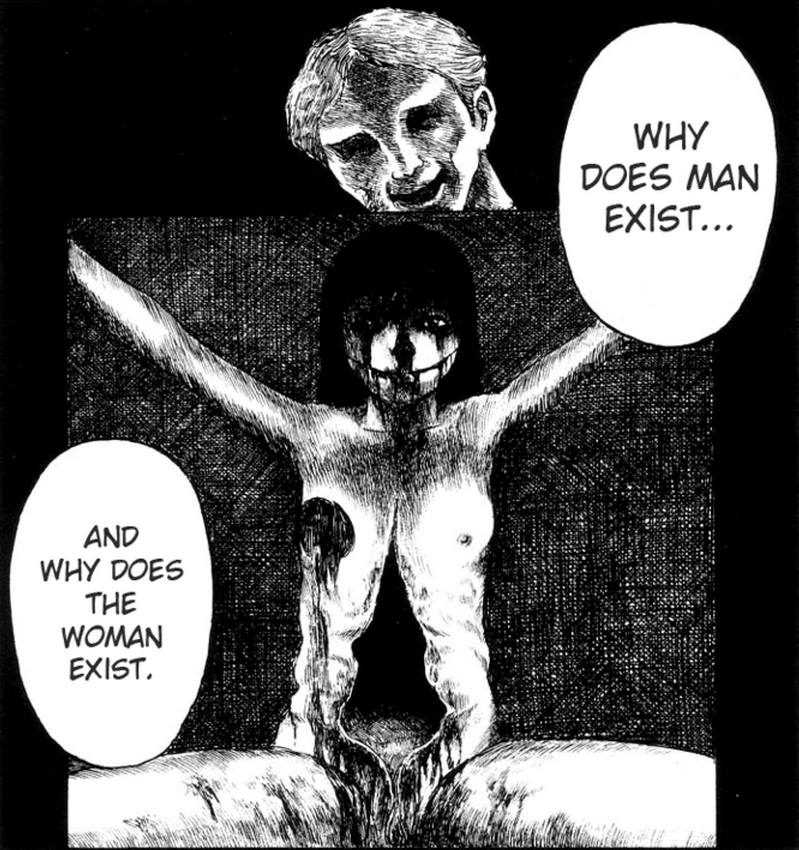 In this movies, a common joke is a schoolboy with a porn magazine hidden behind a textbook. Hell Season is the kind of thing you'd have hidden behind a porn magazine. It is an infamous 10 chapter volume of gore, sex, and unwholesomeness, put together by an all-star lineup of guro artists (Waita Uziga, Shintaro Kago, Machino Henmaru…)
I should warn you that the production values aren't terribly high. Asuka Shiraishi's manga doesn't even look finished – you can see construction lines in his drawings. In some cases the stories are bogged down by poor-quality art, but in some cases they transcend it, as in one notable instance at the end.
Kago's "When All Is Said And Done" opens the festivities. If you want bleeding rectums, this comic's got them. Another perennial guro trope – quadruple amputees – makes an appearance, too. All in all, a good story, although it's not as imaginative as you'd expect from him.
Uziga's "This Piece of Meat is Talking" comes next. What can I say about Waita Uziga? He's brutal, and he likes to go for Bambi-like emotional trauma, too. All of his panels contain someone either crying or dying. Unfortunately, his art is a mess…a blizzard of geometric shapes with wonky shading, making it a forensics-like challenge to work out what's going on. His characters have a very stereotypical "big eyes" anime look to them. I've always found it hard to get into guro when I can hear the Sailor Moon theme in my head.
"The Holes" by Machino Henmaru is pleasant for most of its length, and has a mule-kick of a final page that sends it completely over the top. "Rotten Bud" by Mitsuka Hattori has a nostalgic Suehiro Maruo atmosphere that I really enjoyed.
The final few stories are a bit arty and weird. "Mechanical Destructive Killcommand" (try finding a more anime title than that) evokes memories of 80s crap like MD Geist and Genocyber – soldiers fighting a war with a purpose that isn't clear, with ill-explained weirdness occurring all around them. "Shameless Ranger" is less oblique and a bit more elaborate, but there's still a jarring sense of having walked into a party halfway through – that we've missed out on important events, and that the manga was written to be that way.
Jun Hayami's "Crowd of Shit-Sacks" (awkward translation, I think) is the true classic from the volume. The art is shit, but the mood Hayami evokes is fascinating, and the atmosphere is extremely bleak. There isn't that much of a story, it's more a stream of images describing exempli gratia desolation and abandonment . This one really depressed me when I first read it. Jun Hayami is an amazing talent who got a bit of exposure with Creation Books' Beauty Labyrinth of Razors – I doubt you can get a copy of that now.
Show this to your mother and she'd cut you out the will, cut you out of the family, and probably cut you in more literal ways. But it's fun if irredeemable look into the destructive backbrain of one of the world's more repressed countries.
$i;?>
No Comments »
Comments are moderated and may take up to 24 hours to appear.
No comments yet.
Leave a comment