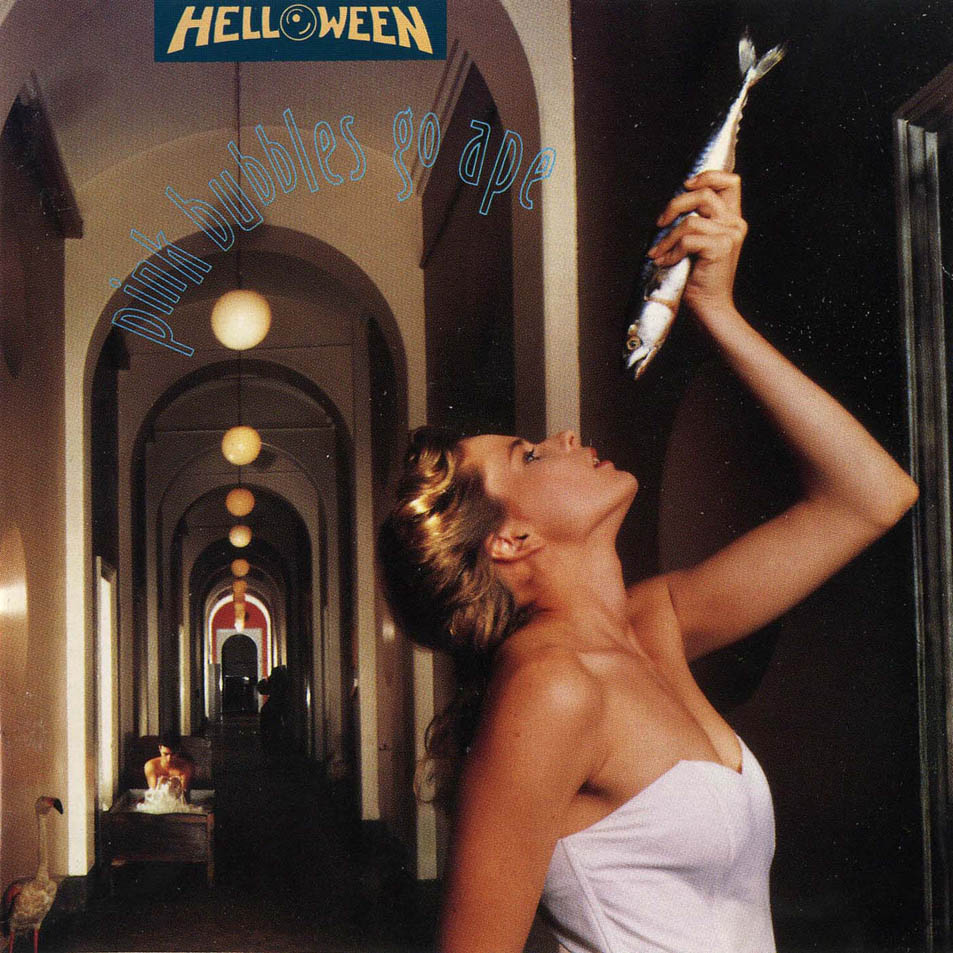 What happened here?
Helloween's fourth album is stupid and bad, and it's stupid and bad in a way that bands are normally immune to. Pink Bubbles Go Ape would have made sense coming from a solo artist. All artists have THAT period, where they snort a rail of coke laced with rat droppings and make a concept album about socks disappearing inside the lint dryer. But how the fuck did five members all agree to sign off on this inanity?
To recap, Helloween were on an incredible hot streak through 1985-89. Walls of Jericho and both of the Keeper albums (notice that I make no mention of a third) wrote the book on Teutonic power metal. After touring with Exodus and Anthrax, and getting airplay on Headbanger's Ball, they finally seemed on the verge of a big break.
Then principle songwriter Kai Hansen left the band. His final composition on a Helloween disc, "I Want Out", was apparently less a catchy tune than a dire prognostic. Immediately, the band went into a tailspin, with drummer Ingo Swichtenberg's schizophrenia becoming worse and vocalist Michael Kiske now harboring delusions of reinventing the band as a pop group.
Three years later, we got this, and the band's chances at becoming a mainstream metal act ended in a fit of pure absurdity. It's one thing to shoot yourself in the head. Helloween managed to shoot itself with one of those joke store pistols with a spring-loaded *BANG* flag.
The album is either hard rock music that isn't very good, or comedic lyrics that aren't very funny, and usually both at the same time. Almost none of it sounds like power metal. "Kids of the Century" makes an effort at rocking hard, before confessing partway through "yeah, I got nothin'". "Number One" is a Weikath song from the early 80s. It's no mystery why it never appeared on a past Helloween, but why it's on this one is mystery aplenty. "Goin' Home" and "Heavy Metal Hamsters" are like special-needs glam rock, if such a thing existed. I'm imagining huge teased 80s hair, hidden beneath a SPED helmet.
In a final surrealistic touch, the only songs that sound like old Helloween ("Somebody's Crying" and "The Chance") were penned by new guitarist Roland Grapow. Both of these songs are great, particularly the second one, which has lots of soaring guitar harmonies and a dog-whistle high note from Kiske. Grapow was a thirty year old car mechanic, drafted to fill the gap left by Hansen's department, and "The Chance" reflects the optimism at such a stroke of luck. Unfortunately, Helloween was and is a dysfunctional band (even without Kiske), and in ten years he'd probably relate more to "I Want Out."
"Mankind" wastes a great Queensryche atmosphere with a goofy chorus, and the final ballad "Your Turn" is saccharine gloop. It's nearly as bad as "A Tale That Wasn't Right". Put this in your car's fuel tank and your ride would never work again.
What's the French expression? Folie à deux? A bunch of people suddenly going mad (or ape, as the case may be?) It basically put a spoke in the band's wheel, and set off events that would leave most of Helloween's lineup getting fired or dead. It's a tragedy, masked as a comedy.
$i;?>
No Comments »
Comments are moderated and may take up to 24 hours to appear.
No comments yet.
Leave a comment