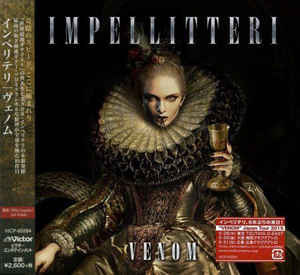 The power of Christ Impels you! This album completely surprised me, as I'd always classed Impellitteri as one of the flock of 80s shred metal bands: long on guitar sonatas, short on songwriting ability or actual hooks. Venom proved to be one of the most powerful, focused, and concise albums of its year. The LD50 for this album is very low.
What to expect? Savagely fast and technical riffwork, which runs all up and down the neck while still remaining tight and groove-laden. Guitar solos that throw away any notion of "taste", "musicality", or "wearing pants" and just eviscerate the listener with almost unimaginably fast blurs of notes. Soaring vocals that bend and weave around the guitar lines. A bass and drum rhythm backdrop that crushes you hard enough to undergo atomic fusion.
With ten songs that are all around three minutes long, this is a shred metal album LARPing as a punk rock LP. There's an immediateness and directness to the music that can't really be compared to other shred metal. This is the anti-Yngwie. It doesn't get right to the point – it starts at the point, from the moment the needle touches down. The songs fly by with alarming efficiency, verses and choruses and solos appearing and evaporating just at the point where they've got you intrigued.
Chris Impelliteri's guitar sound is like the glass shards from a dirty window. Smooth, glassy, but also throat ripping, full of points seeking out the body's softness. His tone is so thick and suffocating that he must have quadtracked the rhythm parts, despite the agility and tightness of all these songs.
And the tempo is very fast: the album strings so many uptempo songs together that the thirty-three minute runtime soon seems like a necessity, before the listener taps out. "Venom", "Empire of Lies", and "Nightmare" are progress at a gallop. "Face the Enemy" is perhaps the album's slowest song, a Virgin Steele style uptempo rocker with a big chorus.
"Domino Theory" is a rolling thunderstorm of a track that might be my favourite from Impellitteri's work here. "Jenovah" and "Rise" have hard-edged choruses with some surprising progressive sensibilities in their construction. The album closes with "Time Machine" and "Holding On", which are equally ominous but perhaps more melodic. The European edition has a bonus track called "Rock Through the Night", which is fine on its own, but takes the album to the point where there's too much of the same and it starts to become a bore.
But Impellitteri astonished me with what they accomplished on this album. A shred metal album that you can listen to in one sitting, and still want more…wasn't this always the endpoint for the genre?
$i;?>
No Comments »
Comments are moderated and may take up to 24 hours to appear.
No comments yet.
Leave a comment