Some people become JoJo fans naturally; I was forcibly converted. I was part of a movie-watching group and whenever we ran out of material our host would inflict JoJo marathons on us. I still recall his mounting panic when we didn't share his enthusiasm ("…this gets really good around Stardust Crusaders, I promise!")
It took me a long time to like JoJo, and even now I'm not a superfan. But I "get" what it's about. Not in the sense of plot (a cursed mask, sibling rivalry, an ancient blood debt), but what it's really about: the glory of the West. Or, less politely, weebishness in reverse.
Traditionally, weebs are white kids who are fascinated by Japan (or the Japan they see in anime) and assign various romantic ideals upon it. The stereotypical weeb is overweight, undersocialized, a disappointment to his parents, and a failure with women – he holds no love for the place of his birth. Japan represents a kind of Avalon to him, an isle across the waters where nerds and misfits are accepted.
Hirohiko Araki is an anti-weeb: a Japanese person who's in love with Western culture. I guess the bamboo is always greener on the other side. Japanese authors are often attracted to a certain element of Western culture (Edogawa Rampo loved the Gothic movement, Yukio Mishima loved fascism, Haruki Murakami loves bohemians) but Hirohiko Araki's tastes are exceptionally omnivorous. He loves everything about us.
JoJo's Bizarre Adventure is about rockstars, pirates, highwaymen, knights, athletes, gangsters, gamblers, and rakes. Everyone's an archetype of masculinity, cool beyond cool, a muscular, flamboyant ubermensch. JoJo takes Western machismo and exaggerates it to cartoonish, absurd levels.
It's pretty gay at times. I don't know whether JoJo's homoeroticism was intended, but it's striking that the manga has one female character, and she's passive and pathetic, serving as a prize for the strutting male peacocks to fight over.
The love weebs have for Japan is often an intellectually shallow one, and they tend to get stuff wrong. Hirohiko Araki gets details about western culture wrong, too. For example, the villainous Dio resurrects a pair of medieval warriors, Brufold and Tarkus, to help kill Jonathan Joestar. We're told that they're knights who served Mary, Queen of Scots…but neither of them look like knights. Tarkus (left) is armored like a Roman Centurion. Brufold (wearing a horned helmet) is clearly modelled after a Viking warrior. These are not knights.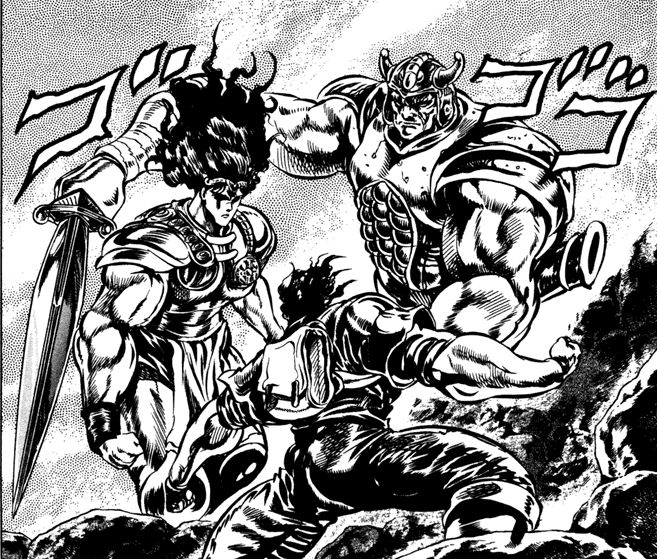 Or consider the family name, "Joestar", which sounds jarringly wrong to the Western ear – people don't have surnames like that. It reminds me of the infamous Fighting Baseball player roster, where a Japanese game programmer had to invent a bunch of American-sounding names and came up with "Sleve McDichael" and "Bobson Dugnutt".
But realism isn't important in JoJo. Perhaps hyperrealism is, though: everything given a little push over the cliff (in the words of Nigel Tufnel). JoJo is the world of could-have-been truths that are exaggerated to compensate for the fact that they never existed.
Obviously a name like Dio Brando gives the game away – a stilted amalgamation of a heavy metal rockstar and a Hollywood actor. As is the character of Zeppeli, who is visually modelled upon Salvadore Dali. JoJo often surprises the reader with its degree of literacy and wit.
I enjoyed the start of Phantom Blood more than the end. The way Dio Brando whiplashes from gentlemanliness to psychotic brutality is hilarious and shocking, and puts the reader squarely in Jonathan's corner. And the "down-to-earth" nature of the tale was pleasant: something gets lost when the hero is battling a sentient hairstyle.
The final few volumes sort of blur together. Jonathan faces a threat, learns a new power or ability to overcome it, faces an even bigger threat, learns a new power or ability, and so on. It's like a treadmill that speeds up all the time – soon you're tired and want to get off. It was probably more enjoyable in its original run, where the repetition is less obvious. Probably better as an anime, too, where colours and music help establish JoJo's mojo.  I'm curious to see where the Joestar family goes next: hopefully a Jonathan Joestar vs Sleve McDichael crossover.
$i;?>
No Comments »
Comments are moderated and may take up to 24 hours to appear.
No comments yet.
Leave a comment