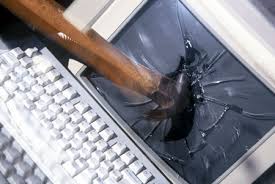 [You have a problem.]
[You google the problem.]
[The only relevant result is a forum thread from 2011.]
OP: [exact description of the problem you are having]
Person 1: [wrong answer]
Person 2: [wrong answer]
Person 3: [correct answer to a problem that is not this one]
Person 4: ["solution" that involves twenty hours of work, broken laws, $2000, and a fresh human kidney]
Person 5: ["solution" that amounts to "have you considered not doing the thing you're trying to do?]
Person 6: [pointless chiming in that they don't have that problem and therefore cannot help you]
Person 7: lol! Person 2 has a Better Call Saul avatar! Does anyone watch Better Call Saul?!? Let's talk about Better Call Saul right here in this thread!
Person 8: [correction of spelling mistake that itself contains multiple spelling mistakes]
Person 9: [wrong answer, stated with utter confidence. Post contains the words "this WILL work" and ends with an unprompted "you're welcome! :)" because clearly the problem is as good as fixed. Reacts with bafflement and hostility when their solution doesn't work.]
Person 10: I have the same problem! [proceeds to describe a problem that, although superficially similar, is in fact wildly different to the one in the OP. Everyone rallies around Person 10 and starts trying to fix his totally different problem.]
Peanut gallery: [steady stream of inside jokes, innuendo, and resurrections of old catfights that nobody but they themselves understand.]
Person 11: Hey, OP, this should help [posts a link]
OP: Thanks Person 11, you fixed my problem! Wow, that was a real head-scratcher! I would NEVER have thought of that on my own!
Moderator: issue resolved. Thread locked.
[You click the link. The website went offline a long time ago, and the domain redirects to a Russian goat porn site. No backups exist on the Internet Archive.]
[You start your own thread asking for help]
Everyone: jeez, learn to search the forum! We already resolved this issue!
$i;?>
No Comments »
Comments are moderated and may take up to 24 hours to appear.
No comments yet.
Leave a comment