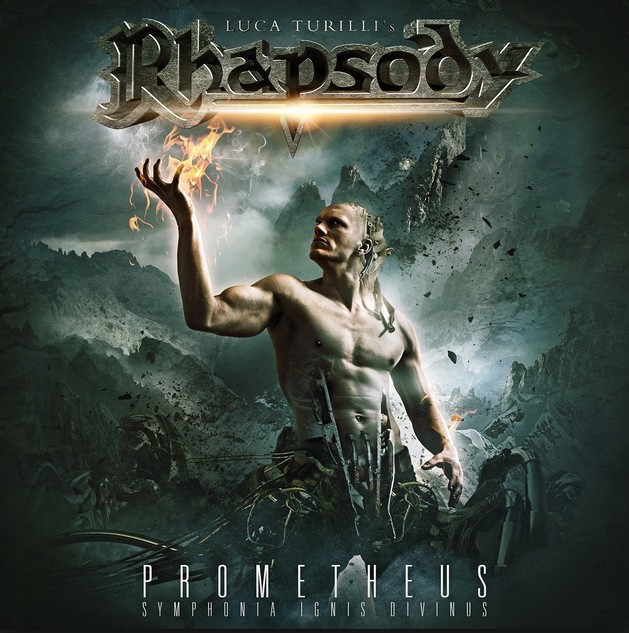 Listening to this is like drinking from a fire hose.
Most bands take time off, then release a batch of new songs (ie, albums). Luca Turilli works this formula on a meta level: he takes a LOT of time off, then releases a flurry of albums. He has truly pathological release patterns. Counting both Rhapsody albums and solo releases, from 2000-2002 he released three albums and one EP. Then, a few years off. Then, in 2006, three new albums. Another break. Then, from 2010 to 2012, three new albums and one EP. Now, we're coming off another 3 year break. Have the floodgates opened again?
Prometheus is a monstrous effort, and ranks among Turilli's greatest work. The power metal is still there, fused against an even expanded backdrop of symphonic scoring, as well as an electronic element we haven't heard from him since Prophet of the Last Eclipse. There's so much of…everything that it becomes overwhelming. This is musical Where's Waldo – a short exercise in what it's like to have ADD.
"Il Cigno Nero" is fast and breezy, a power metal song with a lead guitar tone so crisp and sharp that each note seems rimed in frost. "Rosenkreuz" and "Anahata" are slower but attack from about the same angle. Choruses are large and powerful, but layered with that distinctive Rhapsody intrigue that makes you look forward to your tenth and twelve listen, just so you can appreciate the final small details.
"Yggdrasil" sports the album's most diverting chorus, and would have made a good lead single. "One Ring to Rule Them All" has a massive build-and-release in the prechorus leading into the chorus, as well as an appealing folk metal bridge. Final track "Codex Nemesis" is 18 minutes of the densest and most intricate music Luca's composed to date. I think I had to listen to all the other songs twice before I felt equipped to understand this one.
There's a lot of things this album is, and a few things it isn't. It's not a power metal assault like the final two Rhapsody of Fire albums. The guitars exist only as one instrument among many. It's not really as much of a "band" effort as some seem to be looking for – I'll take Luca's word that there's a guy playing bass along with this, because I sure can't hear him in the mix. But that's not what this project was meant to be. It was designed to push the Rhapsody sound as far in one direction as it would go.
Does it work? Listen to "Solomon and the 72 Names of God", for example, and tell me. It's not a question of whether the album has things to give. It's a case of whether you're equipped to capture it all. The nozzle of the Luca Turilli fire hose now stands before you, and someone just unkinked the pipe.
$i;?>
No Comments »
Comments are moderated and may take up to 24 hours to appear.
No comments yet.
Leave a comment