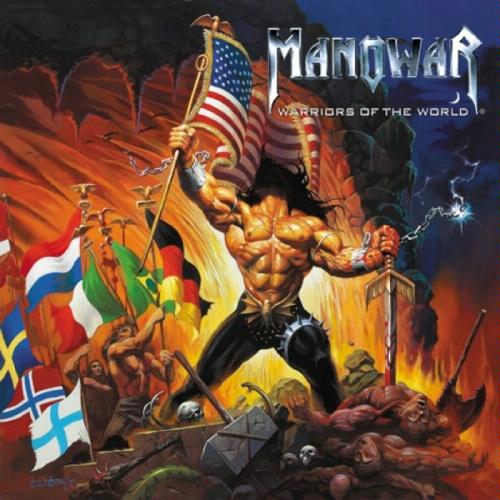 Good album, shit tracklisting. They open with an obvious Manowar crusher, follow it with six ballads/operas/studio experiments, and then run three fast metal songs back to back to back to back, giving you no space to breathe.
If you want to get the most out of Warriors of the World, perform the following surgery. 1) include the two songs from the Dawn of Battle EP. They're great songs, and there's no reason they shouldn't be on the album. 2) Delete "The March", "Valhalla". While we're in the neighbourhood, delete "An American Trilogy" and then reformat your hard drive just to destroy all traces of it – worthless song. 3) Redistribute the three speed metal songs at the end so that there's more variety in the pacing. You'll be left with something a bit like this.
1. Call to Arms
2. The Dawn of Battle
3. Warriors of the World United
4. Swords in the Wind
5. Hand of Doom
6. I Believe
7. The Fight for Freedom
8. House of Death
9. Fight Until We Die
10. Nessum Dorma
It's a shame when fans have to do the musicians' work, but the album's current tracklisting makes no sense and creates an odd listening experience. Which is frustrating, because Warriors is a good album.
Some songs, in fact, reach beyond good and enter the state of excellent. "Call to Arms" takes me into a state of ecstasy every time I hear it. "Warriors of the World United" is another slow one with a powerful chorus, reminiscent of RJD-era Black Sabbath. "I Believe" is Manowar in full cheese mode, while "The Fight for Freedom" and "Swords in the Wind" are epic ballads. "Nessum Dorma" is an Puccini opera aria, which Eric obviously nails. The band likes performing this song in Italian when playing in Italy, as part of their multilingual obsession that has culminated in feats such as recording a single song in sixteen different languages.
"House of Death" is the kind of full-throttle mayhem the band does so well, while "Hand of Doom" sugars things up with some dramatic pad sounds and wild sweep-picked arpeggios courtesy of Karl Logan. "Fight Until We Die" is another fast one, full of menace and aggression. But the greatest speed metal song on offer is definitely "The Dawn of Battle", which is so cool I can barely put it in words. My soul has been healed, by the power of steel!
The loyalty of Manowar fans despite everything the band has done wrong is part inspiring and part horrifying, and draws comparisons to battered wives and abused dogs. IThere's a sucker born every minute, and no doubt a sucker listening to a Manowar album every minute, too. I continue to love Manowar and their music, even though I think Joey DeMaio is an abusive lunatic and the rest of the band are enablers and catspaws. The tracklisting on this album is ghastly, and some of the songs rank among the worst things Manowar has yet conceived. But there's a still a good fixer-upper of an album here, and if you want to put in some extra work, it could actually be described as great.
$i;?>
No Comments »
Comments are moderated and may take up to 24 hours to appear.
No comments yet.
Leave a comment