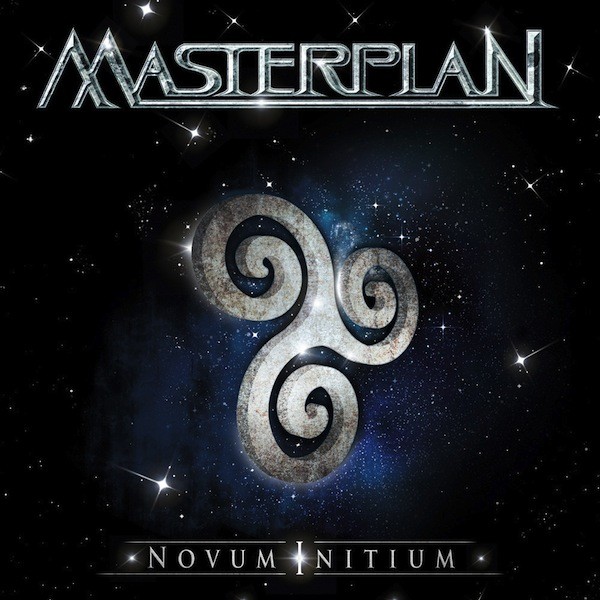 I am heavily OD'd on this album, but my impression is of an album that is good bordering on excellent. It's not THE power metal album, but it's a good release worthy of bearing the Masterplan name.
The Masterplan name, by the way, was suggested by a Brazilian fan in 2002 who was delighted that so many master musicians were planning together. They were a nearly a definitive heavy metal supergroup, made up of cast-offs from Helloween, Iron Savior, and Ark. Roland Grapow's modern and progressive riffing style plus Uli Kusch's dizzying technical drumbeats plus Jorn Lande's continent-filling vocals equaled very, very good music.
Unfortunately, problems started setting in after their second album: slackening record sales, a feud between Uli and Roland, and worst of all, a singer who just didn't care that much. Since then the band has been like a drowning man being pulled downstream and clutching at eddying pieces of driftwood. New singers, new drummers, new styles. After the dry, Scorpions-inspired Time to Be King, Novum Initium finds the band playing power metal, this time with Rick Altzi on vocals and an incredibly powerful new drummer called Martin Skaroupka. If Kusch was Les Binks then Skaroupka is Scott Travis – relentless double-bass flurries and lightning fast snare fills, amplified by a production job so dense and heavy that Novum Initium borders on sounding ridiculous.
There's still a bit more midtempo material than is really needed, but Novum Initium regains the ground lost by Time to be King, and introduces some interest progressive elements.
"The Game" is ferociously fast, with many different sections. "Black Night of Magic" is a bit like "Kind Hearted Light" on the debut, except with the riffs stealing market share from the keyboards instead of the other way around. "Pray on My Soul" is an adequate midtempo unit-shifter. The ballad "Through Your Eyes" is musically well done, although the production is too heavy and compressed to work for this sort of song. It's like the band is performing open heart surgery with a sledgehammer.
"Betrayal" features prominent sitar sections and an agitated chorus, but the best song is "Return to Avalon", a simple tribute to Helloween that does not do a single thing wrong. It's catchy enough to be memorised after your first listen, but it has enough contrapuntal intrigue and complexity for that not to be your last listen. The chord changes backing the final repetition of the chorus are brilliant.
The final song is the 10:17 title track. I had high expectations, and they were kind of met. It's an impressive musical achievement, with Roland bashing out lots of low-end riffs and keyboardist Axel Mackenrott laying down atmosphere like a bastard. But it lacks the flying speed and majesty of "Black in the Burn" and feels like too little bread spread over too much butter (or whatever hobbits say). Still, that final chorus is a thing of beauty. I think it would have been better if they'd shaved two or three minutes off – I'm not picky where.
Masterplan is not down and they're not out. They don't match their first three albums, and they probably never will, again, but they're still a massive threat. If nothing else, it beats the latest Helloween album, and that's kind of the whole reason this band exists.
$i;?>
No Comments »
Comments are moderated and may take up to 24 hours to appear.
No comments yet.
Leave a comment