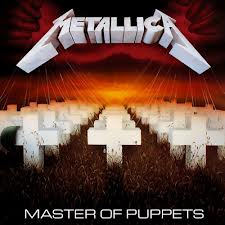 When I first heard Master of Puppets I thought it the greatest metal album I'd ever heard. Eight years later and I think so still. This album has not yet been topped.
The quality is fractal. How deep do you want to go? The songs are great. The riffs are great. The individual sound waves are great. There's no filler, no stupid ideas, just an octet of songs that stand as templates on how to write heavy metal. From Pantera to Trivium to Five Finger Death Punch, everyone and their brother attempts to rip off this album. Nobody ever succeeds. If you want another Master of Puppets, you have no choice but to go to a record store and get a second copy.
The songwriting is dense and intricate, but catchy and memorable. After five listens you will remember Master of Puppets note for note. While it's not as heavy as most thrash albums (even compared to Ride the Lightning, Metallica eases back on the trigger a bit), it features an unlikely savior: more clean sections. Five of the eight songs feature clean guitar (or unaccompanied bass) sections. While Metallica's contemporaries mostly used clean guitar parts either as musical jokes ("Evil Never Dies" – Overkill) or as deceptive segments that sounded completely different to the rest of the song ("No Love" – Exodus), Metallica preferred to integrate them as cohesive parts of the song. James Hetfield realised that rather than participating in the "heavier heavier HEAVIER" arms race that leads invariably to self parody, heaviness can be obtained by another method: contrast. Light and shade. Loud and quiet. Punches, and periods to recover from the punches. Yes, it sounds obvious. No, very few bands get it right.
"Battery" and "Damage Inc" are quite fast, with Lars Ulrich making one hell of a racket behind the kit. "The Thing that Should Not Be" is a crushing homage to HP Lovecraft doesn't move so much as…evolve. Section follows section like a fish sprouting legs. "Disposable Heroes" is long and harrowing. "Orion" is a very unboring progressive metal song with a set of amazing riffs.
Every song on Master is full of memorable ideas and exciting moments, but the title track towers above the rest. "Master of Puppets" is a completely amazing heavy metal classic that rivals "Iron Man" and "Kashmir". Three classic hall-of-fame-worthy riffs in the intro alone. The song mostly listens like a merging of "Ride the Lightning" and "Creeping Death" but is far more elaborate, with an Iron Maiden-esque dual guitar section.
Flemming Rasmussen's production is superb, trading in Ride's muddy NWOBHM inspired sound for a pulverising metal attack so sharp and crisp that the tracks seem to arrive in your eardrums via vaccuum-sealed bags. The album finds all four members of their band at their peak as musicians, or close enough, an extremely tight and focused four-piece unit.
Ultimately though it's the songs that make Master of Puppets (and Metallica) great. No matter how hard or often they fuck up, Metallica is still a great band thanks to this album. Remember Sir Edmund Percival Hillary? Does it matter that he could no longer climb Mt Everest at age eighty? No. You only need to do something great once. Metallica's like that…no matter how many hipster art rock albums they release, they always have this in their back catalogue.
Still, though, guys…retirement. Think about it.
$i;?>
No Comments »
Comments are moderated and may take up to 24 hours to appear.
No comments yet.
Leave a comment