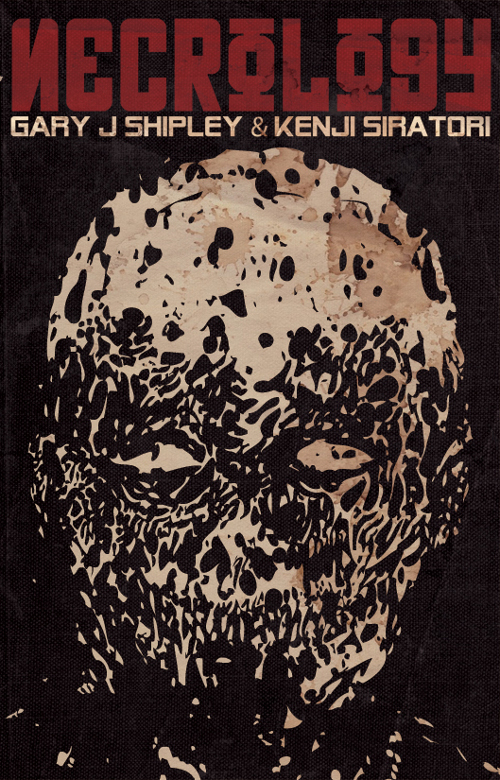 In 2012, a book came out that changed everything. It rose from the dreck like a dark grimoire of power, incipient and wrathful, ready to turn doubters into believers and believers into zealots. A book that shattered your expectations, remade them, and shattered them again. You finished the book a broken and humbled man, with one thought resounding in your skull. "So that's why my knitted cardigans weren't up to scratch."
This, however, is not a review of Knitting from the Center Out: An Introduction to Revolutionary Knitting. It's about another book altogether, Necrology.
Half of the book is written by Creation Books darling Kenji Siratori. My first exposure to this overrated fuck was Nonexistence, a clown car pileup of nonsensical words pretending to be an cyberpunk novel. I thought Siratori was a troll then, and I think he's a troll now. You can search online for samples of his prose, but suffice to say he's heavily inspired by William S Burroughs and other experimental authors. He seems to have reduced some of his worst excesses, but he is still not a readable writer by any sane standard. I hope to forget about him soon and often.
The other half is by Gary J Shipley, a man I hadn't heard of. He turned out to be a pleasant surprise, and he actually ends up carrying the book. His prose style is similar to James Havoc (another Burroughs-inspired author), with vividly described and frequently incongruent imagery designed to stick in your imagination. You don't need to do much except get carried along by the slipstream of his writing. To mangle Robert Christgau, you don't know what he's doing, but you can definitely see that he's doing it.
So what's this book about? Siratori's portions of the book are lexical white noise, but Shipley's seems to articulate a theme of life being another name for death. Lots of his metaphors speak to that: babies dropping dead out of wombs, middle age being equated to decomposition, etc. Portions of the book resemble a narrative (although you'd be an idiot to expect a story in this sort of book), with some dystopian, transhumanistic themes being riffed on. Necrology is all over the place and doesn't fit well into a genre category.
To muddle the book's purpose still more, there's a third author. Reza Negarestani contributes an afterword, in which we learn of a barbaric Etruscan punishment (victim sewed body to body and mouth to mouth with a corpse), that manages to be disgusting but also thought provoking due to Negarestani's metaphorical conclusions.
The idea of being sewed to a corpse seems unpleasant, but that's the reality of believing in a soul…that we are all spirits tied to meat anchors. That when you kiss a woman it's her soul that reciprocates the gesture, and you are locking lips with a corpse. It's very interesting, although Negarestani's writing is academic and not really a model of clarity.
Siratori is a waste of everyone's time, but the book is worth getting for the Shipley and Negarestani portions. It will certainly be of interest to lots of people who like weird writing, and if it doesn't impress there's always the knitting book.
$i;?>
No Comments »
Comments are moderated and may take up to 24 hours to appear.
No comments yet.
Leave a comment