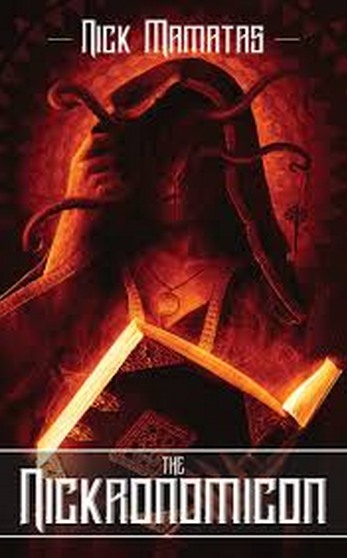 If you're part of the crowd that wants nothing more than to resurrect Lovecraft and strap a rocket jetpack to his back, then who better to read than Nick Mamatas, Lovecraft superfan par excellence? It's hard to forget instances like this comprehensive defense of Lovecraft's prose, and how HPL's odd word choices like "cyclopean" are actually the ones that fit the scene. It serves as a reminder to never, ever, argue with a superfan about their topic of interest. They'll make you look like chopped liver.
The Nickronomicon fuses old and new in a way that feels fresh, yet familiar. The familiarity comes from D.M. Mitchell's impressive but now fairly obscure The Starry Wisdom, another collection that tried to put Lovecraft and postmodernism on the same page (literally), and which I suspect had somewhat of an influence on these stories. One of the Starry Wisdom writers gets a co-writing credit here, for example.
Nickronomicon has all the gore, tentacles, and trans-dimensional spit-swapping you'd expect, but these things share space with Mamatas's take on the everyman, which are usually writers, downtrodden beatnik types, or fetishistic Lovecraft enthusiasts. At times things get pretty self-referential, with some stories taking potshots at the Lovecraft fandom itself.
"Brattleboro Days, Yuggoth Nights" is a brief but enticing story-through-a-peephole affair that consists of a series of vague and nearly unreadable communications, apparently between HPL and an amateur press enthusiast. Lots of people have tried to the "what if Lovecraft was really on to something?" approach, but I liked this one for its brevity and subtlety. "And Then, And Then, And Then" is even shorter, and revolves around a developmentally challenged person's encounter with unknown. Again, it's weird fiction, but there's a filter in the way – a filter of modernity that doesn't destroy the weirdness but colors it, makes it seem different somehow.
There's a fair amount of humor and jokiness. I liked how Mamatas doesn't treat Lovecraft's material as fresh virgin snow, but acknowledges that our culture has been strip mining him for more than fifty years (Cthulhu plush toy dolls, and all the rest). The Lovecraft mythos is now shot through with a fair amount of ridiculousness, and he's not afraid to poke fun at the excesses of fandom, especially in "Mainevermontnewhampshire", where we see this encounter between a writer and a fan.
"Hi, it's me," said the kid, who was actually wearing a tuxedo. "Remember me, from the Lenore Awards banquet, when you won the lifetime achievement award? I wore what I was wearing then in case you came, so you'd remember me." "You're my biggest fan," Sam said. " … Jeremy?" That was a safe guess. Everyone under the age of thirty seemed to be named Jeremy these days.Jeremy beamed. "You do remember me! I'm so glad I was able to make it. I spent years submitting stories, but finally, one got published. Do you read Dark Somethings, Mister Bey?" It was a photocopied zine that Sam received in the mail every eighteen months or so. He found that the paper stock was good for rolling joints, so appreciated the free subscription.
Ultimately, Nickronomicon rests upon strong and original stories. It's not the most creative take on Lovecraft, or the best written, but it could end up being one of the most enduring…perhaps because its written by a superfan.
$i;?>
No Comments »
Comments are moderated and may take up to 24 hours to appear.
No comments yet.
Leave a comment