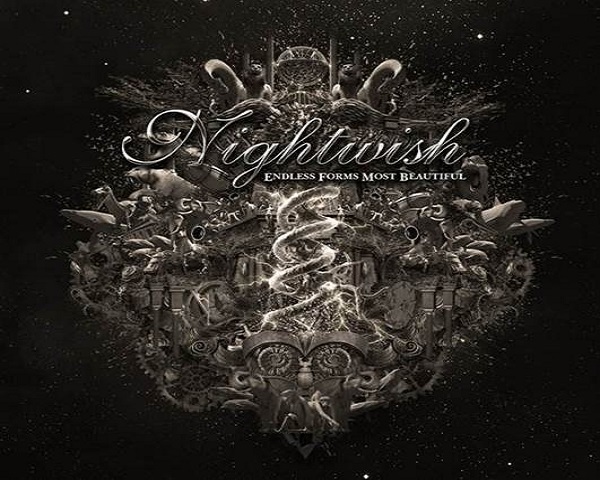 If you're a Nightwish fan in 2015, I have a question about your fingernails. Are they chewed ragged, or have you gnawed them away completely by this point?
The last four years have seen levels of melodrama and self-parody normally reserved for Manowar. An uninspired studio album. A failed feature film. A frontwoman who left the band so abruptly there's still skid marks around the microphone stand. A drummer forced into retirement by chronic insomnia. The announcement that Richard Dawkins would feature on the new album. A concept album about Scrooge McDuck. Tuomas crying because people had the cheek to listen "Elan" on February 10 instead of February 13 like he'd planned.
The stars were aligned for Endless Forms Most Beautiful to be the most pretentious and obnoxious Nightwish album to date. It isn't. Honestly, sometimes I think it could stand to be a bit more pretentious and obnoxious.
New vocalist Floor Jansen is kept in cruise control mode, and her performance lacks both Tarja's emotion and Anette's chest-belted power. The production is scaled back to match, with a less savage guitar attack and quieter drums. Into the gaps flow an increased number of orchestral parts, mixed with Celtic instrumentation from new member Troy Donockley.
"Shudder Before the Beautiful", an animated uptempo rocker similar to "Dark Chest of Wonders." There's a quote from Dickie Dawkie, Pip William's trademark orchestration, and then Emppu Vuorinen's guitars crash in to heart-racing effect. There's duelling guitar/keyboard solos…when was the last time a Nightwish album had those? A powerful start to the album.
Lead single "Elan" is a delicate and fragile song. This song about triumphant human endeavor seems more like a guttering candle that could go out at any moment. "Alpenglow" works the same formula to better effect, featuring the album's strongest chorus. Songs in a similar vein include "My Walden" and "Edema Ruh". The first is a chance for Donockley to go hogwild on his uillean pipes and so forth. The second is a tribute to the novels of Patrick Rothfuss.
The album's heavier side has some of the deadness and dryness we've come to expect. So many bands have done the "Rammstein + orchestra" thing by now that it's hard to muster much excitement, no matter who's singing it. "Weak Fantasy" has an Latin-influenced middle section to break up the chugging. "Yours Is An Empty Hope" is the album's fastest song, with lots of vocal hysterics from Marco Hietala and another nod to "Dark Chest of Wonders" in the riff development.
"The Greatest Show on Earth" doesn't quite pay for its 24 minute lodging, but it's a strong song, telling the story of the evolution of life via symphonic metal and spoken parts by Richard Dawkins. It's a bit like "A Song of Myself" from the last album – the "song" gets in, does it's thing, gets out, then we drift off into a land of pure symphony and sectional development, unencumbered by the need to restate a refrain or remind the listener of what has gone before.
At worst, Nightwish is holding steady – an achievement, considering the battering of the last few years. At best, they've exceeded Imaginaerium and are approaching Dark Passion Play in quality, although Endless Forms Most Beautiful lacks an epic as good as The Poet and the Pendulum, or radio fodder as good as Amaranth.
It's clearly not a return to the band's glory days, though. I think we all know what needs to happen if that's to be the next step.
$i;?>
4 Comments »
Comments are moderated and may take up to 24 hours to appear.
Leave a comment