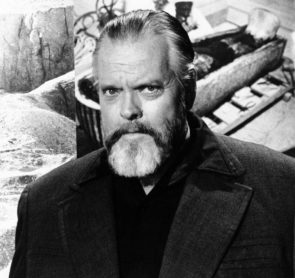 In 1938 Orson Welles directed Citizen Kane, consistently cited as the greatest movie of all time. As Roger Ebert observed, not every critic agrees that Citizen Kane is the best, but the ones that don't can't agree on a film to replace it.
His subsequent career was a skyrocket, ie, it spent most of its trajectory going down. His later films were largely financial failures, and soon stopped having finances to fail with. 1942's The Magnificent Ambersons grossed $1 million on a $1.1 million budget. 1948's Macbeth was made for $800,000: it never saw wide release.
Welles spent the latter part of his life as professional box office poison, self-financing his films through residuals and bit parts. He'd become (vide Scott Walker) a man everyone wanted to know and nobody wanted to write a check to. Critical reaction to his films was also cooling: you can read contemporary critics struggling with his work, clearly giving it shot after shot, not because the material deserved it but because it was directed by the auteur who, a long time ago, had made Citizen Kane.
Ebert's review of Othello reads like a mechanic detailing a car: he explains its ins and outs and production hurdles and obscure details about the set design…and you still have no idea whether he likes it or not. Or rather, you do: when a critic reviews a Great Director(tm), silence means something.
Gregory: "Is there any other point to which you would wish to draw my attention?"

Holmes: "To the curious incident of the dog in the night-time."

Gregory: "The dog did nothing in the night-time."

Holmes: "That was the curious incident."
In 1945, Welles was given a column at the Washington Post. For $350 a week he produced freewheeling, unfocused, unreadable scandal columns containing insular Hollywood gossip, some of which were potentially libelous ("the fascist salute was invented by the Hollywood film director C.B. DeMille"). The column lasted for one year, and became an early example of how the formula of famous person + massive platform simply cannot fail to fail to succeed.
Orson Welles finished his career the way he'd started it: by using his voice to sell things. In 1970, an advertising agency tapped him to record ads for various consumer goods, and in case he thought he still had dignity to lose, they made him audition for the part.
"An ad agency called and asked me to do a voice over. I said I would. Then they said would I please come in and audition. 'Audition?' I said. 'Surely to God there's someone in your little agency who knows what my voice sounds like?' Well, they said they knew my voice but it was for the client. So I went in. I wanted the money, I was trying to finish Chimes at Midnight."
The frozen pea ad is notorious. Even to this day, it has a cringeworthy aura to rival LEAVE BRITNEY ALONE and so on.  Orson Welles gets annoyed and quibbles with his director about what he's to say and how he's to say it. The funniest part is that he has to take this seriously at all: the magisterial, stentorian voice that used to orate Shakespeare is reduced to selling frozen goods. For money. The peas aren't the only thing on ice.
In the Youtube era these ads went viral yet again. "We Will Sell No Wine Before Its Time" has probably been viewed more times than any of Welles' actual films, save Citizen Kane. Welles slurs incomprehensibly. I'm not sure how much wine they had left: he appears to have drunk their entire stock to dull the pain.
On one level, it's upsetting to see Welles reduced to this, a prize race horse's bones melted down to glue. And it's also jolt to see what's behind the curtain of the TV ad world. I don't know, I guess on some level we still believe that Santa is real, that pro wrestling isn't fake, and that the guys on TV mean what they say.
But these sad, sad tapes are happy, at the same time. Welles might have been washed up at the end of his life…but is that really a bad thing? At least being washed up means you used to be in the water, once upon a time. Most of us spend our lives standing on the shore.