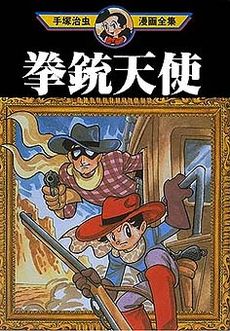 Stack all Osamu Tezuka's comics in descending order of quality, travel downward about fifty thousand pages, and you arrive at things like Angel Gunfighter. Welcome to the land of Osamu Mehzuka.
Angel Gunfighter was serialised in 1948, and is interesting because it shows the influence Western animation had on anime's early years. The characters' limbs have a boneless "rubber hose" quality similar to Mickey Mouse and Felix the Cat, and various other things seem redolent of the 1930s golden age, too.
This manga is Western in a couple of senses. For one, it is set in our romanticised version of the Wild West, complete with bars with batwing doors and random barrels that exist to get shot and leak liquid out of perfect bullet holes. For another, it's Western in its storytelling aesthetic, too: plucky underdog trying to get the girl, and all that. I sort of wish Tezuka had done a more Japanese take on this kind of story. American art is well known for borrowing ideas from Japan (The Hidden Fortress becoming Star Wars, to use a famous example), and I suppose the reverse is true over there.
There's a brief dramatis personae where we learn about the characters (Ham Egg, the rogue cop trying to take over the town – Monster, the half-Indian sharpshooter who is trying to stop said rogue cop from taking over the town, etc). Angel Gunfighter is a one volume manga, so there's no question of the characterisation being presented organically in the story. There's a couple of supporting characters who don't have much to do. One suspects Osamu Tezuka was just importing Western tropes without considering whether the story had a use for them.
Occasionally Tezuka's formidable imagination takes flight in spite of itself (I liked the farmer who has trained his pigs to be soldiers). These scenes of inspiration are fairly rare, and the comic spends much of its time reciting Western cliches like some sort of catechism. There's whooping Indians on horses descending on hapless caravans, and a dame who gets tied to train tracks, and a couple of gunfights that end with someone dangling off a cliff.
Monster is a particular problem. He's perfect, anodyne, and Mary-Sueish – therefore, boring. I like Ham Egg. He's such a violent bully that interesting things happen by simple dint of him getting page time.
The comic is fun and action-packed, and full of nice visual gags. But it doesn't stick with you. The scenario is hopelessly familiar, the art is derivative of Walt Disney, and the storytelling is workmanlike. I assume Tezuka was cranking this stuff out at his usual twenty pages a day to meet a deadline. It's entertaining, especially if you're a kid, but it's the kind of comic you can be distracted from by a passing fly.
$i;?>
No Comments »
Comments are moderated and may take up to 24 hours to appear.
No comments yet.
Leave a comment