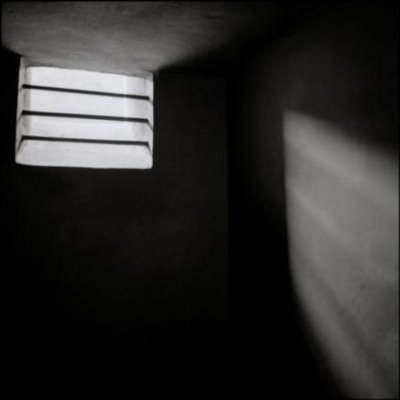 tick…tick…tick…
There was a clock in the hallway. He couldn't see it, but it spoke the seconds like a visitor that never tired of talking to him.
His cell was two meters long by three meters wide. At its narrowest point, he could take two forward steps. Concrete thwarted even the beginning of a third. He had slab of hard ticking to sleep on. There was a combined toilet/sink in the corner.
The door was a sheet of steel with a rectangular slot. From outside the door came noises – footsteps, voices, and jangling keys. All of it happening a few meters away, and all of it as distant as interstellar radio. The ticking clock was the only thing that intruded into his world.
There were a few books, a stack of blank pages and a pencil. Some of them had been written on.
Once, he'd tried keeping a prison diary.
He'd given up on that partly because he had nothing to write about, and only the barest scaffolding of reality to attach that nothing to. Was it normal to be in prison – in solitary confinement – and not remember why? Was it worth writing anything when nothing ever happened? Was it enough to just be ? He didn't think it was. His life felt blanker than the pages he was writing on.
But mostly, he'd stopped writing because the things he wrote were wrong.
He would write something innocuous and self-evident. Then he'd masturbate, eat his dinner, sleep, wake up, read the words again, and they'd make sense. Then he'd count to a thousand, eat his lunch, trace out a crack in the wall with his finger, thumb uselessly through a read-to-rags paperback, walk from one end of his cell to the other a hundred times, whistle, recite the prime numbers from one to a hundred, nap, read his words again, and they'd still make sense.
But eventually, they wouldn't.
Sooner or later, they stopped being right. They became the words of a different person, dwelling in a different place.
He'd read a sentence like my mattress is made of vinyl , and touch his fabric mattress in a state of wonder.
I have sixteen pages of paper … Disorientation, when a recount proved the number to be fifteen.
On the final page, written in pencil, were the words My name is Kruger .
He'd re-read that days later, and a memory from years earlier surfaced. The girl from the motor registry handed over his driver's license. "Hey, just to check…that's kay-ar-yoo-ee-gee-ee-ar, right? Oh, good. I thought I'd made a mistake and I'd need to start the machine up again." … No, he could not keep a diary after that.
Sometimes he lay on his mattress, wondering how long it would be before he started the slow descent into madness.
Reading his writing made him think the descent was already happening…and it was anything but slow.
No Comments »