Ambien is so-called because it gives you a morning (a.m.) that's good (bien), Warfarin is thus-titled because it was developed by the Wisconsin Alumni Research Foundation, Lasix is accordingly-dubbed because it lasts six hours, Premarin is hencely-christened because it comes from the urine of pregnant mares, Adderall is consequently-designated because it relies on an organic compound found only in European snakes, Prozac is repercussionly-cognomenized because the chemist was into High School Musical. I started making these up.
So why is this website called Coagulopath?
Well, because of a small but extremely important fact about myself that I've never revealed to anyone. A secret, if you will. My time is now short, so I've decided to tell the world at last, in the form of a SHA-512 hash.
56bfdd67f46f62375b35cc9cce0a7b75
f2716bfdc98542709c4306c91e2084ee
4b6cb44951373ba5ef6f51b1b0875602
f710ee643fdde00f63aaebe4b7e79aaf
Now you know.
In 2021 I built a PC. I wanted it to be weird, with personal touches.
Parts list:
AMD Ryzen 9 5900X 12-core processor
MPG B550 Carbon Wifi motherboard
Gskill 3600 32 GB DDR4 x 2 (64 GB total)
RTX 2080 OC Super
Lian Li 120MM Unifans x 5
Thermaltake 360mm AIO
Thermaltake Toughpower GF1 ARGB 850W Gold PSU
Some other decorative parts
The case was the infamous AZZA CSAZ-804 :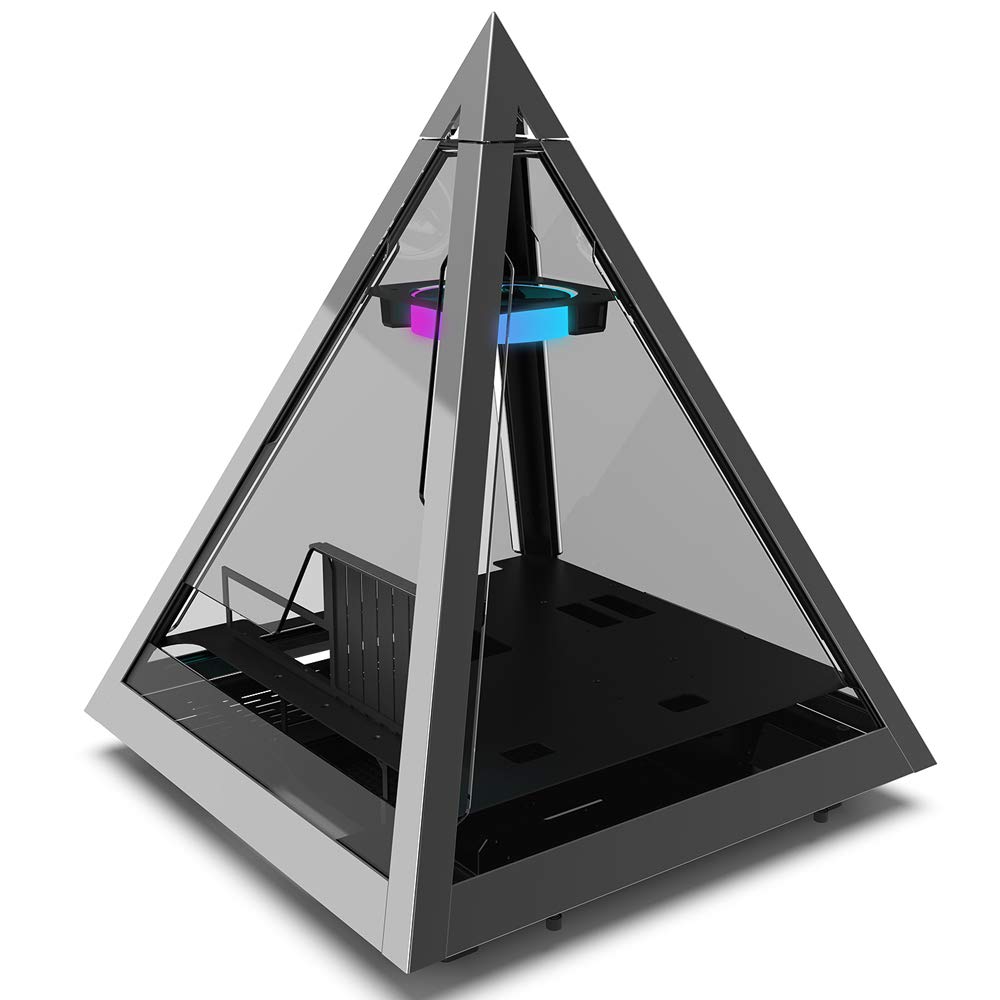 This is the first mass-produced[1]In 2009, a modder called Marko Tadros made a pyramid-shaped case, filled with fascinating choices. This was apparently sold as part of a 200 case run. Linus Sebastian and some others have built … Continue reading case with a pyramid shape. The AZZA Pyramid also comes in a a "V" edition (with darker paint and extra I/O options), a "Mini" edition (for mini-ITX builds), and a large edition. I now wish I'd gotten the large one. It has the same overall dimensions (589 mm x 490 mm x 490 mm) with differently-spaced cutouts for a RTX 30** series GPU.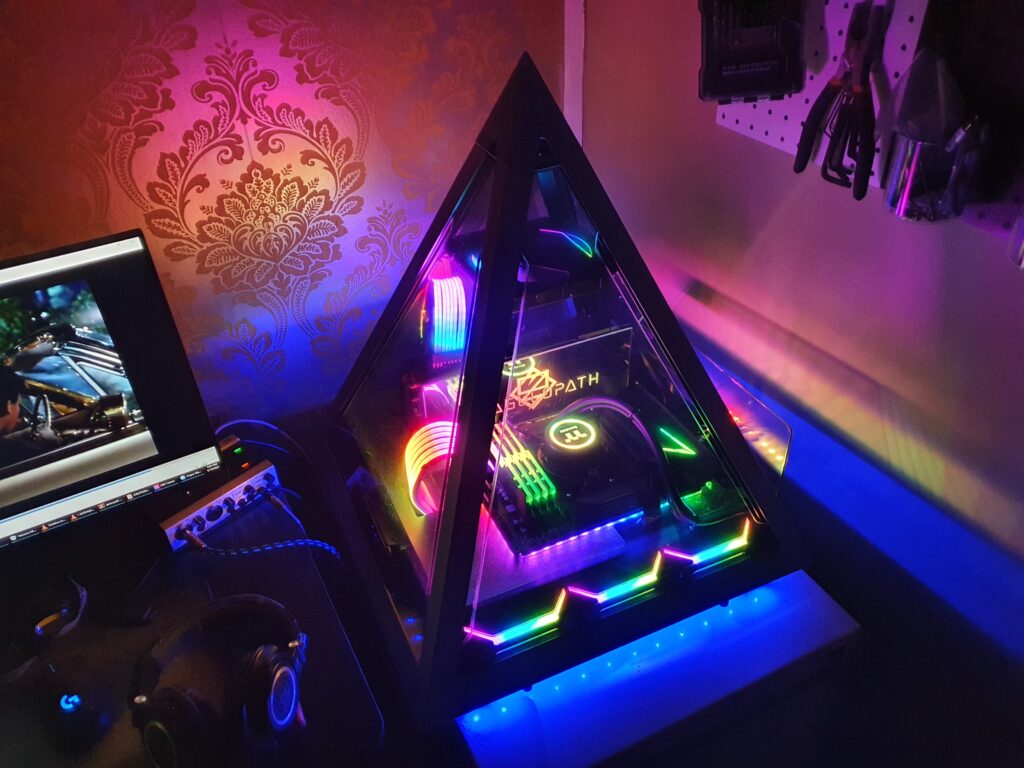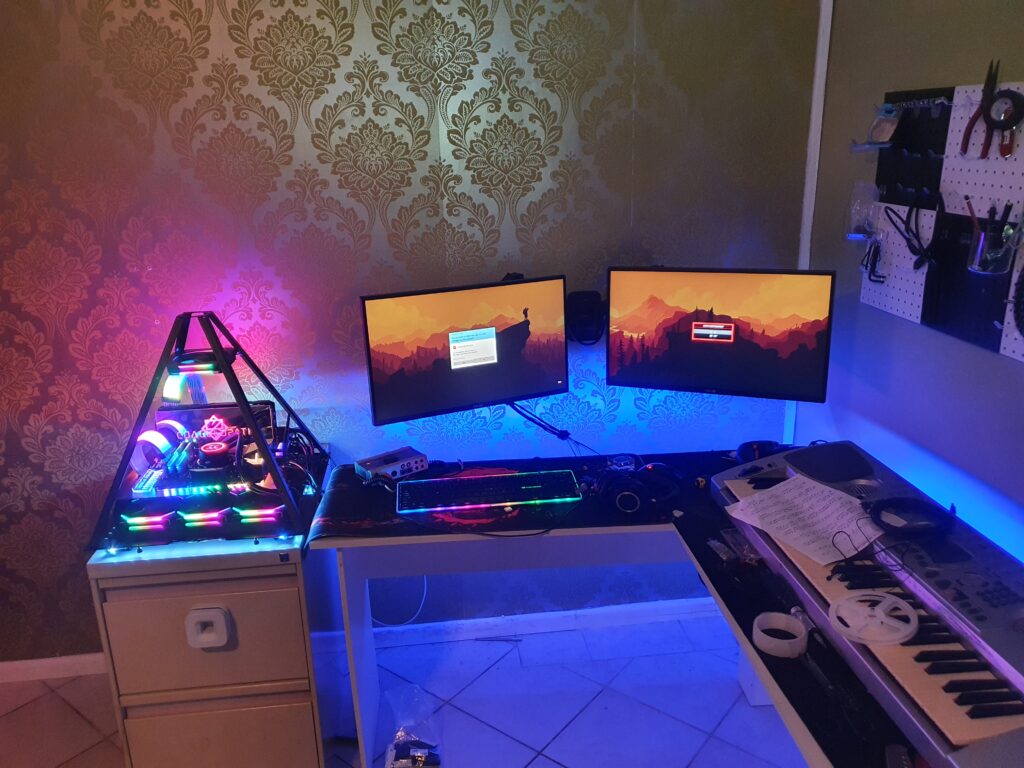 Content advisory: many things about this build are just bad. Don't copy this unless you are prepared to face terrible consequences.
Problems
My GPU is sucking air through a glass panel
Many of my installed games are bad, receiving 6/10 or lower from GameSpot
My radiator pump is the highest point of the loop, causing air bubbles to gather in the pump (potentially shortening its lifespan, see here.)
The case thermals are sucking of horse cock in general, with too much glass and not enough air
I have Argus Monitor and Speedfan installed at the same time even though it says not to
The PC is designed as a showpiece, not to perform well. That said, I got 240 FPS in the Apex Legends training range, and I was only about ~40C over ambient on a hot summer day: below thermal throttling for the Ryzen.
First, I unboxed the case, which was huge. The box seemed big enough to hold my entire life. It's the heaviest case I've yet built in: with no parts it's 14.1 kg / 31.1 lbs of cold-rolled steel and tempered glass. I don't recommend dropping it on your foot.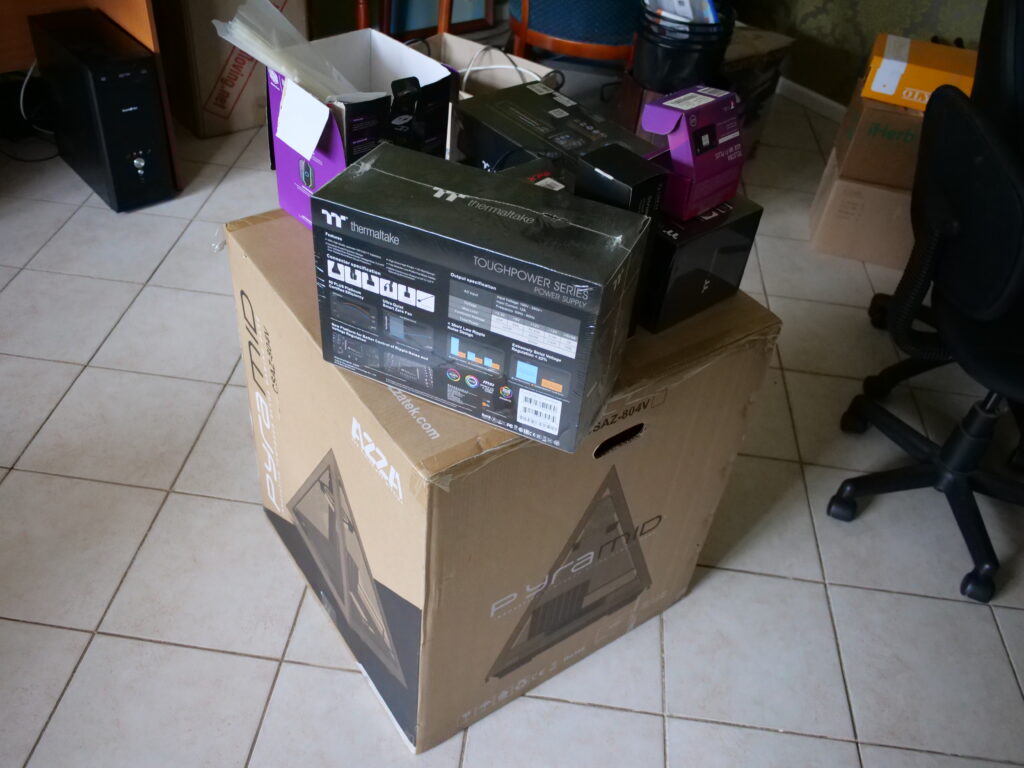 The case has two levels. A "basement" where you put the PSU, radiator, hard drives, and cables, and an upper level that the motherboard mounts to.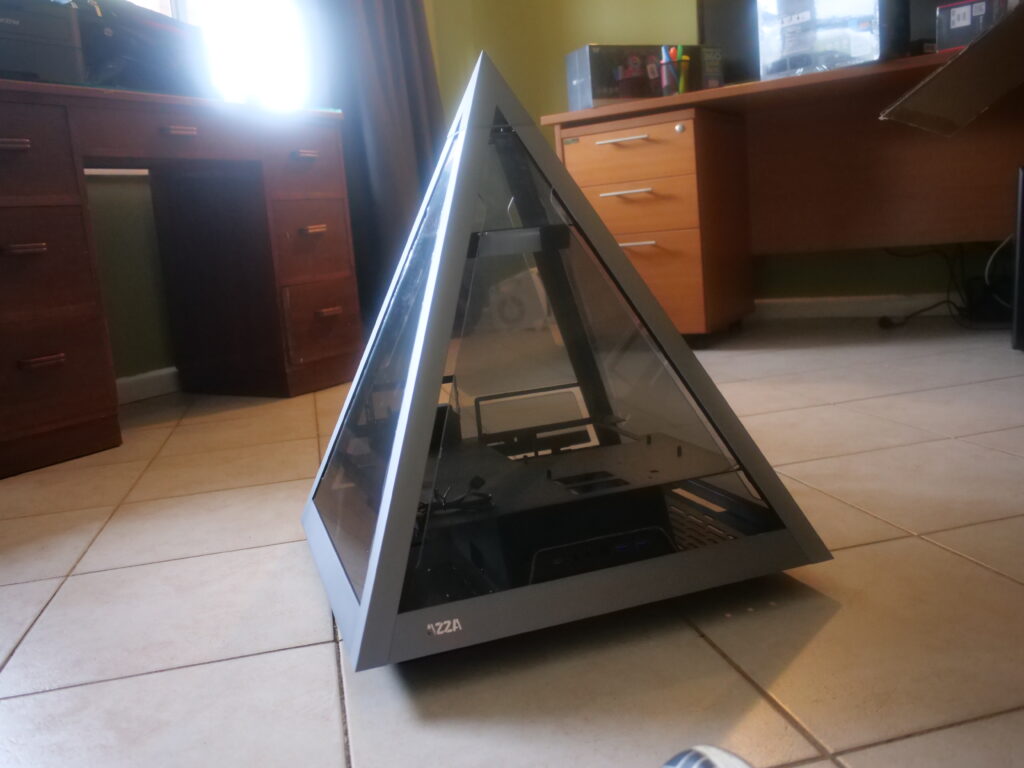 It comes with a number of accessories: a riser cable for vertical GPU mountings, and a couple of docks for hard drives. I ended up using relatively few of these. I have no use for 2.5″/3.5″ HDDs and I mounted the GPU the standard way.
The "logical" way to set up this case would be to draw air from the bottom and expel it out the top. I used a 360 radiator, and because I wanted the fans to be visible, I set them in pull configuration. Usually, a gap of about 5cm is necessary for a case to ventilate (as found by Gamers' Nexus Steve Burke). The AZZA satisfies this requirement.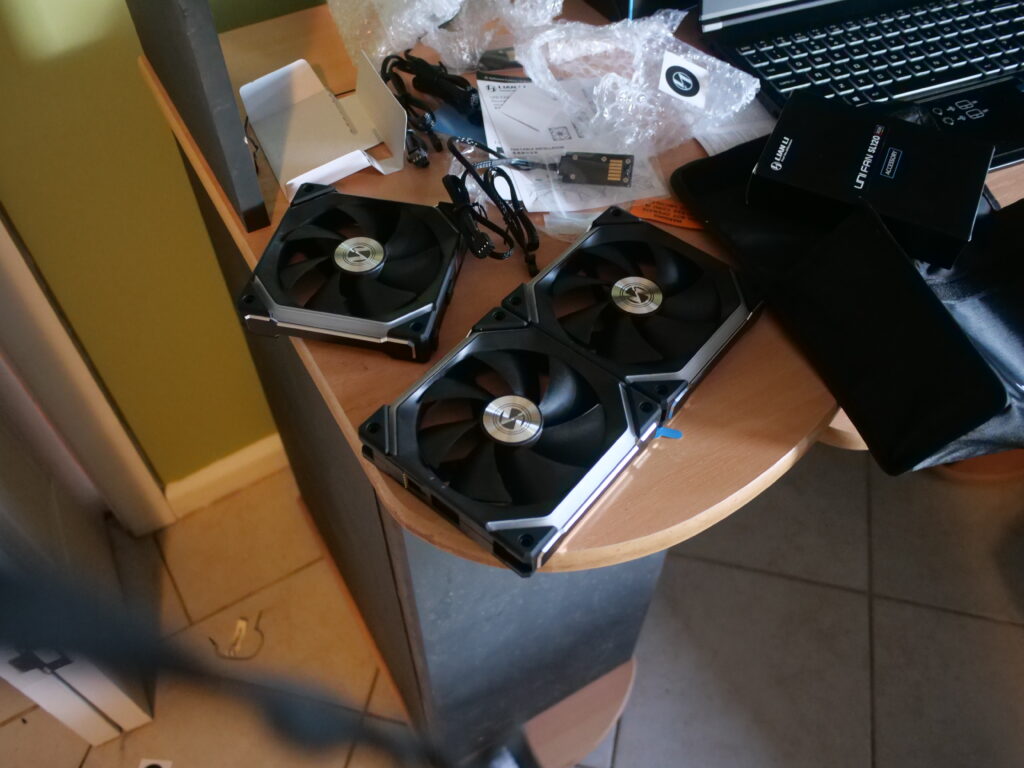 The Unifans were great to work with. They connect in series by physically slotting together, like Lego bricks. The only disadvantage is that they use a proprietary Lian Li cable type and can't connect to 4-pin / 5v RGB headers. I ended up with a mess of cables underneath the motherboard compartment.
At the top of the pyramid there's a preinstalled AZZA-branded 120mm fan, which I replaced with another Unifan. I wonder why Azza didn't include additional screwholes and brackets for 140mm and 200mm fans, which would allow you to put the fan lower down.
Why would you want to do this? Geometry. The 120mm fan has to be very close to the top of the pyramid, meaning the airflow misses the four sidecut vents. Additionally, there are possible static pressure problems, where the fan doesn't just draw air from above the components (as is ideal) but also from the sides. If you did Schlieren photography of the case, I suspect you'd see a massive mushroom-cloud blob of heat just hanging over the motherboard. But again, this is a showcase. And a show case.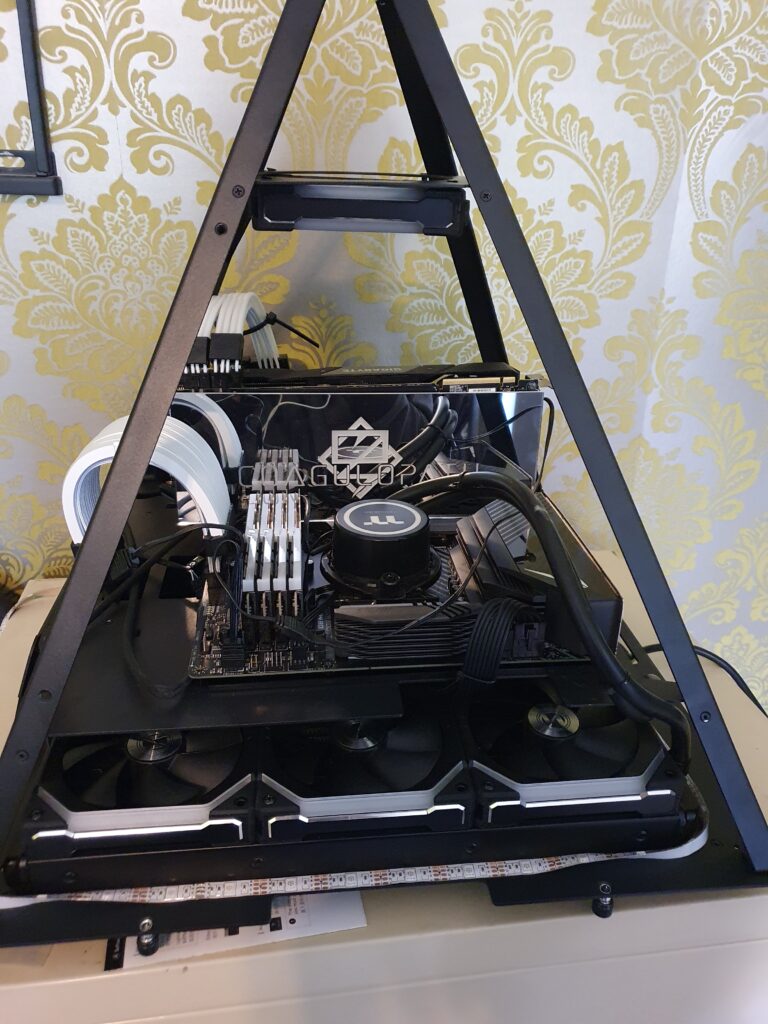 I used a lot of RGB peripherals, including RGB tape (which I ended up looping around the base of the pyramid), Lian Li Strimer Plus V2 24p + 8p*2 cables. To connect all of it I used one of these.
The engraved RGB backplate for my RTX 2080 OC Super came from JM Mods. It would have looked better without the mirror finish, but I didn't think of that.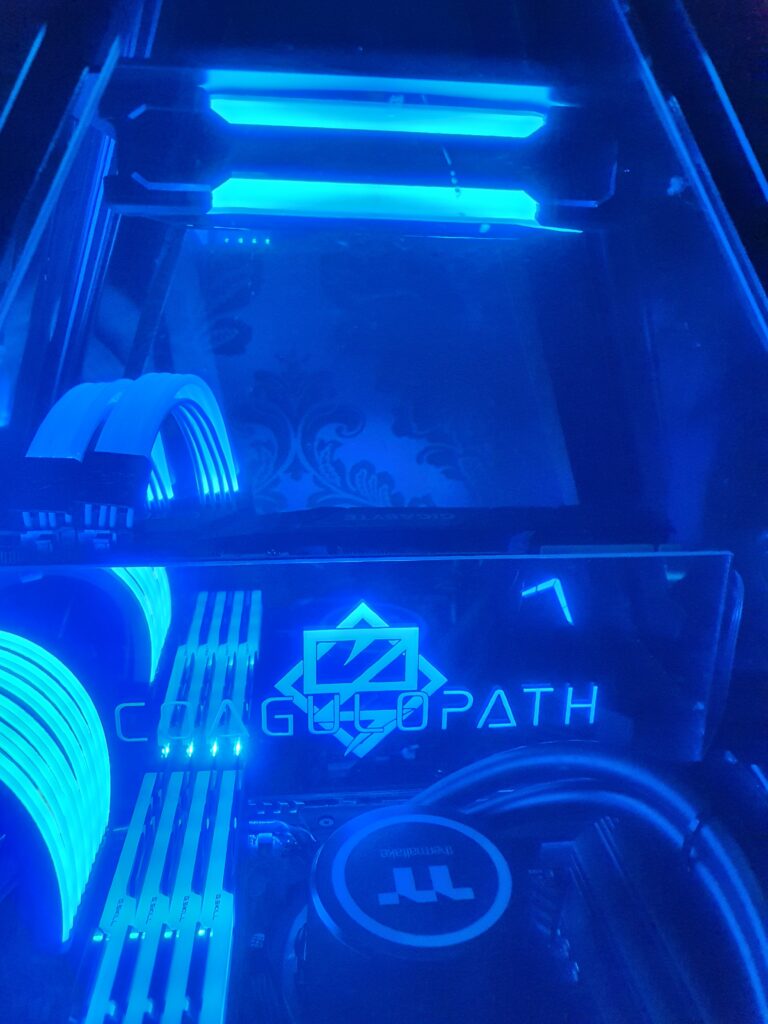 I also installed the Thermaltake power supply fan-side down, so the T logo is upside down. Triggered yet, libtard?
The cables under the motherboard tray looked pretty bad. They're still a WIP.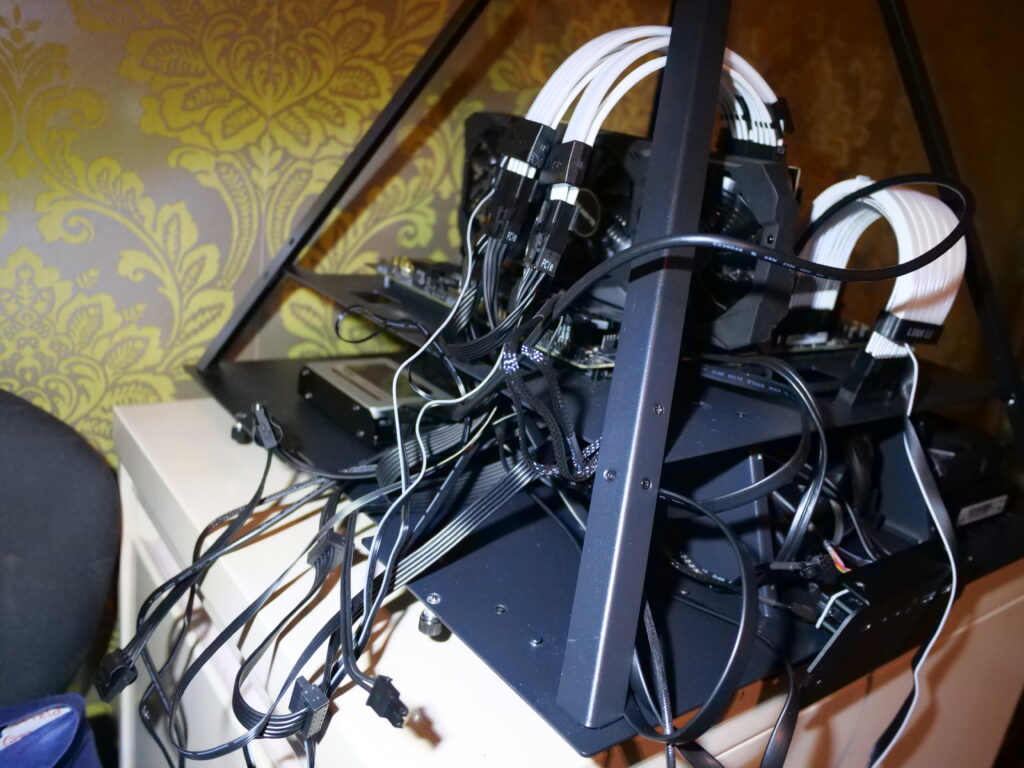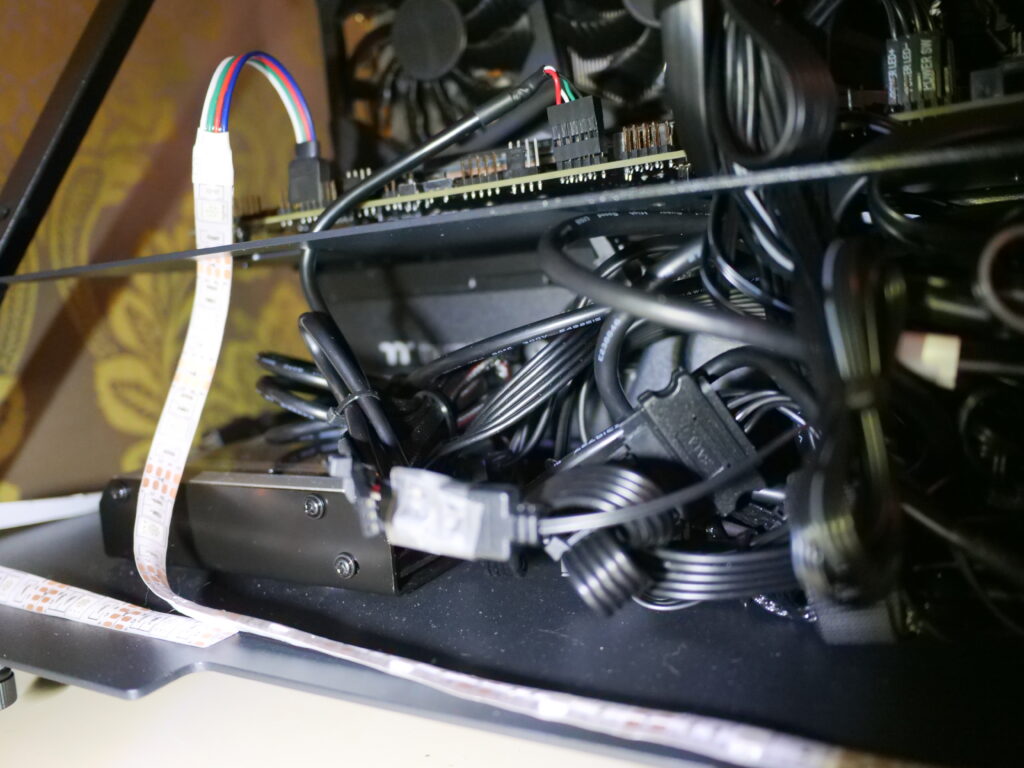 Anyway, the Coagulopath PC is built. I have many more plans for it.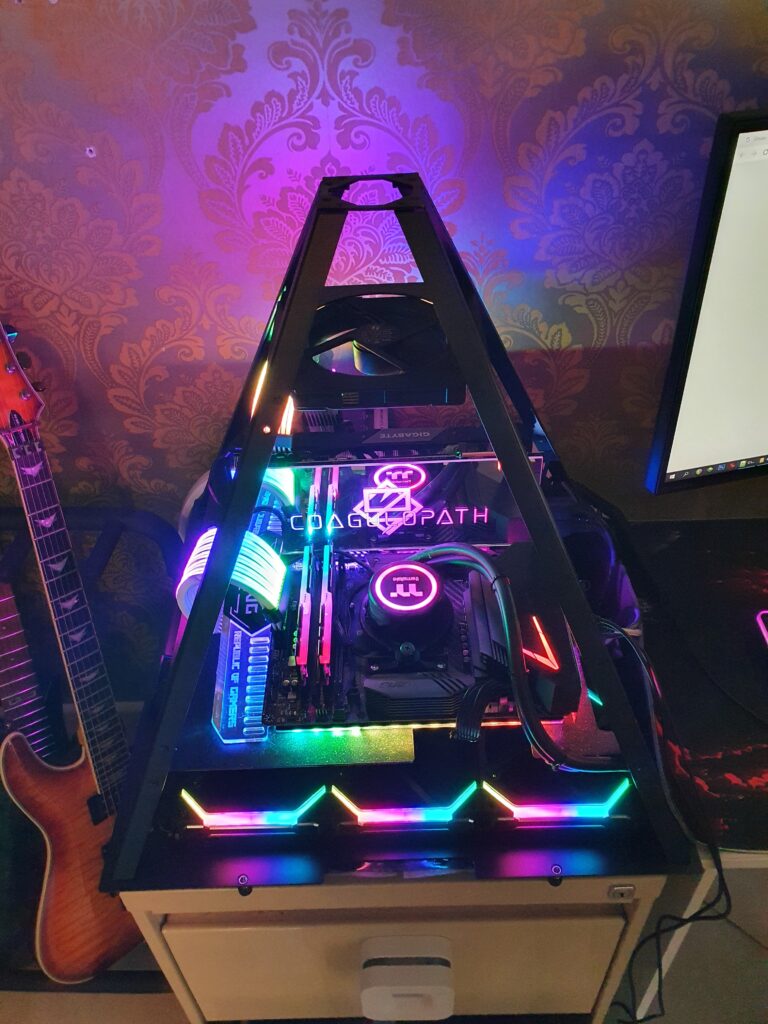 References

↑

1
In 2009, a modder called Marko Tadros made a pyramid-shaped case, filled with fascinating choices. This was apparently sold as part of a 200 case run. Linus Sebastian and some others have built bespoke vanity cases for various purposes. But as far as factory mass-produced cases, the AZZA CSAZ-804 is the first of its kind.
$i;?>
No Comments »
Comments are moderated and may take up to 24 hours to appear.
No comments yet.
Leave a comment