I dream that I alone will be saved.
The seven seals will break, seven trumpets will sound, and seven angels will pour seven bowls of wrath over the Earth. But here's the trick: humanity is being judged on some small, trifling virtue that I alone possess. The only people who go to heaven will be those who avoid walking on the cracks between tiles. Or only those who drink from mugs while gripping the mug itself, not the handle. Or the intersection set of the above groups. Whatever it takes. The point is, I want to be alone on the lifeboat when the ship sinks.
I built a PC in a Lian Li O11D Mini Case. For a girl. Let's look at some pics. Of the PC. Not the girl.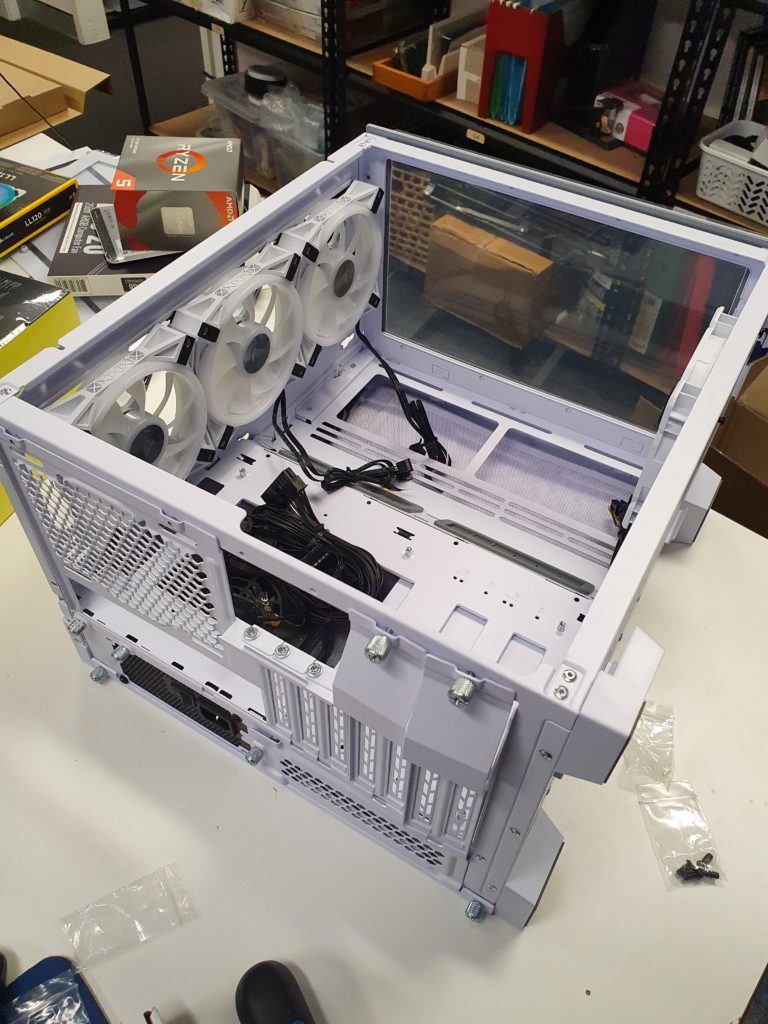 The name is a little misleading. It's called "mini" because it's a smaller edition of Lian Li's flagship O11 Dynamic, which launched in late 2020.
The O11D-m is still just about the biggest thing ever called "mini", measuring 420mm long, 380mm high, and 269.5mm wide, and with an internal capacity of 38 litres. The most striking thing when building in the O11D Mini is that it's deep. Often I found myself reaching around the far side to feed a cable through…and suddenly I've run out of arm. In the words of famed historical orator "your mom", this thing has too much girth.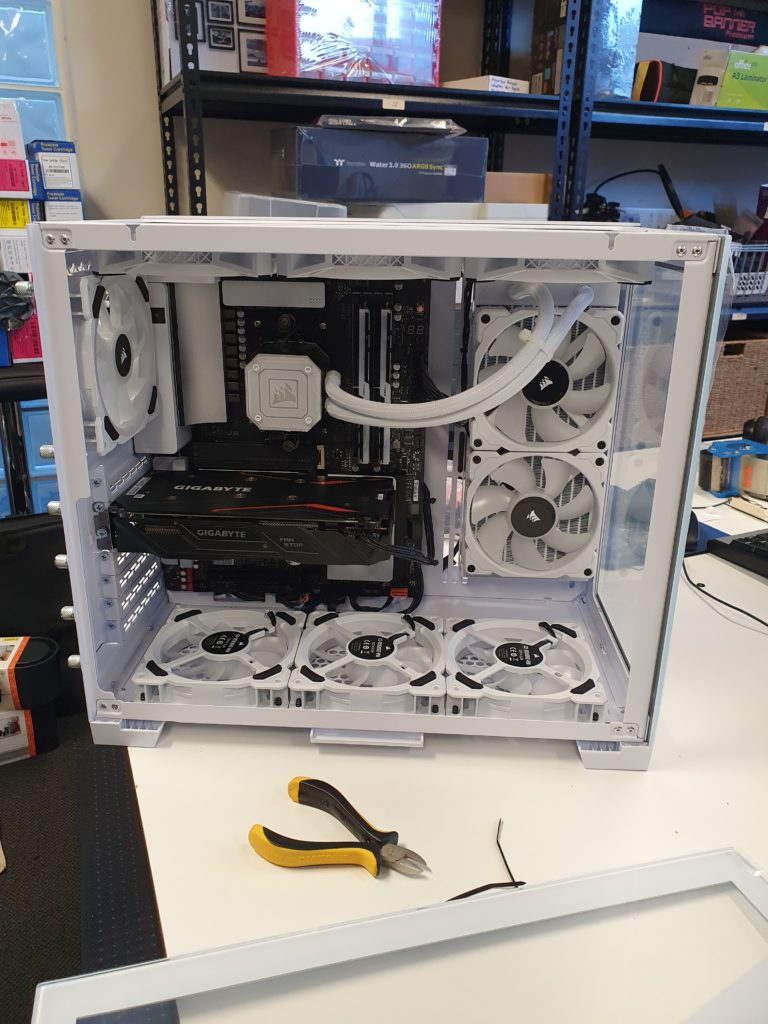 It's not a small form factor case. It can fit an E-ATX motherboard, arrays of fans on four sides, a 360mm radiator block, and can accommodate a 310mm+ graphics card such as the GeForce RTX 3090 OC, unlike my wallet, which can't.
My parts for this build:
Lian Li PC-O11 Dynamic Mini Tempered Glass Case Snow
Gigabyte GeForce GTX 1050 Ti OC 4G
Kingston NV1 M.2 NVMe SSD 1TB
Gigabyte B550 Vision D-P Motherboard
Corsair Commander PRO Link System
Corsair LL120 RGB White Triple Fan Kit with Lighting Node PRO
Corsair LL120 RGB 120mm Independent RGB PWM Fan White
AMD Ryzen 5 3600 with Wraith Stealth
G.Skill Trident Z Neo 16GB (2x8GB) 3200MHz CL16 DDR4
Corsair QL120 ARGB 120mm 3 Pack with Lighting Node Core White
Corsair iCUE H100i Elite Capellix 240mm ARGB AIO Cooler White
My requirements were for a modular, low-end PC that looks attractive and can be used to play games such as The Sims and won't need to be touched again for about ten years. The O11D has large tempered glass panels and offers high levels of visibility, but unlike most cases that contain a lot of glass or acrylic it's not a thermal disaster. Low temperatures will help me extend the life of the parts. Heavy mesh on the top and bottom will cut down on dust.
It weighs a ton and feels solidly constructed. It also has an interesting design philosophy: the PSU isn't installed above or below the motherboard, but behind it. The positives to this are legion: vertical real estate is freed up, and there's no ugly PSU shroud. However, there are two tradeoffs: the case is very wide, and you need a SFX PSU.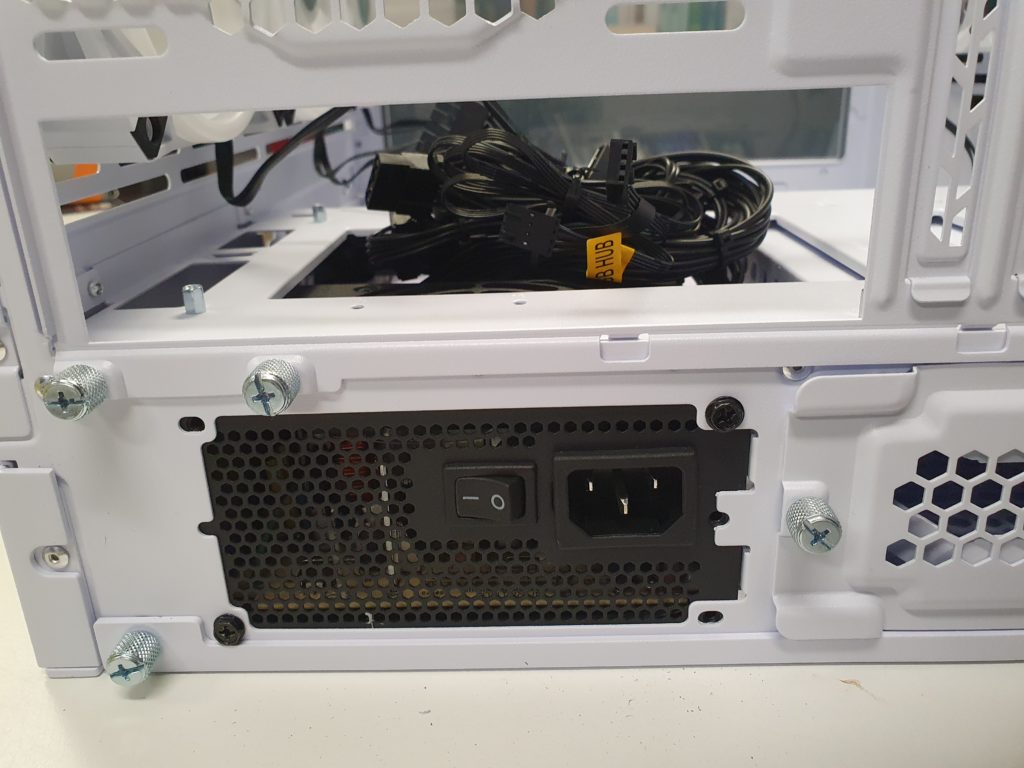 The O11D Mini is also fully modular, arrays of fans can be mounted on up to four sides, there's room for a GPU in both standard and vertical configuration, and everything on the back can generally be piecemeal'd together in a various arrangements (PSU, IO shield, PCIe cutouts).
There's no air intake on the front panel – just tempered glass. I went with a "chimney" style airflow design, pulling cool air up through the base, over my hot components, and expelling it through the top (with a secondary outlet on the back.) I have far more "out" fans than "in", meaning I'm creating a negative-pressure air environment inside the case. This will probably be OK, although it will make the dust problem worse.
I went with all-NVME because I didn't like the HD cage (I unscrewed it and threw it away), and also because it made my cabling situation easier.
All my fans and RGB are from Corsair. I recommend buying all these parts from one supplier, because you avoid the issue of incompatible cables and separate "ecosystems" within the computer that won't talk to each other. All of the computer's lighting can be controlled with one piece of software: Corsair's i-Cue.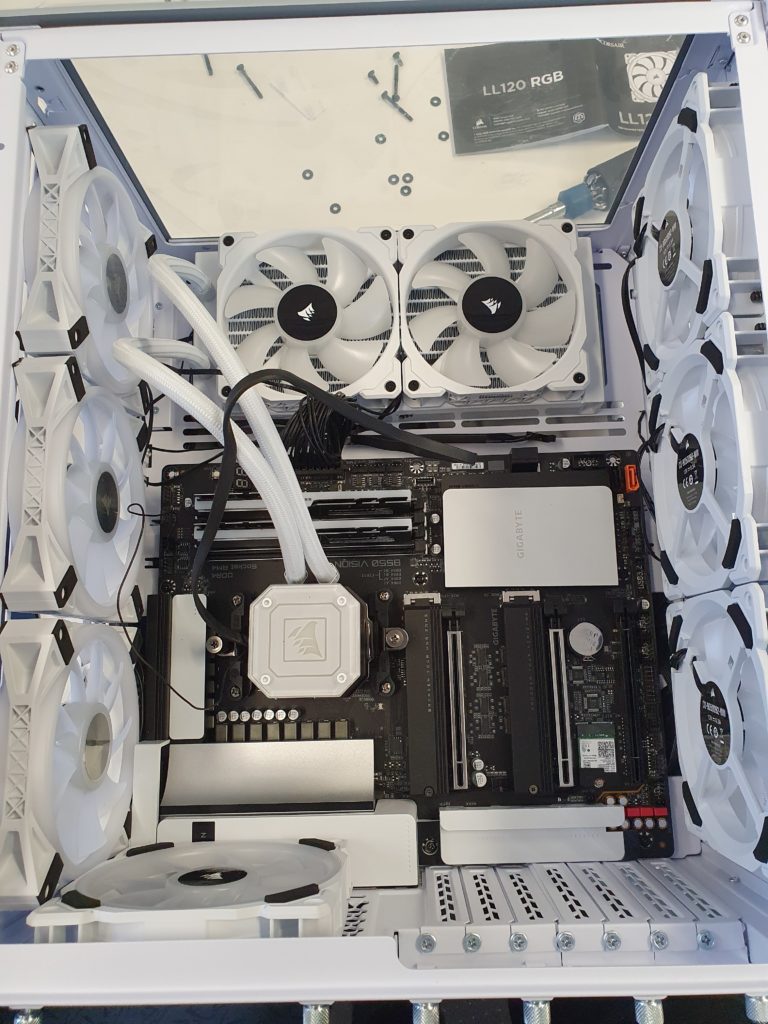 Even though I made things as simple as possible, I still had nine separate fans, each of which had two separate cables (a four pin PWN cable and a 3-pin ARGB cable), equalling molto cable spaghetti. I routed this through to the back part of the chassis.
Where was I going to plug these cables? My motherboard has six fan headers and two RGB headers.
I used three separate controllers to link all of my fans: a Corsair RGB Hub, a Lighting Node Pro, and a Corsair Commander Pro. The first two connected to the Commander Pro, and the last one plugged into my motherboard USB. Some care had to be given here because Corsair wants you to plug your lights in series – they need to follow a particular order.
Another complication – where was I going to put the three controllers?
I wanted to use double-sided tape to stick them to the back panel – but there was no flat surface remaining inside the case. All the cutouts for the cables have inconvenient raised edges (meaning there's no surface for the tape to grip), and the white rail in the earlier photo is too close to the back panel. Mounting a controller there would have meant I couldn't close the case.
I found a pretty clever solution.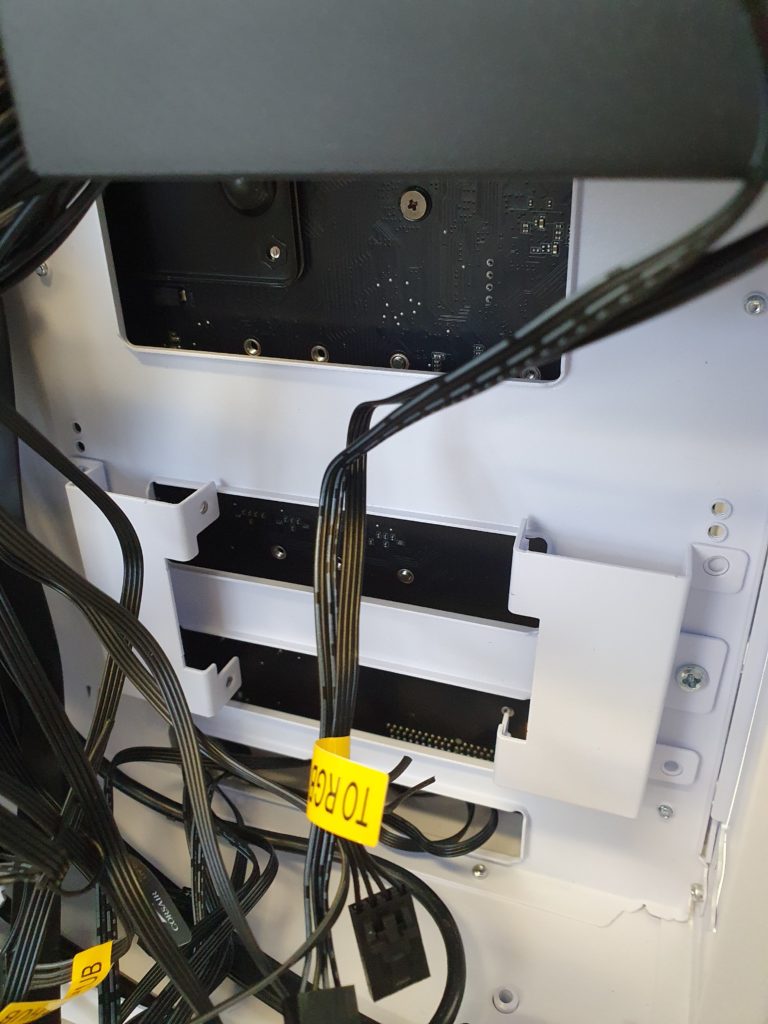 I should have taken better photos, but those two raised projections are not part of the original design. They're from the hard drive cage I threw away. I was able to screw them on, giving me two flat surfaces to attach devices onto with double-sided tape. The RGB hub was comparatively small, and I stowed it on the plate the radiator attached to.
Here's how it looked after an hour of zip-tying cables.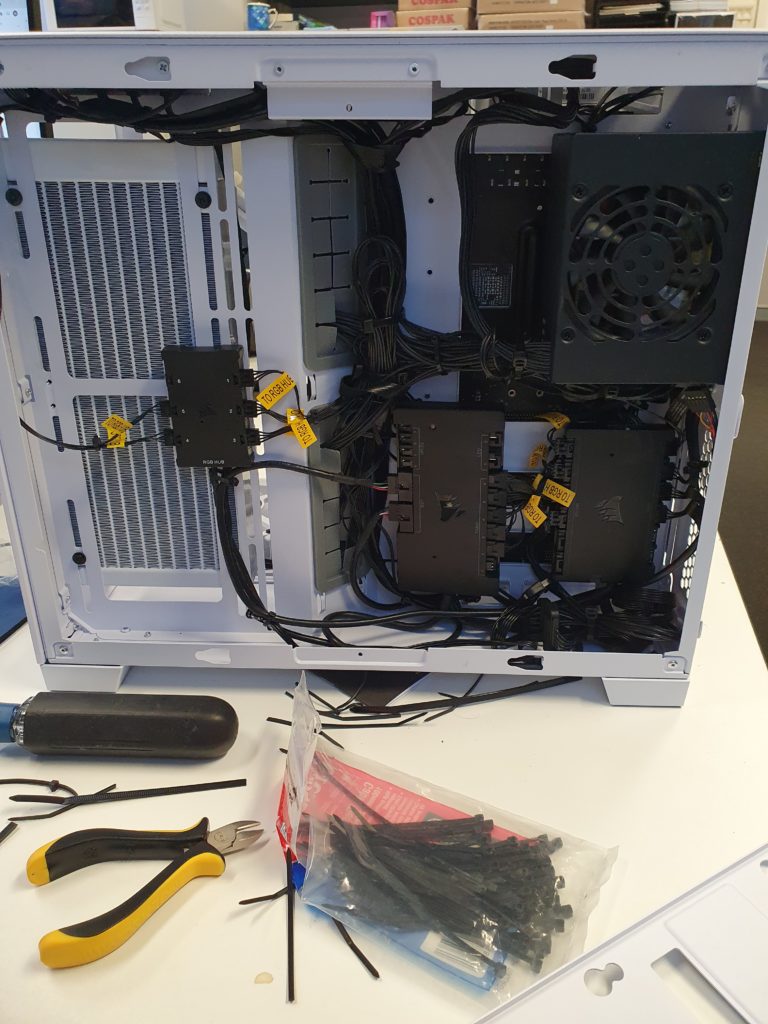 With the cable shield back on, it looked fairly tidy.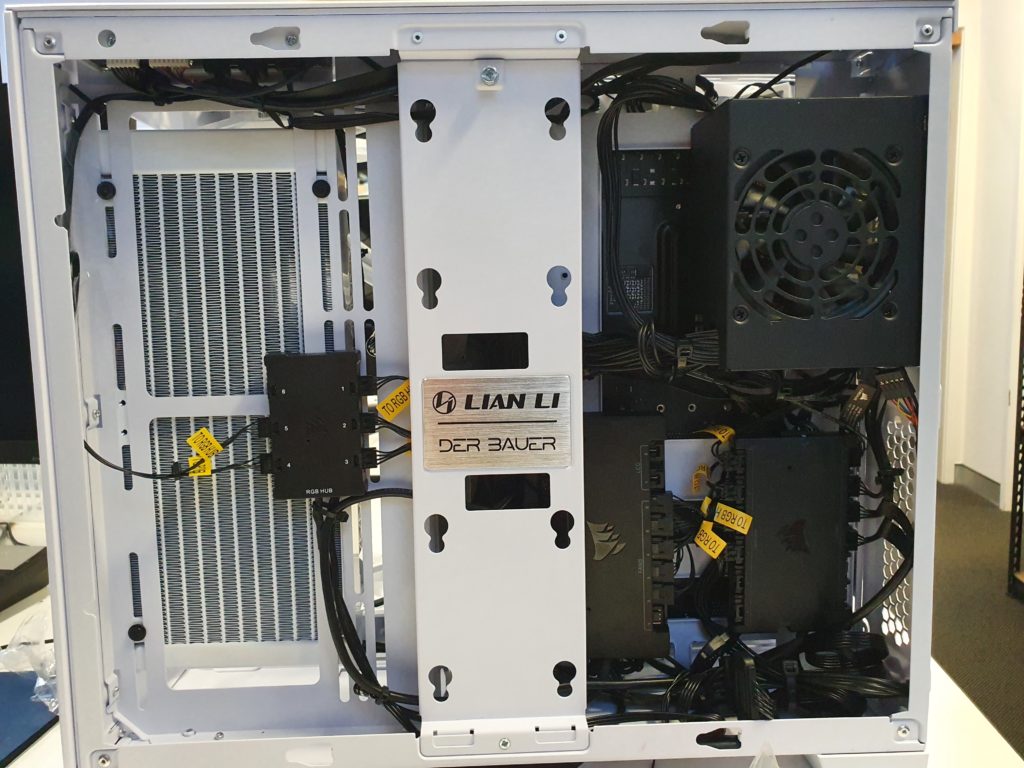 For the front, there was nothing too weird. I just stuck everything in, making sure to avoid weird runs of cables. The O11D-mini is great fun to build in. No matter what you want to do, the designers are two steps ahead of you and have allowed you some way to do it.
I powered on the PC, and it worked.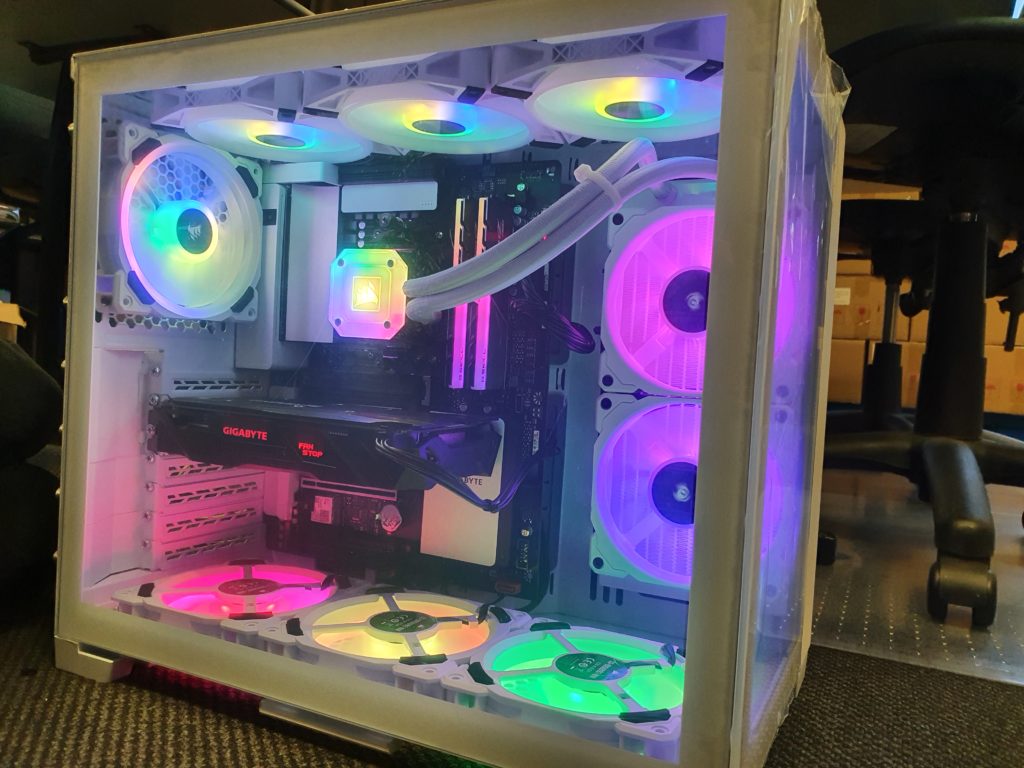 My only planned upgrade path is for RGB cables.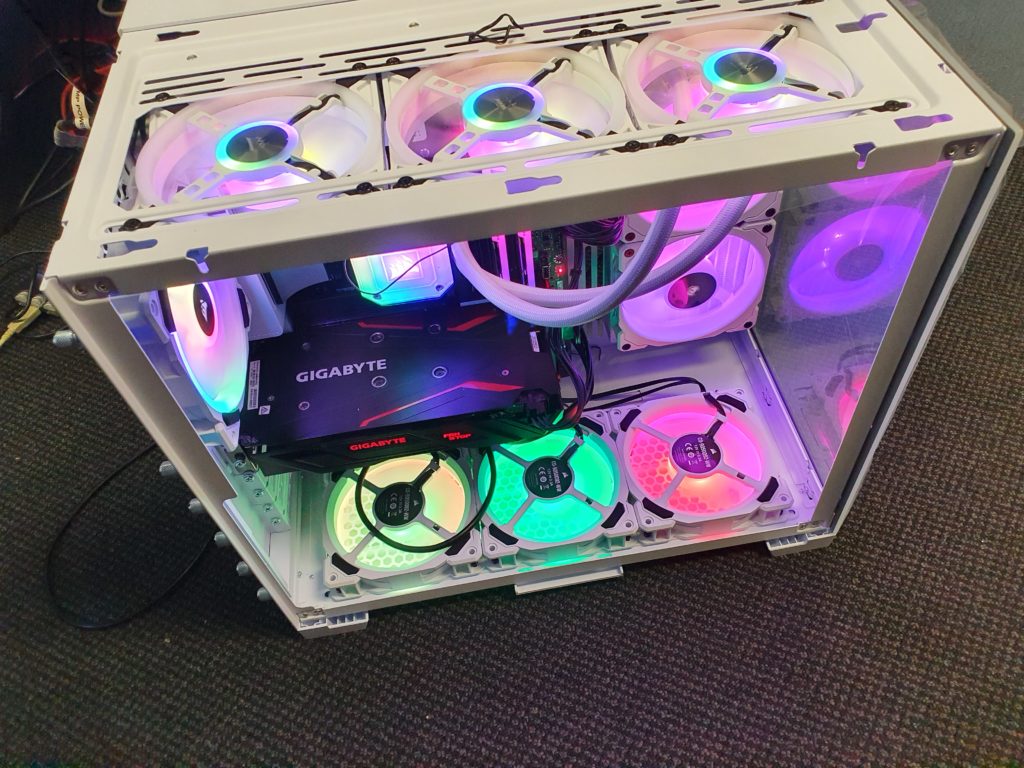 $i;?>
No Comments »
Comments are moderated and may take up to 24 hours to appear.
No comments yet.
Leave a comment