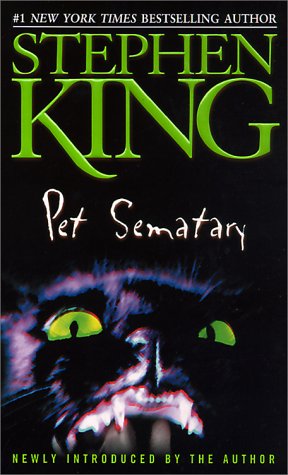 Pet Sematary is hardcore 80s King, back when he took drugs, drank like a guy in a Sheb Wooley joke ("I never drink anything stronger than pop, but my pop would drink just about anything"), and didn't have much time for writing the Great American Novel. If you're a fan of "literary" King, I honestly don't know what you're going to do with Pet Sematary. Maybe use it to line your cat's litter box.
It's another of King's "big secret in a small town" tales, featuring scant plot but lots of scares. Louis Creed and his family move to a town that with a small cemetery for pets. Beyond the cemetary lies an old Indian burial ground. When a pet cat is killed, Louis buries it there on the advice on friendly local Jud Crandall.
The cat returns to life. Or does it? Things go bad very fast for Creed and his family. There are consequences when you stamp "RETURN TO SENDER" on the face of death, and soon both he and us are introduced to them in exhaustive detail.
King's characterisation is always excellent. He has a talent for making characters do irrational things, while not having them seem irrational. The internal logic always holds up. At first your reaction is "what?", then you forget your misgivings, and soon even you think you would have acted the same way. Mostly, King's characters are just plain likeable, which makes the later events of the story heart-wrenching.
As always there's an interesting pile of backstories that gets developed little by little. King's main characters are always in the spotlight, but there's the sense that there could be many more stories told about this town. It pays not to speed read, because there's small details in characters' backstories that tend to colour and change your perspective on their actions.
Crandall is a fascinating character. He nominally occupies the "Good Guy" seat, yet a lot of his actions are morally turbid, to say the least. There aren't many positive sides to what he teaches Louis about the pet cemetery, and he ends up coming across like a smiling, do-gooder next door who hands a small child a gun. There is no way he couldn't have seen what's coming.
The book's climax is a steady free-fall into terror, with Stephen King playing with your emotions with one hand while slashing at your guts with the other. The pace is fast, and the ending unforgettable. You can't really go wrong with an 80s King novel, and this one continues his streak.
I don't know whether the movie is any good.
$i;?>
No Comments »
Comments are moderated and may take up to 24 hours to appear.
No comments yet.
Leave a comment