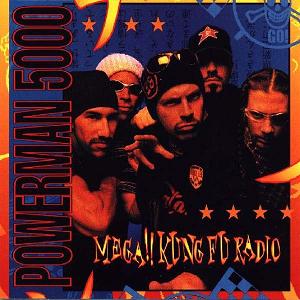 A lot of their later stuff is weird and doesn't work, so small victories, right? This band is more known for their electro/industrial releases, so their debut was an interesting find. Mega Kung Fu Radio is a rap rock CD, and boy will you have to redefine your ideas about rap rock to listen to it.
Powerman 5000 isn't a band so much as singer/frontman Spider One writing music with whoever happens to walk through the studio door. The band has an ex-member list as long as a monkey's arm, including White Zombie members. This revolving-door approach to music has led to some pretty radical style shifts, from rap to industrial to alternative to punk rock to industrial again. One wonders if they have any of their original fans left.
What we have here is noisy punk-inflected rap rock with a lazy delivery and a defiant lack of hooks. Spider's lyrics are deranged mumblings about aliens and monsters and samurai, a welcome shift from Limp Bizkit's generic tough-guy posturing. The guitar work is visceral and sloppy, very heavy on the effects, and there are even some guitar leads ("THAT'S RIGHT! WE'RE PLAYING SOLOS! TAKE THAT, MAINSTREAM!")
The CD functions more like a sonic house of horrors than a set of cohesive songs. "Neckbone" and Organizized" are pretty fun, with Spider just drawling all over the place and then letting out throat-ripping screams when you least expect it. "Standing 8" has vague implications of radio-friendliness, sounding like a Red Hot Chili Peppers song at times.
Production is pretty raw. It's listenable. I could do without the overly roomy snare.
Do I like this? Maybe the only way I can answer is to say that I don't hate it enough to turn it off. There are listenable moments, and the whole thing is just too much of an experience to easily forget. Skip the bullshit joke song at the end, though.