The 1980s were years of faceless corporatism, and this echoed and rippled in the decade's cartoons.
Who made He-Man & Masters Of The Universe? Nobody knew. It appeared on your TV set once a week, by magic. You knew the studio: millions of grownups still have conditioned Pavlovian reactions to the Nelvana bear, the bouncing DIC ball, the "Filmation presents…".  But it was easily forgotten that human beings created the show. No kid could name one of them.
This changed in the 90s. A fad for creator-driven content meant networks began branding shows around their lead creative personnel, and every kid knew The Simpsons was "made" by Matt Groening, and Ren and Stimpy was "made" by John Kricfalusi. Properties became inseparable from their creators. You were supposed to think your favorite cartoon was made by one guy doodling alone in an artist's loft.
This creator-driven approach could easily backfire. Sometimes "creators" turned out to be self-destructive assholes, or hacks who'd fluked into (or stolen) their one good idea. Associating a show with a person meant the brand could easily become toxic: attempts to restart Ren & Stimpy now face the obstacle of John Kricfalusi's personal life, and The Simpsons' wholesome "stick it to the man" satire becomes a rougher laugh in light of Matt Groening's (alleged) executive-class flights on the Lolita Express.
But it was still an exciting era that rewarded strong personalities and odd perspectives. None of the tentpole shows of the 90s (Beavis and Butthead, South Park, Daria, King of the Hill) could have existed in the 80s, and although they were derided as juvenile toilet humor at the time, the reverse was actually true: it was the decade when TV animation grew up.
In other words, the 90s should have been Ralph Bakshi's moment.
You have heard of him. X Rated cartoons? Rotoscoping? Blaxploitation? He's one of animation's great auteurs, and his work is suffused by a violent, turbulent energy that elevates the lowbrow material. Ralph Bakshi isn't always good, but he's always Ralph Bakshi.
Although he's a titan of 2D animation, it's easy to slip into past tense when discussing him. His classic films all date from 1972 to 1983, and by 1990 he hadn't made anything good for a very long time. Was he still relevant?
His 1992 film Cool World was a devastating misfire. A jokeless, plotless, idealess nothingburger featuring bad animation and bad live action film composited in a bad way. Cool World marked the final death rattle of the adult animated film, with rubbish such as Heavy Metal 2K being the final rigor mortis of the medium's cadaver.
Adult animation, it was believed, still had a future on the silver screen, where the stakes weren't so high (and failure meant the studio took a bath of a few hundred thousand, rather than tens of millions). And in the mid 1990s, HBO gave Bakshi a shot at redemption.
He "redeemed" himself with Spicy City, a sci-fi anthology show hosted by an Elvira ripoff called Raven. In classic Bakshi fashion, most of the budget was evidently spent drawing very large breasts. Truly, he is to boobs what Robert Crumb is to asses.[1]62.5 hours were spent workshopping a joke about the irony of a man called "back-she" being more interested in womens' front sides but one of our financiers backed out, saying it was … Continue reading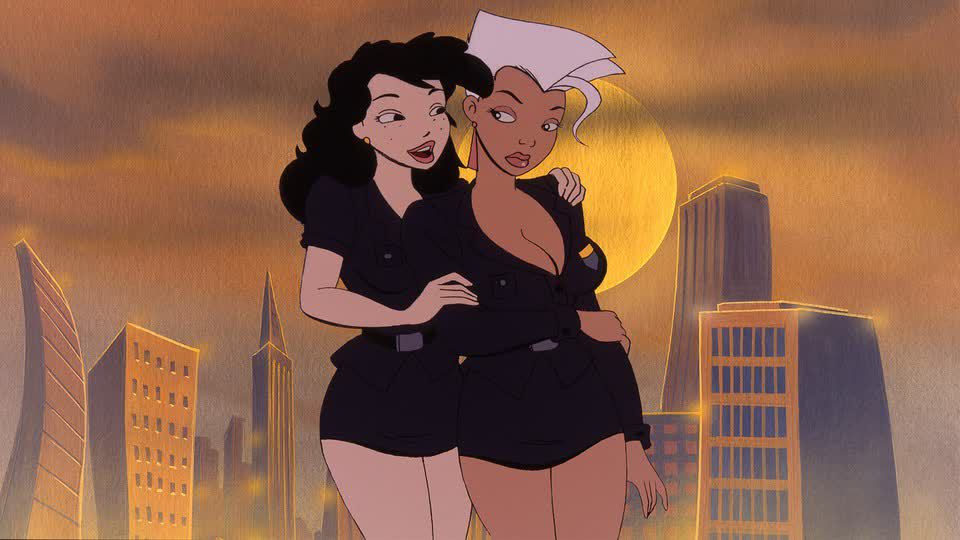 The show (which was laughably advertised as the first "adults only" cartoon) failed miserably. It was a one season wonder, cancelled after six episodes. But that means nothing, in and of itself. Maybe it was ahead of its time. Let's find out.
I exhaustively deep-dived into Spicy City. Which means I watched three episodes that someone uploaded to Youtube.
Tears of a Clone
An eyeless detective is hired to track down a human blob's missing "daughter".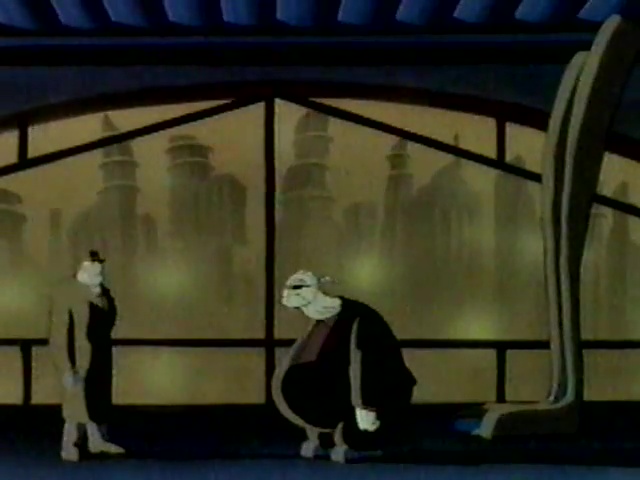 …Or, as the show relates the plot: "Blah blah blah blah blah blah blah. Blah blah blah blah blah blah blah. Blah blah blah? Blah blah blah."
Holy fuck, this is the talkiest cartoon I've ever seen. Where's the action? The dialog scenes go on and on. I want to go back to nineteen-twenty-whenever and throw Max Fleischer's  Phonofilm sound equipment in the Potomac in the hope that cartoons remain silent. Maybe it would help if the characters occasionally said things that weren't cornball detective cliches. "There's just the small matter of my fee…"
That brings me to another issue: Spicy City's setting.
The show aspires to an edgy cyberpunk aesthetic (like Gibson's Sprawl). But 59-year old Bakshi had no natural affinity for high tech worlds (or desire to learn) so he said "screw it" and went with film noir.
Think of the hackiest noir cliche you know: it's here. A PI who's down on his luck? A dame in trouble? Smoke-filled clubs filled with sleazy characters? Fashions that consist of trenchcoats, fedoras, zoot suits, cocktail dresses, and pearl necklaces? All here.
Welcome to the future. We dress like this.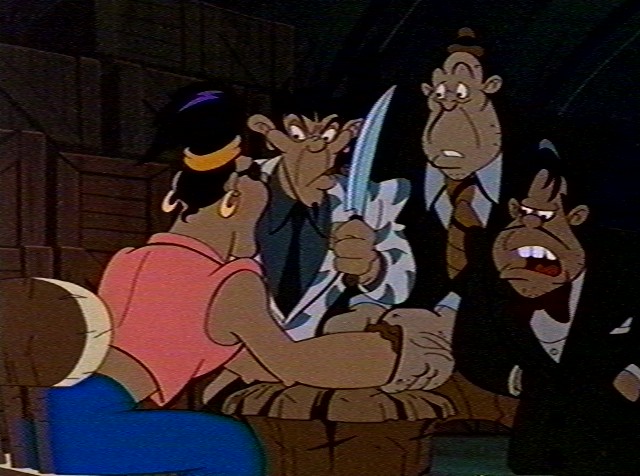 Bakshi's cyberpunk world looks suspiciously like a 1940s Hollywood filmlot, with story choices to match. It's so dated and old that it's jarring when a character uses a computer. Yes, cyberpunk draws on noir. But Spicy City does so excessively, and the sci-fi plots (cloning, virtual reality, and cyborgs) are tonally incongruent with Bakshi's world.
In short, nonsensical setting, weak story, twice as much dialog as necessary, and hideous character design. Fuck finding the girl, this guy needs to find his missing eyeballs.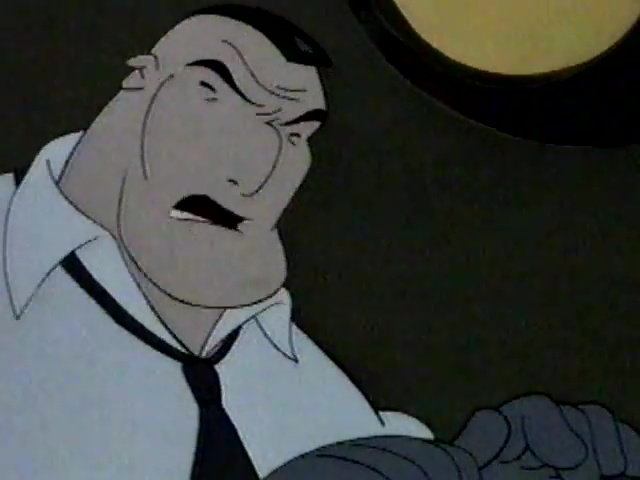 Mano's Hands
A bongo player called Mano Mantillo is the hottest thing in town. That's Spicy City worldbuilding for you: a cyber-metropolis where everyone's crazy over bongos.
Mano's hands made him a star, but they have a life of their own. When mob enforcers cut them off for nonpayment of debts, they begin strangling people.
Here we see Bakshi's lifelong fascination with black and latino culture, mixed up with the trope of the demon-possessed musician (Robert Johnson, The Devil and Daniel Mouse, Soul Music, Rock & Rule, and so on). In effect, it swaps one set of cliches for another.
I didn't love "Mano's Hands". It has less dialog and it's certainly gruesome enough, but the premise is dated and lame. Is this really what we're doing with the "world's first adult cartoon show"? Ripping off EC Comics and The Addams Family?
By the way, Mano is Spanish for hand, thus the episode's title is "Hand's hands". I wonder why his surname isn't Martillo, which is an eighth-note bongo pattern. Mantillo simply means "mulch".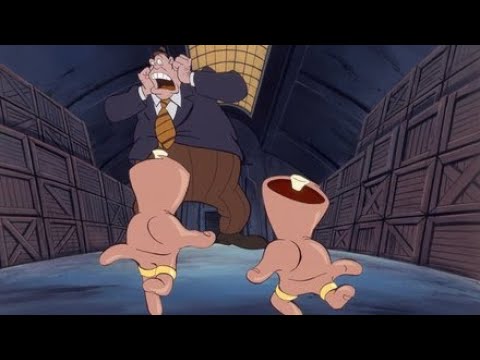 "Love Is a Download"
Same setup as "Tears of a Clone". A private investigator is hired to track down a missing girl. However, the client is clearly an abusive stalker, and the PI develops feelings for the girl.
Here the action takes place in virtual reality. Essentially, it's Baby's First Cyberpunk Plot: "what if virtual reality was better than real life?" The detective's an obese slug in reality, and the girl's a battered victim. But in cyberspace he's a buff stud, and she's a…helpless geisha? Empowering stuff, ladies.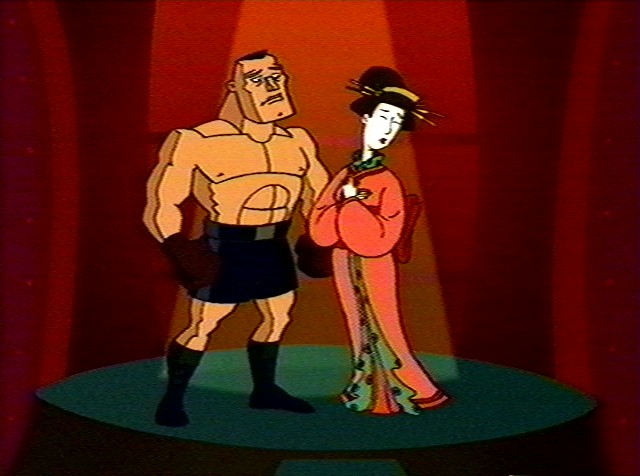 Here, Bakshi's cultural references finally leave the 1940s. The stalker Jake (who appears as a shark in the VR game) is dressed like a Miami Vice extra. Again, it doesn't quite work in a cyberpunk setting, but at least it's not ridiculously off.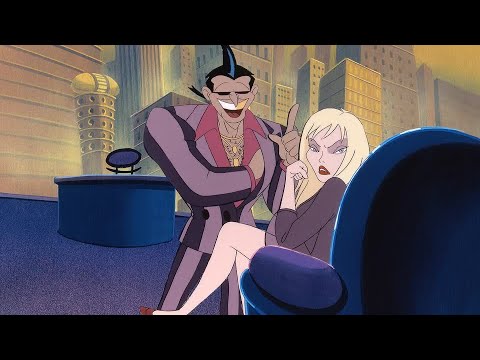 I was confused by the choice to make the woman gorgeous in real life. Shouldn't she be ugly, like the male detective? I guess she had to be attractive for Jake to have an interest in controlling her, but he could have easily had a different motive (maybe financial). I don't know. In a show about the gritty side of life, it's strange that woman aren't allowed to be unattractive.
I have mixed feelings about "Love is a Download". The main problem is that the virtual reality sequences are incredibly long and overwhelm the episode. I think this is because they're barely animated and must have cost virtually nothing to create. It's like watching a slideshow.
So that's my taste of Spicy City. 
Maybe I saw the three worst episodes. Unlucky. I've now watched 50% of the show, and probably won't bother with the other 50%.
It has no spark to it. It wants to be the edgiest thing on TV but it comes off as dated, lame, and "OK boomer". The basic plots are all 20-50 years old. Raven is excellently animated but the rest of the show is just barely acceptable. The adult content seems tame next to, say, South Park, or even less famous fare like Crapston Villas. As a sci-fi drama it doesn't even reach Aeon Flux's knees.
But I don't regret watching it, because I had an epiphany about Bakshi.
He's not a creator. He's an enhancer, and an adapter.
Fritz the Cat is Robert Crumb.
Wizards is Vaughn Bode.
Lord of the Rings is JRR Tolkien.
Fire and Ice is Frank Frazetta.
In all these cases, Bakshi acts as an amenuensis, an artistic midwife, adapting the art of someone else into film. He does a creditable job, capturing what's great about the original and infusing his own style and personality. But he's not building castles in the sky: he's working from a foundation already established. That's what he's always been good at. You do not allow him to create something from the ground up.
He's like a podcast host who can "riff" hilariously in a room full of funny people, but who could never carry a solo comedy act. Spicy City demonstrates what that looks like: a dull, derivative slog with plentiful boobs but no clear sense of what it is.
Bakshi fans in 1997 had no idea of the drought that was about to follow. The lone and level sands stretch far away.
References

↑

1
62.5 hours were spent workshopping a joke about the irony of a man called "back-she" being more interested in womens' front sides but one of our financiers backed out, saying it was "tasteless" in light of the "war in Ukraine". We don't understand the connection but regret any offense.
$i;?>
No Comments »
Comments are moderated and may take up to 24 hours to appear.
No comments yet.
Leave a comment