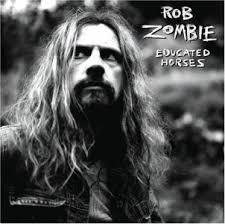 "Raw" is a dangerous aspiration to have as a musician. It's supposed to mean artistic freedom, and the throwing away of artifice and pretension. All I can think of is that raw things give you salmonella.
Rob Zombie's puzzling third album takes all the electronics and danceable aspects of his past work and replaces them with…nothing much. Bare fragments of grinding riffs and Iggy Pop vocals drive the album. Not a single track sounds like it could have been on Hellbilly Deluxe (although Hellbilly Deluxe has a song called "How To Make a Monster" that sounds like it could have been on this one) and even his vocals sound totally different. It's was a bold move to throw out every aspect of his previous sound, and a curious one, as his previous sound was mostly working for him.
But there's an explanation: his film career.
His directorial efforts almost deserve a documentary in their own right. Basically, 2003's House of a Thousand Corpses had a sweetheart of a deal that he obliterated with a poorly chosen joke on a TV show (or something), and his funding disappeared with the film half shot. Rather than cancel the film, he somehow figured out how to get the rest of the footage just by shooting stuff for free around his house. Sounds like a recipe for a shit sandwich, but when he watched the final cut, he actually liked the zero-dollar shots better, and his films have essentially relied on that approach since.
I imagine he wanted to try the same approach with his music. Just throw together some stuff with a live band and see what happens. Well, something happened. I don't think he covered himself with glory here, but it has some strong moments, particularly in the deeper cuts.
After an arty piano tribute to the Halloween theme called "Sawdust in the Blood", "American Witch" kicks off to unimpressive results. With a plodding tempo and a chorus that sounds like it was made up on the spot, it's just a boring song. A lot of tracks here are like that. "Ride", "The Devil's Rejects", "17 Year Locust". None of them are complete throwaways, but they just don't have enough actual content to sustain your interest. It's like being at a party with twenty people, but the host only bought enough snacks for ten.
Then there's the songs that provoked revulsion among the Zombie faithful. "Foxy Foxy" is kind of cute. "Death of it All" is an all-acoustic track that I like. "The Scorpion Sleeps" sounds like a fucking beer commercial. The two best songs are "Let It All Bleed Out" and "Lords of Salem". The former has the energy and the latter has the heavy. Either of those songs would have been a good direction to explore more fully. Rob Zombie's never been comfortable playing all-out metal, but I wish he'd get comfortable, because the closer he gets the better he sounds.
Well, it's an experiment, which guards it against criticism in a way. This is just a lab experiment, to be accepted if it works, and flushed if it doesn't. I think it does a little of both.
$i;?>
No Comments »
Comments are moderated and may take up to 24 hours to appear.
No comments yet.
Leave a comment