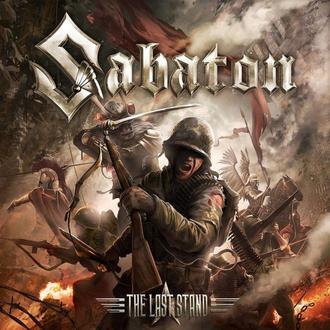 Imagine you have a friend who tells you a joke about their prolapsed rectum. You laugh. It was sort of funny, and also they're your friend. Their eyes light up, and the next day they come back with an entire notebook full of prolapsed rectum jokes, and the expectation that you will listen to and enjoy all of them. At what point do you stop laughing? At one point do you say "look, I'm at saturation point. Enough about your stupid rectum. I liked the first one but I don't want to hear them for infinity."
This is how I feel about Sabaton.
It's a mistake to think this band makes music. That would be like saying Adam Sandler makes movies. This project is just Joakim Broden, pulling a lever over and over and over, until his fucking hand falls off. It's cynical. It's formulaic. It's artless. And it's all our fault. We rewarded laughed along with the joke once, and now we get to listen to Sabaton forever.
You know what's coming. The Last Stand is another plastic collection of charmless Nuclear Blast Metal, filled with horrible forced-catchy singalong choruses, and the band buried underneath a mountain of choirs and keyboards. If you're wearing a Pewdiepie shirt and need a score for your next gaming marathon, go and make your day. If you have a brain in your head, you'll hate this with every fiber of your being.
This album has some of the worst choruses I've ever heard – we're talking Dream Evil shitty. Lead-off song "Sparta" has Broden singing (which is obviously a Platonic bad idea) and a stupid "HOO-HA" gang shout that gives me douche chills. Several songs like "Rorke's Drift" and "Hill 3234" don't even have chorus melodies, just Broden belting some lines in that staccato manner of his (nice to see Sabaton writing double-bass songs, though). "The Last Battle" is just irritating AOR gloop. Battle Beast does this better. Battle Beast does everything Sabaton does better.
The production is slick and clean. The songs are hobbled around the three minute mark. The album is short, and padded with bonus tracks nobody gives half a fuck about. The military theme is hampered by the fact that they're running out of good battles to write about: on their next album they'll be down to writing about the time Gene LeBell choked out Steven Seagal and made him shit his pants.
This review is dogshit, but there's just so little to talk about. It feels like trying to analyse elevator music. Listening to The Last Stand just makes me feel sad and empty. The music's a nonevent, but did they have to steal Tommy Johansson? Forget getting a new Reinxeed album any time soon.
The Last Stand will keep Sabaton on the festival circuit a little while longer, and all the critics listen to a few songs then copy+paste their "7/10, gives the fans what they want" review from the last album, and meanwhile, the genre keeps spinning its wheels. Power metal isn't a magical unicorn. It's a rotting donkey carcass with a novelty dildo glued to its head, and every day, the stench becomes harder and harder to disguise. There's going to be a shakeup soon. This is exactly the sort of stagnation that led to the overthrow of metal by grunge rock in the 90s. Until then, enjoy the rectum jokes.
$i;?>
No Comments »
Comments are moderated and may take up to 24 hours to appear.
No comments yet.
Leave a comment