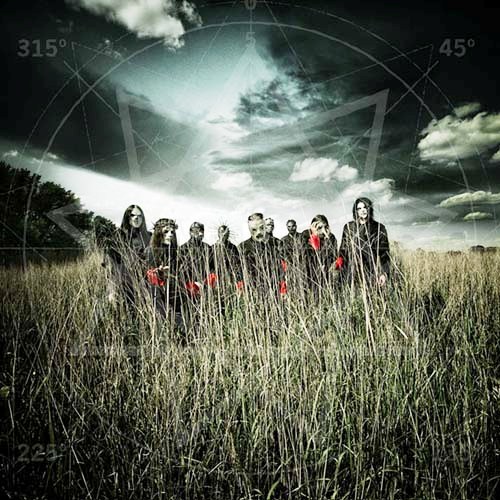 There's lots of bad music these days. I don't mind that, but what bothers me is the lack of interesting bad music.
Where's 2013's answer to such moments as 2:34 in Korn's biggest hit? Where's Faith no More and Mike Patton when you need them? Where are the modern rejoinders to "CRAAAAWWWLIING IN MY SKIIIIN" and "LET THE BODIES HIT THE FLOOOOOR" and other inspired fits of stupidity for when you've got too many brain cells? Why does all modern bad music feel equivalent entertainment-wise to staring at a wall?
The first two Slipknot albums were ass and I will hate them forever, but they were memorable. The third was half shitty songs and half songs that I unironically enjoy. This album showcases a new style for the band…or a lack of one. Slipknot has no identity of their own any more. They sound indistinguishable from Chimaira, Lamb of God, and Machine Head. All Hope is Gone is like an album created by a committee.
Opening song "Gematria" writes a big quod erat demonstrandum on this hypothesis. The band doesn't just use cliches, these use every cliche: It has Machine Head aggro-groove, FFDP-esque tough guy vocals, ultrahardcore breakdowns, and obviously the song itself goes nowhere. You can hear the band asking themselves "well, rapping on metal records isn't cool anymore so…uh…this is what kids today like, I guess? No? Well about this?"
"Psychosocial" is a more cohesive song with an annoying chorus. "Sulfur" and "Butcher's Hook" are filler hovering at the outer edge of listenable. "Vendetta" has stupid verses and a stupid chorus and a stupid middle section, there is not a single second of this song that I like.
We get an extra-heavy dose of Slipknot's softer side this time around. "Dead Memories" is probably the best of the bunch, sounding like Alice in Chains. Then in descending order of quality is "Snuff", "Child of Burning Time", "Wherein Lies Continue", and the worst song on the album, "Gehenna", which sounds like Kid Rock trying to make a Mr Bungle song or something.
"This Cold Black" is a good song. That is not sarcasm. Somehow things work this time. Every now and then the three neurons this band has between them connect in an interesting way and produce good music. You can't read too much into it.
The band has barely any use for four of their nine members this time around. There's not much custom percussion, turntable scratches, or sampling. They sound like just a regular five piece band playing regular five piece music. They traded out the funny lyrics they just to have about Corey Taylor's shitty childhood and replaced them with lyrics about politics. " America is a killing name, it doesn't feel or discriminate…Start a war in another backyard, and we'll destroy your house of cards"…when I want opinions on the Iraq war, I definitely go to a bunch of people wearing clown masks.
Slipknot used to be a bad band with an amusing side. Now they're making music so weak and boring that, by the end of All Hope Is Gone, even it seems to be asking you to turn it off.
$i;?>
No Comments »
Comments are moderated and may take up to 24 hours to appear.
No comments yet.
Leave a comment