I joined the line of metalheads at seven o'clock. It wound like a snake through the alleys connecting Pitt, George, and Central Street, heading toward Metro Theater.
I passed a red Carolla with red P-plates, which was stranded like an island in the surging metalhead river. The driver looked anxious. Learning how to drive in Sydney CBD sounds tough. He kept nudging forward and reverse, but lacked the courage to actually drive out of the crowd and get onto a road. He might still be there now: they should send a rescue team.
By the time I got inside, the first opener (Witchgrinder) had started playing. They were fun! A shame they weren't listed on the bill.
The second opener was SOiL, or however you capitalize it. They're a late-period nu metal band. For years, they seemed on the verge of Limp Bizkit-sized success, until suddenly nu metal was over and not even Limp Bizkit was enjoying Limp Bizkit-sized success. I'm surprised they're still around. I mainly know their singer Ryan McCombs from his work with Drowning Pool.
The four members of SOiL looked eerily similar in the near-darkness of the theater, like the same man copy+pasted a few times at various points on the stage. McCombs complained of jetlag. Also, he was curious about Australian beer, so a fan in the front row held out a can of Victorian Bitters. McCombs kneeled and took a sip of it.
They played their Scars album in its entirely. The crowd stirred to life for "Breaking Me Down" and "Halo" but otherwise were waiting for the headliners: Static-X.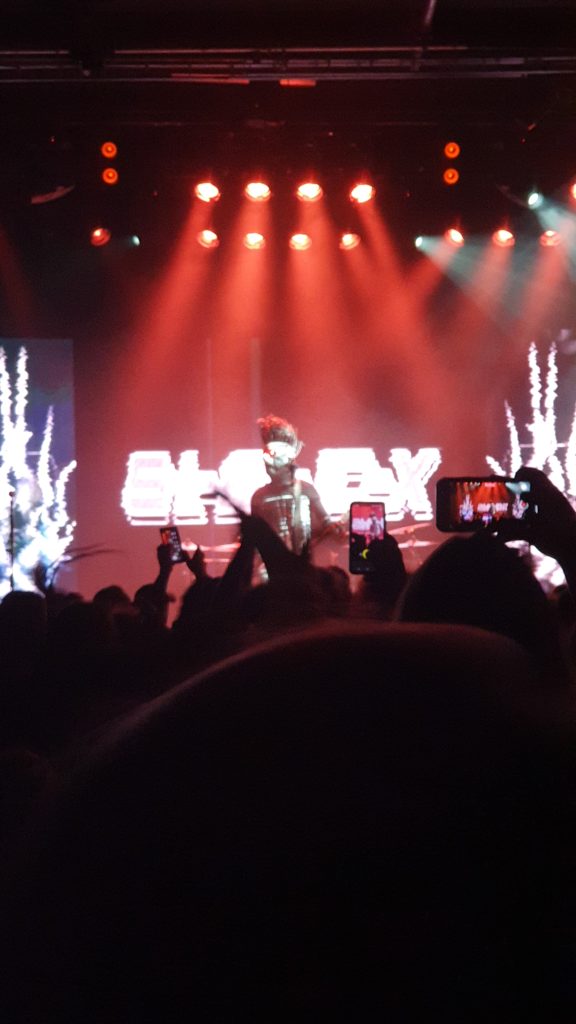 I have misgivings about this whole Static-X "memorial" project.
To explain the story, Static X is (or was) an industrial metal band, fronted by a former bartender called Wayne Static. He was the creative force of the band, writing nearly all the songs as well as crafting their sound, which he described as "evil disco"—a pummelling, communal thing that was very heavy and very catchy. For the genre lepidopterists among us, they were Ministry-style industrial metal fused with Prodigy-style big beat.
From 1999 to 2009, Static-X released six albums…and then something happened. We still don't know exactly what.
It's fairly uncontroversial that Wayne had a drug problem, and it was causing conflict between him and the other band members (drummer Nick Oshiro, guitarist Koiki Fukuda, and especially bassist Tony Campos, who was a fifty-percent owner of the band name). Eventually, this stress came to a head, and everyone needed a break.
Next came a classic "did Vince Neil quit or get fired from Motley Crue?" scenario, with different people saying different things. Wayne claimed the band actually broke up. Tony Campos claims the band went on hiatus…and that when Wayne announced that Static-X would reform with all new musicians, he was pissed and wanted financial compensation.
Wayne said that this compensation was financially onerous, forcing him to book tour upon tour, to the point where his body broke down (he suffered a hernia, which left him unable to perform). When Tony still demanded the money (even though Wayne couldn't tour to raise it), he was forced to retire the Static-X name.
I don't have the Static-X name anymore. I made a deal with Tonys [sic] the only legal Static-X member besides me.

I paid him a bunch of money last year to use the name, and he's just a greedy motherfucker, man. He just hates me to death. He's trying to gouge the shit out of me. I made him an offer to give him 25 percent of my net profits and he refused it.

He wants this outrageous number. [Laughs] He wants more money than I make in a year, and he's just doing it on purpose because he hates me for whatever reason.

https://www.theprp.com/2013/11/30/news/wayne-static-on-static-x-legal-woes-at-least-my-name-is-wayne-static-and-people-know-who-i-am/
For the record, Tony says that the hernia story is largely bullshit, and that the tour was cancelled because Wayne was busted for drugs.
Drugs are indeed the touchy point of Static-X. Wayne claimed that he became drug-free after leaving the band. In 2011, he released a solo album called Pighammer, which was about his new, sober lifestyle. Lead single "Assassins of Youth" has lyrics like "I was too far gone / Couldn't fight anymore / So I'm closing the door And I'm moving on." It was promoted with statements such as:
Static's first solo album – Pighammer – was a tribute to his new non-drug life and hoped it would help others to get clean from hard chemical drugs.

https://web.archive.org/web/20141204024004/http://www.fmqb.com/article.asp?id=2857941
Three years later, he was dead from an overdose. Fourteen months after that, his widow committed suicide after a struggle with depression. Regardless of what happened, it was a tragic story: with horrible twist followed by horrible turn.
To be frank, I was a little discomforted to see the Static-X suddenly reform as a kind of tribute/memorial act. It was also weird to see Tony Campos project an image of a dead man up on the screen, and refer to him as a friend. Wayne certainly didn't think they were friends, when he was alive.
But what about the show?
Edsel "Xer0" Dope performed Wayne's vocal parts, and performed them well (I've heard rumors about backing tracks: but this might be one of the rare occasions when that's acceptable). I liked his mask. Founding members Koichi Fukuda and Ken Jay were barely-visible molemen, hunched over inside their hoodies, while Tony Campos stomped around the stage with the fiery presence of a Hebrew golem.
They blasted through "Permanence", "Structural Defect" (still my favorite Static-X song; it was an unexpected treat to hear this one live, although they cut out that fun synth part in the bridge), "Black & White" and basically every other Machine song except for "Shit in a Bag", and "Burn to Burn". This was supposed to be a twenty-year anniversary tour for 2001's Machine, but coronavirus said "no". Better late than never, I guess.
1999's Wisconsin Death Trip was also heavily represented on the setlist. The devastating loud/quiet dynamics of "Love Dump" were fantastic live. We also got to hear deeper cuts like "Sweat of the Bud" which they hadn't heavily played since 2000 or so. The evil disco onslaught was overwhelming, and we were so exhausted from constant pogoing and moshing that we had little energy left when "Push It" brought down the show.
The other four Static-X albums were basically skipped, which may have been the correct decision.
I never liked 2003's Shadow Zone. It's where Wayne started mixing Korn with his Ministry, with fairly annoying results. It has lots of clean nu metal style singing: not a great idea on the face of things, and particularly since Wayne couldn't hold a note in a bucket. It also has songwriting by Tripp Eisen, who is a wretched human being. 2005's Start a War wasn't much better. The band just seemed to be running out of ideas. "Dirthouse" was a fairly alright tune, and they played that one live, along with perhaps two other songs from that period.
Then came 2007's Cannibal and 2009's Cult of Static, which barely sound like finished albums. The production is extremely thin and weak: it seems to be Wayne gung-hoing it himself in the mixing room. Which was a shame: those albums explored some interesting new sonic directions ("Stingwray" is a latter-day classic that nearly rivals "Structural Defect"). Pighammer had thicker production, but without any really good songs. At the Metro, they briefly played part of "Cannibal", and didn't touch anything else from Cult of Static. Pighammer wasn't even hinted at.
The show had a ton of visual flair, with screens lit up by phantasmagoric CGI imagery. The colors matched the songs (blue for "Cold", sickening pink for "Love Dump"). There were no encores—Static-X is a "play straight through, with no breaks" kind of band—but at the end Tony, Ken, and Koichi took a bow.
I got out at perhaps eleven, buying a band shirt. I misspelled that as "band shit." It would be funny if the merch stand were literally selling Static-X's fecal matter, arranged by color and consistency. Corn would cost extra. I'm tired. Nighty-night.
$i;?>
No Comments »
Comments are moderated and may take up to 24 hours to appear.
No comments yet.
Leave a comment