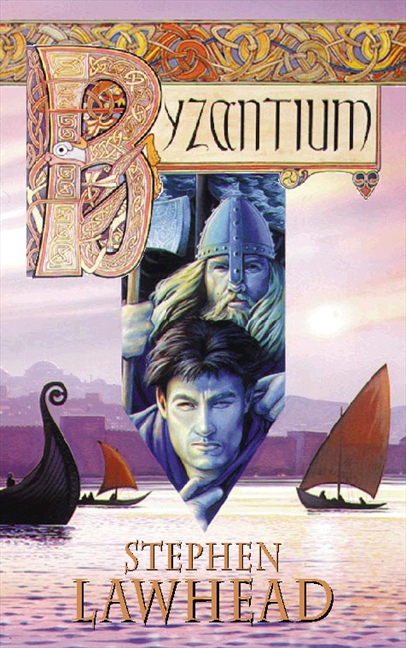 Byzantium was my favourite book in the world for a while. It's a dense and well-researched epic about 10th century monk Aidan, and his journey to deliver the Book of Kells to the emperor of Constantinople. Every other historical thriller seems fake next to it. I don't like slash and hack Conan the Barbarian stories starring historical people (Conn Iggulden, etc.). Byzantium feels more authentic and real. Not that I'd know whether it actually is, of course, but if it's a deception then it was good enough to fool me, and maybe it will be good enough to fool you.
Byzantium has a putative main character, but a lot of the focus is spent on the setting and world, with the characters sometimes only wending a barely noticeable passage through it. Several worlds, in this case. Aidan journey takes him from Scandinavia to the Bosphorus to the Middle-East, to rags to riches to ruin.
Aidan is unworldly, but he has courage and faith. Plenty of the latter, in fact. Byzantium is the tale of a man facing the perils of the world with a cross around his neck. In a sense, the main character isn't Aidan but Aidan's faith. His candle against the dark.
Main characters don't always survive.
Byzantium is gripping from beginning to end, but the real paydirt is its scenes of spiritual desolation and internal misery. As disaster piles on disaster, Aidan feels a wrenching abandonment from his god and savior. Few books manage to describe a crisis of faith this well. Aidan's ideals are no match for the reality of the world he lives in, and eventually all he has is a doxastic cynicism. Wolves sometimes hide in the sacristy. Every hope can be a false one, even the hope of death. And when man makes a plan, God laughs.
I should advise that this is a slow book. There's lots of GRRM-esque scenes of courtly intrigue, and lots of scenes with the purpose of elaborating small details in the, well, Byzantine plot. Some of them might bore at first, but if you re-read the book, these quieter scenes are the ones you'll find most fascinating. There are a couple of rousing battles, but Lawhead comes from the "less is more" school. If you want characters who fight bandits every couple of pages like a D&D game, Conn Iggulden and David Gemmell might be more for you.
Byzantium is great, but it falls short of perfect. Fourteen years later, I notice Persian flaws that I didn't see before. Lawhead gives Aidan a love interest, realises he has nothing for her to do, and writes her out of the story. The pacing is uneven: with the big final showdown having Lawhead racing around like a shop clerk five minutes before closing time.
Nevertheless, Byzantium is truly special. Lawhead has revisited this basic story a couple of times (Patrick, The Iron Lance), but the first blade from the mould cuts the deepest. Definitely the first thing to check out by this author, although The Song of Albion isn't far behind.
$i;?>
No Comments »
Comments are moderated and may take up to 24 hours to appear.
No comments yet.
Leave a comment