There is a caste of has-beens that barely even seem to exist any more.
I periodically type "Vanilla Ice" into Google, and each time I feel like a prison screw looking inside a cell to make sure the prisoner inside hasn't hanged himself with his trousers. Vanilla Ice doesn't even have nostalgia value any more. He's the worst thing: a novelty act who didn't realise he was a novelty act. On his Myspace he still tries to sell it that he's some huge star: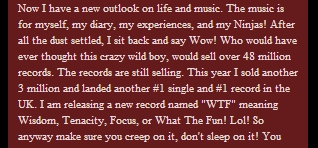 A number 1 record in the UK sounds pretty big. I went on to Wikipedia to assess the bigness.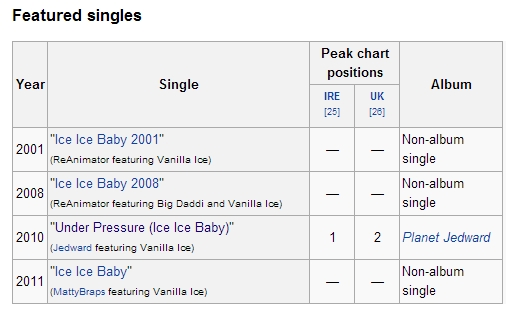 So it wasn't in the UK, it was in Ireland. Although I think some of Ireland is still part of the UK, so maybe that's right. Sort of like how he could say "My song was a smash chart hit!" when the chart in question was Eritrea's, or "My song is beloved by an entire nation!" when it merely enjoys frequent plays on the Vatican City gramophone.
Also, it wasn't his song, it was someone else remaking his song.
Still also, the original song is more than twenty years old.
Also still also, the original song is based off a sample from yet another song.
While it's sad to see this guy bluffing his pair of deuces like it's a full house, I think he's missing an opportunity. What The Fun? Listen, man, your original fans a), are now 30-40 years old, and b) don't care about you. You don't need to censor your language for teenyboppers on MTV any more.
He should become like fellow has-been superhero Tila Tequila and just write the most surreal mind-bending crap imaginable. That's the lone benefit of talking to an empty room. You can say whatever you want.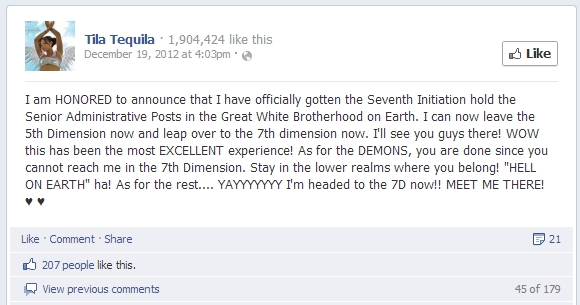 $i;?>
No Comments »
Comments are moderated and may take up to 24 hours to appear.
No comments yet.
Leave a comment