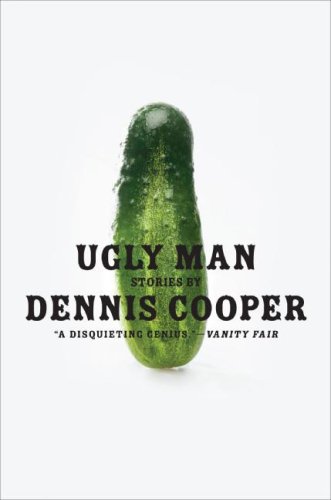 When reading a favoured author I feel a sensation of comfy familiarity – like I'm putting on much-worn, much-loved jacket. I don't think I'd ever feel that about Dennis Cooper, even if he did become a favoured author. This is a collection of short prose pieces that can't really be classified at all. The style and format changes constantly. Some pieces are short stories, others take the format of conversations or letters, others are metafictional and are presented via transcribed live performances, etc.
The book ends with an interview with the author and a list of his influences. This reads not as an afterword but as a continuation of the rest of the book. No doubt if he'd included his grocery list, it would also have seemed like a part of the book.
The quality is as unpredictable as the writing, but there are two very good moments in this collection. The first one is "The Guro Artist", about a pederastic lunatic who kidnaps a boy with "an ass too exquisite to waste its whole life squeezing out shits" and surgically remakes him into a living anime character. It goes for only three pages but is as disturbing and horrible as anything I've read.
Following straight after is "The Anal-Retentive Line Editor" a series of letters to a gay erotica writer from a magazine editor from hell (or maybe Sodom). ("…my big dick [Bland, de rigueur. Perhaps 'gigantic,' 'monster,' 'humongous'? You could also indicate whether it is circumcised or not. Is the dick leaking seminal fluid? If so, that would add some pizzazz]"). One of the longest things in the book but far and away the funniest.
The other stories I can take or leave. A comparison to Burroughs seems obligatory, but only because of the gay sex – the actual prose is more redolent of authors like Palahniuk. There's some disquietening stuff in here, but much of it is adulterated with comedy, and your default expression while reading is one of amused horror.
"Ugly Man" is about a man with a debilitating disease that renders him hideous to the eye. He copes by sleeping with lots of male prostitutes. "The Brainiacs" is about a kid deciding to become a terrorist. Being a jihadist on a holy war doesn't make you immune from being a loser who gets picked on.
The longer works, "Anal-Retentive" aside, are not very interesting. The opening story "Jerk" feels like reading Bret Easton Ellis's American Psycho, a basic idea made into a very long tale, and your boredom rises with the body count. "Oliver Twink" is the same. It occupies a ton of pages and doesn't really pay for its keep. "Three Boys Who Thought Experimental Fiction Was For Pussies" has lots of gay innuendo, but I found it boring.
If you want good, discerning fiction…well, I'm afraid Dennis Cooper doesn't much care what you want. This collection is what it is. There are no rules, and no limits. Reading it makes me feel like a windcock blown every way but loose.
$i;?>
No Comments »
Comments are moderated and may take up to 24 hours to appear.
No comments yet.
Leave a comment