On Oct 15, 2019, a video was uploaded to Youtube. It did not set the internet on fire, because most of the internet is actually deep-sea cables that are underwater, but it did provoke discussion.
Riot Games, creators of League of Legends, was working on an FPS game. It was called Project A.
The video was stuffed with technical buzzwords ("server tickrate," "peeker's advantage"), and although the gameplay footage didn't dazzle, the comp-gaming focus gained the attention of the coveted "20 gallon piss bottle" demographic. Could this finally be it? That mythical game with priorities beyond selling $20 character skins to Little Timmy No-Thumbs? A game that actually caters to hardcore, competitive players?
Project A was soon basking in (totally undeserved) kudos as the savior of the industry. Apparently claiming you've solved peeker's advantage (the unintended consequence of internet lag that causes players making a move to have an advantage over defenders) is tantamount to actually solving peeker's advantage, and numerous pro gamers publicly announced that they'd switch to a game they hadn't played a single second of. References to the game became common in Twitch and Twitter profiles.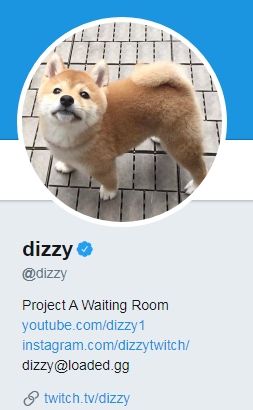 The feeling was that with the massive development firepower Riot Games possesses, Project A simply couldn't fail.
Now the game is 1) released and 2) called Valorant. My feelings are mixed.
The game makes no attempt to disguise the fact that it's a CS:GO clone. It's five versus five – a team of attackers against a team of defenders. You buy guns with money you earn from killing people. A highly sophisticated user-interface streamlines the in-game economy, so that "rich" player can easily buy and drop gear for a poor teammate.
Valorant is class-based and character-driven, as is the trend these days. Sova wallhacks, and Viper does area denial. This isn't as big a change from CS:GO as it might appear – although some characters (like Jett, who is highly mobile; or Raze, who brings some old-school Quake 3 nade jumping back into the mix) flip the gameplay in a new direction, for the most part it's just a different way of having smokes, molotovs, and so on.
The gunplay works the way CS:GO's did, except more so. Moving is good. Shooting is good. Shooting while moving is bad. To hit shots in this game you have to be a turret, as any movement causes shots to wildly flick out ten feet from your crosshairs. Winning gunbattles in this game is less about where you're shooting than where you're shooting from: everyone's jockeying for stable, defensible angles that provide maximal sightlines and minimal exposure. Valorant specialises in tense, white-knuckle moments where both you and the enemy are about to roll the dice and peek around a corner.
Unfortunately, "roll the dice" is indeed the operate phrase, as fights in Valorant have a heavy random element due to inconsistent recoil patterns. This screenshot (taken by Diegosaurs) reveals what you're up against: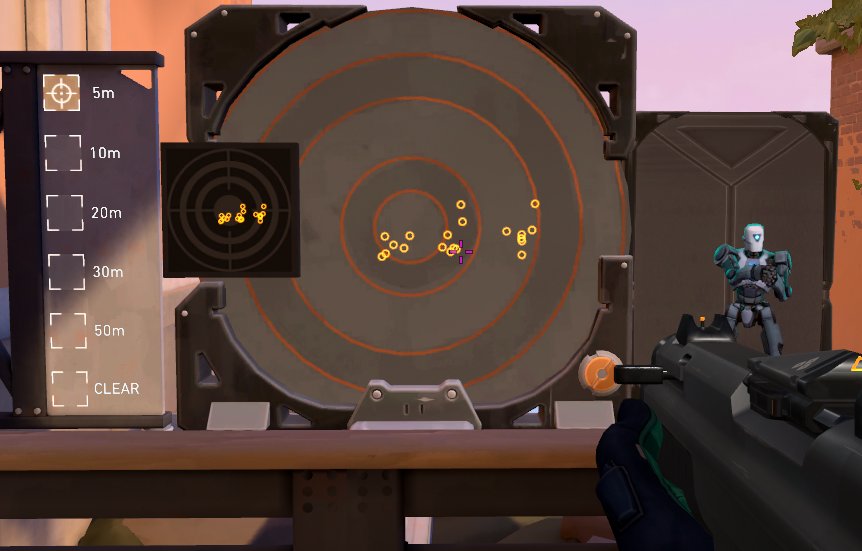 Look at how different the bursts are, and remember that this is a game where you two-tap people with virtually any weapon. Getting the first recoil pattern versus the third could mean the difference between life or death. FPS games should be "git gud, noob". They should never be "git lucky, noob". This is a huge issue. I couldn't find a way to make my tapfires more reliable, no matter how much I tried.
Issues with recoil aside, the game also gets a lot of stuff right. Movement and "gunfeel" is excellent. I liked how you can move around while in the buy menu. CS:GO has a kind of stop-start rhythm. Action. Then downtime. Then action. Then downtime. Valorant's gameplay feels more of a piece.
The weapons are also great: ranging from pistols to massive, Schwarzenegger-worthy LMGs for big spenders. Wall-penetration is a factor: sometimes it's smart to forget about angles and just turn a wall into swiss cheese, and the game's visuals are clear enough to know when you can do that.
Graphically, the game left me cold. As mentioned before it looks similar to Team Fortress 2, right down to its use of Gooch Shading (where models are shaded along a hot-colour/cold-colour axis instead of light-to-dark). Visually, this results in a game that's colourful but cheap-looking. Arms wave like slabs of putrescent plastic.
…But perhaps in a competitive FPS you really want flat. Valorant is made for players who dial all their graphics settings to low anyway to squeeze out an extra 3 frames per second. Its playerbase would probably be satisfied if all the models were placeholder rigs from Blender, just so long as the hitboxes were balanced.  But if your selling point over CS:GO is style, Valorant needs more of it. Everything unrelated to gameplay is stunted and abstracted away. Here's what trees look like in a triple-A game released in 2020, by the way.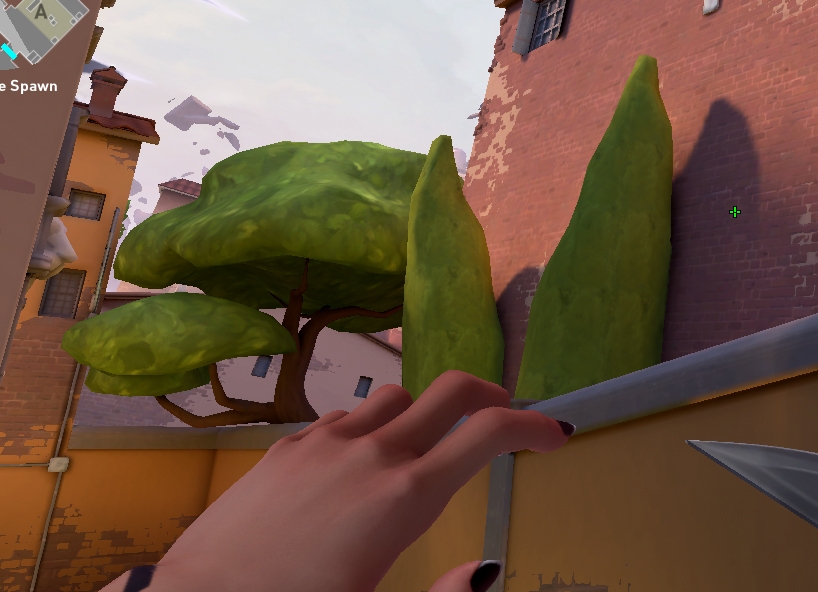 As with much of Valorant's design, it doesn't make mistakes, it makes choices. Choices that will alienate many players, as they have me.
I sort of enjoy a focus on content, rather than an abstract skeleton of a game that will hopefully have flesh later. The character-based element draws comparisons to Overwatch, Apex Legends, and League of Legends. Valorant is worse in that area than any of those: the content side of the game is so bland and threadbare that I wonder if F2P was the right business model. The game  hopes to support itself with cosmetics…for characters who look bland and who you don't care about.
Whatever, though. The game's boosters are probably correct. Valorant is the new paradigm and there is not a chance it will fail. I probably won't play it again.
$i;?>
No Comments »
Comments are moderated and may take up to 24 hours to appear.
No comments yet.
Leave a comment