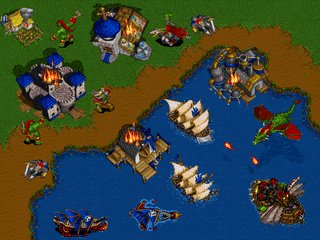 I strongly unhate this game. I played it for roughly 2 or 3 childhoods, and it's still a blast today, whether you have the original CD, the Battle.net edition, or a cracked release (I have all three). Blizzard really got their shit together with this one. Warcraft I belongs in a display case, this one belongs on a hard drive. My excessive bitching is a testament to my obsessive playing, as all the game's weaknesses (which it has in abundance) have had a long time to chafe.
The core of the game is the same as the first one. You harvest resources, build a city, train soldiers, and make the rivers run red with blood. The game is essentially a choice between an early rush, and arms race to acquire the later, more powerful units. The mechanics basically worked then, and they basically work now. There's something visceral and satisfying about the way Warcraft II battles go down, bloody and chaotic, with every single unit being important. I can't think of any other game that captures its dynamic.
They eliminated some of Warcraft's more enraging features (such as how buildings must be connected to a road) and added new features, such as water and aerial combat, walls, and games with up to eight players. Even simple touches like the "fog of war" (you can see explored terrain, but can't actually see the enemies there unless you have a unit nearby) were revolutionary for the time.
In a genre that can feel mechanical and sterile (hey, did you realise level 3 Murderdeathbots get a .15% attack multiplier against Stabfuckdroids?), Warcraft 2 is overflowing with human touches. Landscapes are bright and colorful. The way your units argue with you when you click on them is endearing. The story in the manual was fantastic, and I was disappointed that the actual game didn't do it justice. Glen Stafford's music is great. The thing Blizzard really did right was put together a game full of lavish, attractive content.
As Warcraft 2's terrible AI makes the single player experience fairly lackluster, I recommend learning a few builds, and then playing multiplayer as soon and as frequently as you can. This is where the game sparkles. You'll learn that a lot of the the maps shipped with the game are broken or unbalanced. You'll learn that the orc bloodlust spell makes the human race noncompetitive. You'll learn that half the players are walking abortions who insist on terrible custom maps like Chop Chop and Laser Tag. You'll learn that water combat is poorly implemented and micro intensive. But you'll also have the time of your life. Again, Warcraft II has a quality that no other game has.
An expansion came out to this in 1996: Beyond the Dark Portal. More crappy single player maps, and a new tileset that's nearly indistinguishable from one that was already in the game. I can't imagine playing Age of Empires I or II without their respective expansions installed, but Warcraft II's I can take or leave. The fact remains that version 1.0 of the game is still probably the apex of the Warcraft series, and my own favourite Blizzard game. They really did a superb job with this one.
$i;?>
No Comments »
Comments are moderated and may take up to 24 hours to appear.
No comments yet.
Leave a comment