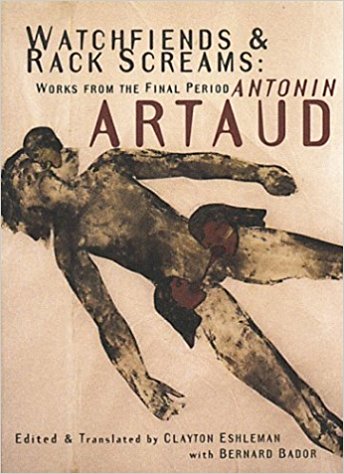 I wish you could say "he wasn't crazy, he just played one in his pictures", but that would be a lie. Artaud was insane. Translator Clayton Eshleman describes his films, poetry, and prose as the partial salvation of a life broken beyond repair, and that cuts to the heart of Artaud: He was a cracked plate, glued together by golden strands of art.
Artaud's life almost feels like a play. It's full of narratory techniques: callbacks, references, echoes of past events. The amateur electroshock therapy administered by his father in childhood prefigures the far more brutal electroshock therapy he received decades later in a Rodez asylum. A damaging relationship with laudanum prefigures a lethal relationship with chloral hydrate. Artaud's life has a diegetic quality, a "written" quality, and the sense that things are screeching off the rails into an inevitable tragedy.
"Watchfiends and Rack Screams" collects most of Artaud's later writings. There's not much theory, not much organisation, and most of it resembles an opium-deranged brain evacuating and ejaculating over a blank page.
"Artaud, The Mômo" is a typical display, with profane rants going back and forth with tracts of unintelligible gibberish, written in a language I cannot understand or identify.
"To Have Done with the Judgment of God" is a planned radio play that was cancelled the night before it was scheduled to air. It is a twisted, convoluted helix of words, delving into themes both personal and political. "Is God a being? If he is one, he is shit." Artaud's relationship with religion was as tumultuous as his relationship with everything else. At certain points, he was possessed with a foul-mouthed, blasphemous kind of heathenism – think the Marquis de Sade with Tourettes. At other points, he tried to become a priest, and compared the Tarahumaran peyote god Ciguri with Christ.
As with everything he does, "entertaining" isn't the word for it. "Important" is close. "Strong" is closer still. Artaud wrote and did many things that were striking and difficult to ignore, and a decent number of them are collected here.
But was his work ever good? I don't know. While his work has the impact of bloody viscera on the hood of a car, his contributions to film theory are gnomish and impenetrable, and so is much of his prose. He's an important figure in surrealistic film and literature, but mostly because he broke things apart – I don't think he was capable of building them back up again.
Un Chien Andalou is probably the best exposition of Artaudian ideas, and he didn't make it. Luis Buñuel and Salvadore Dali did.
But here's a better question: did he ever have the chance to be a great film-maker? No. He was broken, and he couldn't do anything except document his brokenness. The rock band KISS once had a stage act where bassist Gene Simmons would "fly" around the stage by a crane-mounted hook on his back. One day, the crane broken down in the middle of a gig, and Simmons was left dangling helplessly in the air. He tried to continue his act, scowling and wagging his tongue and breathing fire, but it was soon obvious to everyone that he was a puppet on a string.
Antonin Artaud was like that. He went down into the darkest depths of the psyche without a net, a plunge he ultmately didn't survive. Heroic? No. Heroism means you have a choice, and Antonin Artaud never had one.
$i;?>
No Comments »
Comments are moderated and may take up to 24 hours to appear.
No comments yet.
Leave a comment