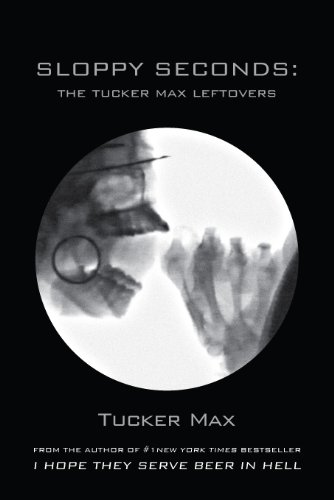 Tucker Max retired from his lifestyle, and gave us this final book of adventures as a parting gift.
Sloppy Seconds collects all the Tucker Max "backwash", all the little bits and pieces that weren't good enough for the first three Tucker Max books. You'll recognise some stories from his site. Others have already appeared in other books. As for the rest…well, Tucker himself admits that the signal to noise ratio is a bit spotty. Obviously these stories were left out of I Hope They Serve Beer in Hell et al for a reason.
Still, I had fun. Unlike the women in the stories.
The Great:

— The Duke Campout story…this is amazing, one of the best things he's written. Favourine line: "She was the type who would cockblock endangered pandas at the zoo."
— The buttsex story, an old classic. Tucker gets a girl to agree to anal sex, and he tries to covertly film it for posterity (posteriority?). This comes from Tucker's early twenties, when he claims he was perhaps the worst person in the world.
— The Slingblade movie reviews. Holy shit, these were funny. I need a whole book of them.
— "Fuck the fucking headboard"… this one killed me. Tucker is railing some chick on a cheap hotel bed, she breaks off the headboard by accident, and she won't stop obsessing about it. I feel like I'm being given a crash course in female psychology.
— A fair few "sexting" stories. Some of them are funny…
The Okay

— …some of them just go on too long and overstay their welcome. Tucker goes for surreal Kaufmanesque humour, with mixed results. By the end I was thinking "thanks, I get the point, let's move on."
— Some stories from Tucker's childhood are found here. Not always funny, but they are interesting. He has never spoken much about his childhood except to say that it sucked so this is a side to Tucker you don't often see.
— The Junior stories. Junior was one of the more memorable characters from IHTSBIH, along with Slingblade, and here he gets some more prime time in the spotlight. "Junior's Marriage" was just…woah…
The Retarded
— A detailed description of how Tucker learned to masturbate.
— Some completely unfunny stories that amount to "I'm getting a blowjob while writing this"
— No, Tucker, I don't care about your dog.
Sloppy Seconds is definitely a fun collection of some rare and hard to find Tucker Max material. It's value is a little questionable as the two big stories, Campout and Buttsex, have already been published (and are still available for free on Tucker's site.) Definitely something to get once you own I Hope They Serve Beer in Hell, Assholes Finish First, and Hilarity Ensues.
No Comments »